Story of how the composer made a soundtrack that made Silent Hill a unique game.
Silent Hill is a saga that revolutionized survival horror and was reaffirmed with its own personality that differentiated it from other works of the genre: protagonists vulnerable to a superior and impassable threat, very intimate stories and a disturbing imaginary. The identity of Silent Hill resides in its atmosphere, in the strange fog that surrounds the cursed people and confers that nightmare air, helplessness in the face of a threatening calm and a disturbing and delicate soundtrack. After his notes, Akira Yamaoka, a fundamental pillar of a whole reference of the terror that has celebrated its 20th anniversary this 2019.
Akira was born on February 6, 1968 in Niigata (Japan), and his crush on music came through the radio, when Moon Over Moscow captivated him. "When I studied at school, I loved British music from the 80s," says Spelmusik (2002). "I still like the atmosphere of that European taste, especially Ultravox, Visage and Alcony Plank with their synthesizers. I also like German music. At that time, for example. Nitzer Ebb and Propaganda. I love those big fat sounds. And, to be honest, I was hooked on the punk at the beginning: Discharge, Chaos UK, The Exploited, Hardcore Punk, etc. I keep listening to that music. Basically, if the music is original and persuasive, I listen to it. "
A virtuous self-taught
Yamaoka composed his first song when he studied at school and learned music in a self-taught way. "I bought a computer and learned to do sequencing. (…) I remember that I versioned Follow Follow Sputnik. " During his student stage, Akira began playing in a punk rock band. However, Yamaoka had not contemplated his hobby as a professional career: he wanted to devote himself to the product of design and interiors, for which he trained at the Art University of Tokyo. However, his passion did not abandon him; Moreover, it served to feed his creativity: "Mick Karn of Japan, Steve Strange de Visage and many more musicians combined their knowledge of art and music in their style, and I have been influenced by them."
Akira Yamaoka also loves video games forever, as he told Konami Europe in 2014. His musical talent, awarded in various competitions, opened the doors of the industry: "I had the opportunity to meet a music and video game producer who He offered several commissions, which marked the beginning of my musical career. " Yamaoka, even so, had in mind that his place would be in architecture, although his grand opera was yet to come.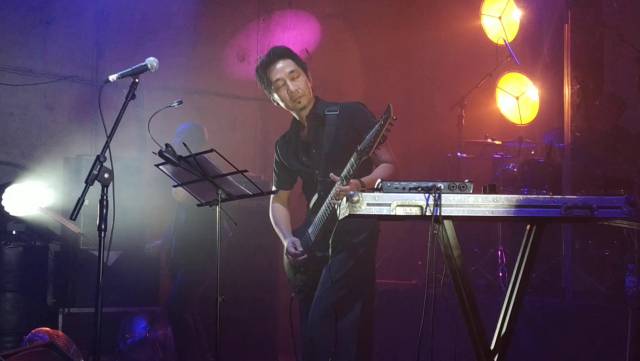 Akira Yamaoka during a performance in Novosibirsk (Russia) last 2019
That was how, in 1993, Yamaoka entered Konami, where he worked on the Sparkster soundtrack. "I remember it very well, because there were many limitations in the hardware specifications and I had to throw a lot of trial and error. My music was then too fresh. "(Akira Yamaoka for Spelmusik). The composer continued making scores for titles such as Contra and Gradius, which helped him develop a creative methodology, based on playing each title before composing; I even combined both tasks using two monitors. "I think that playing and synchronizing with users experiencing the same thing as them is extremely important."
Yamaoka's songs are characterized by the contagious emotional charge in them, which he faces from the reconciliation between his natural mood and the one he wishes to convey: "When I try to create happy music, I end up getting depressed. I don't want to get very philosophical, but when you deal with music and compose it, you must maintain a certain balance. If you create too many happy songs, you end up becoming negative. But when I compose dark music I focus on a part that is not inherent in me, but that adds to my self-musician, and the result is that I emerge from all darkness in which I have submerged. "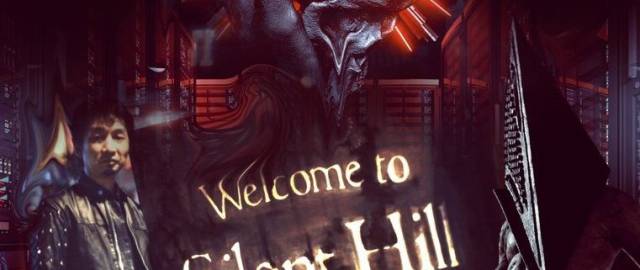 Akira Yamaoka concert promotional poster in tribute to the 20th anniversary of Silent Hill
Yamaoka, who participated in more titles such as Vandal Hearts, Snatcher and Castlevania: Symphony of the Night, knew that he was the right person to embark on Konami's new project: a psychological horror videogame in the hands of the newly formed Team Silent. The approach of the new work, more versed in intimacy and away from the explicit gore, connected perfectly with the artist: "I do not want to be misunderstood; I love bloody horror movies like the one that most, but psychological terror and the atmosphere have much more to do with who I am and, more importantly, with what I am not. " (Yamaoka for FactMag, 2015).
Psychological terror at industrial rate
Akira Yamaoka wanted to make a difference in survival horror. That is why he chose industrial music as the basis on which to work, as he explained to Spelmusik: "I had the feeling that industrial music had that essence that I needed and that I would not find in' typical 'music. I also felt that the cold and rusty feeling that only industrial music can create perfectly fit Silent Hill. " The composer cites as his influences Angelo Badalamenti (composer of Twin Peaks), Metallica and Depeche Mode. Suspiria (Dario Argento), one of his favorite films, also marked the musician in his creations throughout his career and, above all, in the newborn saga that would encumbrar him.
Team Silent, at first, had reservations about the creation of Yamaoka, and they even believed that there was a technical failure in the show that the musician offered them. The artist defended before the team that the use of metallic elements and dissonances were intentional and, finally, they welcomed the strange choice. This decision gave good result, since the creation of the musician did not go unnoticed in the criticism. Thus, Total Video Games highlighted it in its Reviews as a main character: "Each scene is defined by the emotion transmitted by the background music. In fact, the music is so fascinating that you will not stop hearing in your head those cries, crunches and howls so defined. "
Akira Yamaoka became an essential part of the soul of Silent Hill. He had achieved his purpose of making this title a work that stood out at an artistic level. The first release was followed by Silent Hill 2, which the composer names in FactMag as his favorite: "Silent Hill 2 was very special at the time. It was so unique that fans needed time to hook him. Looking back, I still believe he is the one who stands out the most in the entire saga. First, when it was launched, it was unheard of for a video game to explore euthanasia, terminal illnesses, guilt, abuse and sexual repression. Treating all that at the same time was very innovative in 2001. (…) In addition, it was one of the first games to introduce rock and industrial music, especially in Japan, and without being artificial. "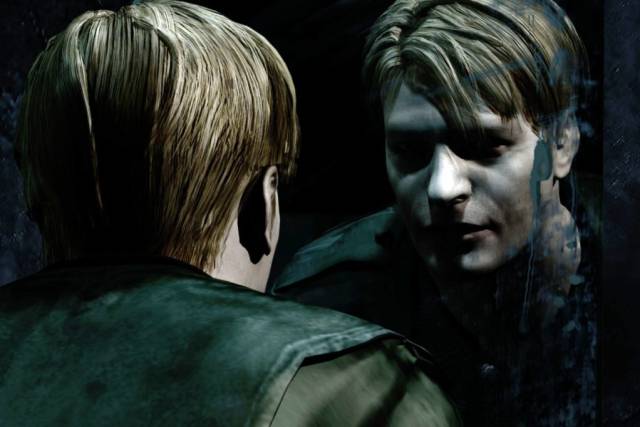 Silent Hill scene 2
During the creative process of Silent Hill 2, Akira Yamaoka had evolved a lot in his musical style, which he defined in Spelmusik as much more enriched. As for the sound effects, he had perfected the hyperrealism in details such as the footsteps themselves, in order to cause the player "the sensation of being before a film of high interactivity".
From musician to producer of Silent Hill
Akira Yamaoka had become increasingly involved in the development of Silent Hill. As a sound designer, he also contributed his ideas on other aspects of the game, which led him to become a producer of Silent Hill 3 and, subsequently, Silent Hill 4: The Room. It was here that he introduced in his music the voice of Mary Elizabeth McGlynn, whom the composer chose for his ability to convey so many emotions and nuances, and with whom he continued working during subsequent soundtracks. Together with her, he created such iconic themes as Your Rain, or Room of Angel. In the case of Silent Hill 3, Yamaoka presented his protagonist Heather Mason singing the song You're Not Here, with the voice of McGlynn: "Normally, the creation of a music video follows the basic process of mixing lyrics, music and image . But I considered this differently. Heather is the protagonist of the game, why wouldn't she sing the main theme? (…) Of course Silent Hill is a horror game, but this approach is also interesting, with Heather singing surrounded by horrors. "
Silent Hill 4 went a step further in terms of setting. Terror was not only in the cursed people, but in the claustrophobia generated by the idea of ​​converting one's home, the safest place in the world, into a prison where the most familiar corners had become a threat. However, The Room changes were not welcomed by the most purist fans, and this installment became the turning point of a saga that was withering during successive titles. Konami decided to close Team Silent and transfer the creation of the new Silent Hill to Western studios. Akira Yamaoka remained as a composer in Origins, Homecoming and Shattered Memories. His music was recovered and adapted, under the supervision of the artist, for the movie Silent Hill (Christophe Gans). In 2009, Yamaoka left Konami to join Grasshopper, the Suda51 studio. During the Tokyo Game Show of 2011, the musician described what this change had meant in his life: "Nothing has changed since I left Konami. The truth is that I continue composing music as in the past. The only difference is that the hours to do so have been reduced and as faster than usual to get to do all the extra work. Suda treats me very well, he could be a little harder with me, but he treats me very well. I continue to play the role of producer, and I also supervise all the games and manage them. In that regard, I would say that I have more responsibility and that I work more now. "
After the dying fog
Akira Yamaoka has continued making diverse music that continues to fill Grasshopper's videogames with personality, as well as songs beyond digital entertainment. However, Silent Hill has been the saga that has left its mark on his career, and today he is surprised that he is still interviewed for her twenty years later. During his concerts, he continues to interpret the songs of the cursed people, and in Telegraph he mentions Theme of Laura as one of the most beloved songs by fans.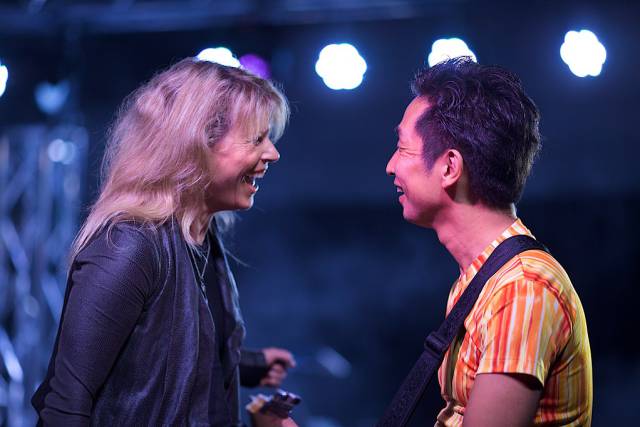 Akira Yamaoka and Mary Elizabeth McGlynn during the Japan Expo 2014
Silent Hill retains a place in the heart of Akira Yamaoka, who was excited by the announcement of Silent Hills, created by Hideo Kojima and Guillermo del Toro. A chilling teaser playable, with a hyperrealism that captivated the players and promised the awakening of a languished saga. And yet, its cancellation shattered the hopes of a dream comeback even by the same musician: "The development of the game was at an early stage of development, much earlier than people saw, and then I was not on board the project. And I wanted to be. But I was amazed that it was canceled, even as a fan. " (Yamaoka for FactMag).
And despite the sinsabor of a Silent Hills that could be and never was, and the interruption of a saga that never shone again with the glare of its first titles, Silent Hill remains a legend in the horror genre. In Konami Europe, Akira Yamaoka defined what ended up making him so adored by the players: "The feeling of fear is greatly influenced by culture, as is the case with comedy. Sometimes, what scares the Japanese does not scare foreigners, and vice versa. From this point of view, Silent Hill differs from other popular horror video games, and I think this is a very special saga. Although it was never considered as a work of popular terror, it ended up becoming popular thanks to being so unique. "
And is that Silent Hill is not just about scares and fear; explore the darkest side of humanity, as well as the authenticity of emotions such as loss, loneliness, guilt or forgiveness. The torn hope of Promise, or the pain of Betrayal, or the melancholy nanny in Room of Angel continues to shrink us years after we have been swallowed by the Otherworld.