Before the Xbox Games Showcase began, we took this unexpected announcement from Square Enix. Naoto Ohshima is involved.
Balan Wonderworld is the new Square Enix project that they had so secretly kept. In the preview of the Xbox Games Showcase, the Japanese company has recovered the essence of great SEGA works such as Sonic The Hedgehog, Nights into Dreams and Chu Chu Rocket! and it is not by chance, because in the project there is a whole Yuji Naka.
This action adventure and platforms so colorful that we have seen in total three dimensions has been seen in a first trailer in which we see a multitude of characters and costumes, settings and the feeling that design elements from the golden age of the 128 bits. The game also has Naoto Ohshima, a SEGA icon. The game will go on sale this spring 2021 for PS4, Xbox One, Xbox Series X, Nintendo Switch, PlayStation 5, and PC via Steam.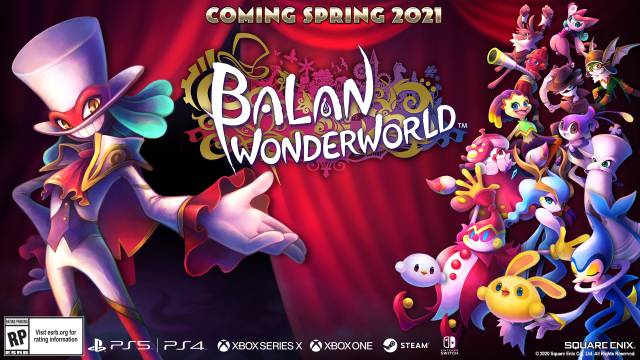 Balan Wonderworld
Xbox Series X, the total console to understand the idea of ​​ecosystem
Microsoft has been very insistent in recent months about its conception of the ecosystem. Phil Spencer's team is not worrying so much about the fact that everyone gets hold of an Xbox Series X, but rather that the gaming community continues to grow. With cases like the 15 million players in Sea of ​​Thieves or the success of Halo: Infinite in terms of media power, they hope that their new machine will be a pathway of opportunities.
The console will be endowed with superlative power, but also with functions designed by and for users such as improved backward compatibility that will guarantee more than 1,000 titles since its launch, improvements in works of the past, now with up to 4K resolution and higher frame rate per second; functions like Quick Resume, Smart Delivery, etc.
In this article you can see all the technical characteristics and specifications of the console, for sale this Christmas around the world. In turn, we remember that until July 27, we can access a wide selection of more than 70 demos of Xbox One games at no cost of any kind. Entertainment for these hot days with which we can get an idea of ​​what is to come in the coming months.
You can check all the news of the Xbox Games Showcase 2020 through this article.