Exiin brings us an adventure with puzzles, platforming and an original concept. Unfortunately, also with large cracks in its finish.
Long before reaching the equator of Ary and the Secret of Seasons, there is a section in which Aryelle, its protagonist, is locked in a dungeon in the deepest part of a mine. The goal of the player, as you might expect, is to escape from there, but not before destroying a machine used for questionable purposes. Although that is not the important thing. The important thing is that the process is solved by throwing into its interior the large stick that we had used minutes before to make our way through the mine. This sequence leaves us without a club and in return gives us another weapon, created from one of the blades that the machine used to cut minerals. From there, and after overcoming a brief chase, we managed to go outside and breathe fresh air … Only that the club still appears in our inventory and the screen continues to show the destruction of the machine as one of the current objectives.
But the story goes on, because even though the game doesn't seem to have recorded that particular event, it does know that we've come out and urges us to move on. So we listen to him and continue, for hours, traveling to new places and overcoming new dungeons with our trusty club, which shows that the game was not designed with him in mind because some sequences un-equip it and using it further trivializes the already of simple combat on its own – even though it's fun to see enemies three times the size of Ary fall in one fell swoop. It is less funny to discover later, on the way to another section already quite advanced, that the failure in the registration of the objective also results in the blocking of the passage through the city near the mine. Their guards, endearing anthropomorphic rams, have not received the news and are at another point in history. So we assume that we have arrived there, that we have to start again.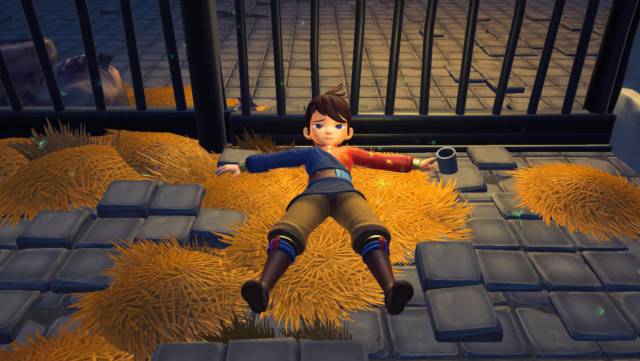 Luckily we were wrong, as there was an alternate route skirting the map and going through another city. Further away, but without rams. It was a relief worthy of being picked up in the introduction because, on the one hand, it exemplifies how useful it can be not to restrict everything and offer more than one option; and on the other, because it also illustrates the worrying state in which Secret of Seasons finds itself. A game whose problems go well beyond this anecdote and prevent you from building a solid adventure experience despite its interesting premise.
Four seasons with pineapple
Daughter of one of the guardians of the stations of the kingdom of Valdi, Ary decides to cut her hair and pose as her missing brother to investigate the fall of meteorites that leave the climate of each region upside down. It is a simple story, but with charm because, despite the clear influence of Zeldera, here you do not have to rescue damsels, but to embody one who takes the bull by the horns – and it is not a saying, because in fact he fights against one. . We also meet several wacky characters along the way and there is even room for script twists, so it works on that terrain. But it is precisely this alteration in the seasons that gives rise to the most interesting ideas offered by a game that may start out as a Zelda impersonator (even the theme of the seasons was explored in depth by the excellent Oracle of Seasons of Game Boy Color) , but it finds its identity with its own applications of increasing complexity and creativity.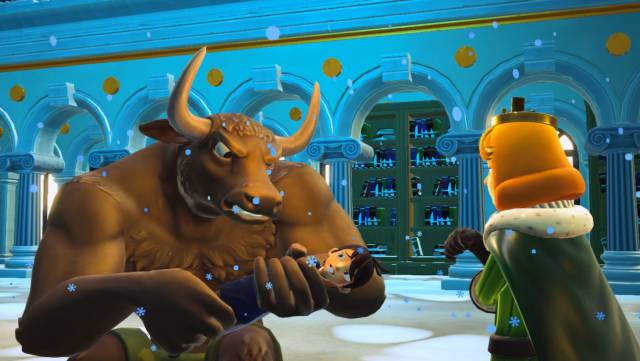 Structured in four large regions that surround the strategically located Dome of the Stations, a building that serves as an initial objective and later return base to facilitate orientation, the world of Secret of Seasons justifies the conventional and implausible concentration of ecosystems in video games ( How many times have you seen lush forests, snowy peaks, and desert plains a few miles away?) To reverse them and upset their inhabitants. Thus, for example, the wintry hometown of Ary is forced into a summer that even melts the ice mansion of one of its neighbors, while the tropical port of Lammastide is covered by blankets of snow to the surprise of residents who only have of appropriate clothing for hotter weather.
This investment gives rise to some mundane tasks like the need to get a coat or light a fire, but it really takes advantage in tandem with the crystals that allow Ary to change stations within a limited radius. Its acquisition is gradual and, given the theme of its village, the first is winter, useful for materializing ice in areas with concentrated humidity or creating solid surfaces on running water. This allows a rather significant platform component to be introduced, more so than in other adventures, although discussing where and how to use this skill tends to be more important than jumping skill. Because even with a reduced range in its basic form, this seasonal change ability multiplies its range of action when activated together with amplifying stones that at first are static and perform functions without room for misunderstandings, but soon begin to present mobile or even manageable variants by the player.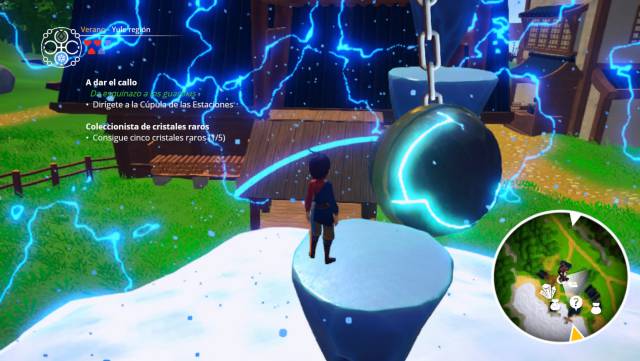 The Puzzles: Good Ingredients
And is that the seasonal theme may remind Oracles of Seasons, but its game philosophy is actually closer to Breath of the Wild both for the importance of physical properties and the approach of some organic situations where the player can improvise different solutions with available items. Although there are only four seasons, the design continues to bring up new ideas long after the matching seasonal crystals have been obtained. In fact, although they cannot be combined (creating one inside another or overlapping two), it is often necessary to chain several to solve certain puzzles, such as using spring to create a void in the middle of a flooded room with a switch at the bottom, get out of the air bubble to ascend diving, use the summer to open a hole in the ice that covers the surface and take the energy orb that activates the mentioned switch and then jump back into the first vacuum.
For these kinds of situations to work, yes, sometimes you take the liberty of equating the effects of the seasons. A good example is found in the autumnal temple, a dungeon where mechanisms activated by water proliferate that make any of the three available crystals appear (four can never be activated at the same time because one station is already active by default). It is a license that can sometimes force the internal logic somewhat, but it serves to create more elaborate puzzles, more demanding platform sections and also take advantage of the seasonal slingshot – released in that same dungeon – that allows you to create spheres from a distance. In an interesting twist, some temples culminate in obtaining and transporting the boss's key, which hangs from Ary's back and nullifies the effects of these spheres to add an extra complication to backtracking – although we would have liked to have it get a little more out of it.
Everything else: Half cooked
Unfortunately, this display of good ideas and occasionally also good executions is hopelessly trapped in too poor a finished product, stacking problem upon problem until every possible box is checked, moving through a spectrum that ranges from easily solvable inconveniences (such as intrusive lens interface, unprofessional finishing menus and translation errors) to severe performance issues (framerate suffers frequently) or strange collisions, not to mention errors that force game loading (such as switches that de suddenly they no longer react to Ary's grip mechanics) or the glitch with which we opened the Reviews. To say that the game looks like a beta instead of a final version would not only be appropriate, but at times even generous, since some of its problems are more typical of an alpha with many months of development still ahead.
On the visual plane, not even the stylized and vibrant artistic direction manages to make up a game with enormous graphic deficiencies in any of its versions, but that reaches tragicomic extremes on Switch, where regardless of whether we play in dock or laptop mode, the drawing distance and the fog in some areas recalls the worst exponents of Nintendo 64 without the need to fall into hyperbole. The size of the world, without being gigantic, is soon revealed on a scale that the studio either did not have the time or means – perhaps both – to manage, leaving lots of NPCs without dialogue or animations, empty streets and esplanades that would hardly give the I hit in Wii times. The texturing and lighting system are also particularly poor and Ary, in a staggering lack of attention to detail, not even on consoles like PS4 or Xbox One enjoys a simple round shadow at his feet to help us know precisely where they will land. the jumps (something already solved by Super Mario 64 almost a quarter of a century ago).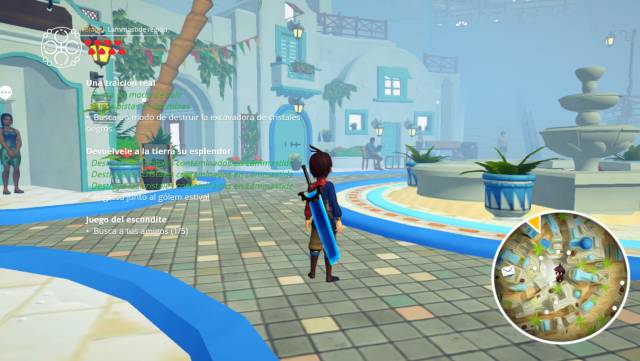 For its part, the combat passes without pain or glory through the middle of that constant struggle between the flashes of some puzzles and the alarming lack of general polish that flies over the rest of the title. Perhaps their greatest virtue is not adding too much weight to either side of the scale, being light and easy — even without a club — so that the dance of the seasons captures most of our attention. Strut, it can also be used to melt ice shields, remove protective brambles, or even make or disappear enemies incompatible with that station, but its impact is anecdotal outside of bosses, where the bar raises just enough and leaves some honorable exceptions. . More noteworthy is the presence of a counterattack (the classic parry) that invites you to be attentive to reject attacks and return them with more power, but the timing is quite generous and ends up downplaying the improvements.
Because scattered around the maps, both in the open world and in dungeons, there are chests that reward us with money – something that does not seem too fine looking seeing the figures dance – and then invest in merchants who offer weapons, clothing or even runes with effects on the combat. However, unless we raise the difficulty, most of it is dispensable or has a purely aesthetic value. It is not the most serious problem, but it is another one that adds to the pile. Even the sound is counted among the victims: the soundtrack is very good when it plays, but sometimes it does not or the melodies restart abruptly; and the English dubbing of the sequences also tends to be proficient, but the NPCs do let out some squeaks that are out of place. It's even fascinating to see how absolutely everything would benefit from touch-ups or more time in the oven.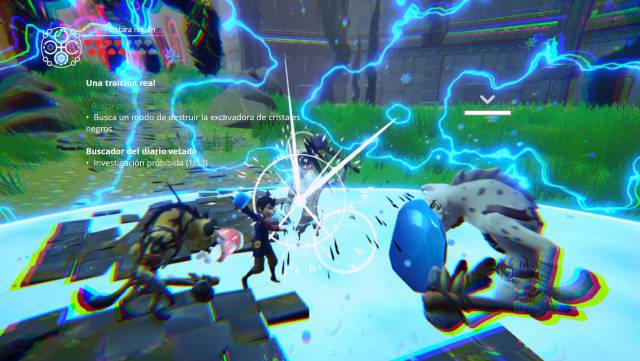 CONCLUSION
Ary and the Secret of Seasons is a 10-15 hour adventure with a good premise and some glimpses of genius in its puzzles. The changes of season keep their development interesting at the design level and the touches of humor reveal potential in their world, although everything else falls apart and ends up muddying the experience. The product arrives on the market with a finish that does not do justice to its intentions, exhibiting important defects in aspects such as lighting, drawing distance, animations, performance and also its share of glitches. Today it leaves the feeling of being a premature Early Access, but at almost full price and without guarantee of improvement, so we cannot advise its purchase unless you are very curious about its approach. And even in that case, in addition to ruling out the Switch version – if possible – it would be advisable to wait for a reduction to see if the studio polishes it up in the meantime. You have good raw material to work with, but you need to keep doing it urgently.
THE BEST
Seasonal changes and their implementation in many puzzles.
The sound section fulfills both in the field of voices and, above all, that of music
WORST
Technical disaster, unfit for a commercial version.
It contributes little in substance to combat and exploration outside of dungeons.
Improvable
It may have acceptable elements and entertain, but overall it is an experience that will not leave a mark.