Toys for Bob clarifies the situation as a result of the message that appeared in the official Microsoft store days ago. Official statement from the company.
Crash Bandicoot 4: It's About Time will not feature microtransactions. Toys for Bob, a subsidiary study of Activision in charge of the long-awaited video game, has reported on Twitter about the absence of integrated purchases in the title to settle the confusion caused by the message from the Microsoft Store days ago.
As we collected in FreeGameTips, the official Xbox store indicated the presence of micropayments in Crash Bandicoot 4: It's About Time, although it did not explain what type or if it would only stick to cosmetic elements, as happens in other works where microtransactions do not affect gameplay.


Crash Bandicoot 4: It's About Time in the Microsoft Store.
Now, everything has become clear: "We are seeing confusion about microtransactions in Crash Bandicoot 4: It's About Time and we want to be clear: There are NO MICRO-TRANSACTIONS in Crash 4. As a bonus, Totally Tubular skins are included in all digital versions of the game ", they stick to say.
Thus, since these skins will presumably be included as a download code – at no additional cost – in the digital reserves of the PS Store and Xbox Store, the store interprets it as a microtransaction … but it is not a payment transaction, but rather a digital transaction to redemption mode.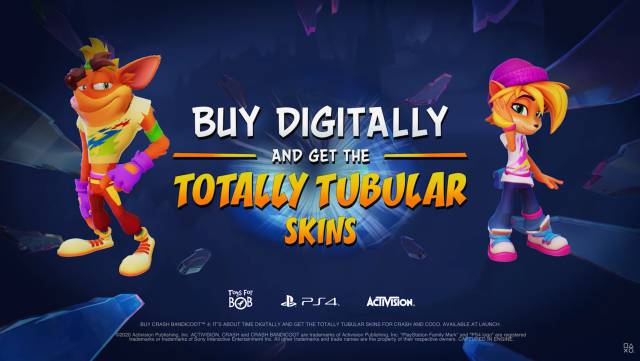 Totally Tubular Skins from Crash Bandicoot 4 Digital Editions.
Crash Bandicoot 4: It's About Time, October 2 on PS4 and Xbox One
Crash Bandicoot 4: It's About Time will be released this October 2 on PlayStation 4 and Xbox One. Regarding the possibility of seeing the game on other platforms, such as PC and Nintendo Switch —where we did have time after Crash Bandicoot N. Sane Trilogy—, Activision has assured that they do not close the doors to these options because they are "evaluating" the availability of launching it in other systems. They have nothing to announce right now. This week we learned that there will be a new and versatile level based on a pirate island. You can see it here.