We show first impressions about this action RPG that is currently in Early Access and has a very promising future assured.
The video game Ender Lilies: Quietus of the Knights is now available on the Steam platform as an Early Access, undoubtedly a bet on quite interesting metroidvania. In charge of Live Wire and Bynari Haze Interactive, we will be able to unravel the mysteries of a Kingdom devastated by the Deadly Flood and face great enemies. In this small part available they allow us to delve into three of at least eight available areas that will be in the game, in addition to introducing us to the mechanics, combats and skills. The full launch is scheduled for the second quarter of 2021 and we can enjoy it on PlayStation 4, PlayStation 5, Xbox Series X | S and Nintendo Switch. In this version, it will depend on how much time we spend exploring and our experience in action games, it may take us approximately three hours.
Break an eternal curse
Long ago, in distant Finisterra, a Deadly Flood began to fall unexpectedly from the sky, transforming all living beings into impure, undead consumed by its wrath. This eternal curse did not persist, it left a Kingdom totally devastated, but in the bowels of a church, in a world on the verge of extinction, a young woman named Lily opened her eyes. Lily will become our main character and the one who will try to save this world by purifying souls and facing a tragic and beautiful world at the same time. In this early access phase of Ender Lilies we will be able to appreciate the great bet towards a metroidvania with a dark fantasy style that will encourage us to unearth mysteries and overcome all adversities. We will have an immersive exploration with an intrigue system to discover the many secrets that await us and where we can decide whether to face great enemies or continue exploring. We will have a map to formulate game strategies, but this map will only be possible to open at rest points.
Rest points become an essential element for this RPG, in addition to being very Hollow Knight style. They will be located at different points on the map like a bank and in them we can save our progress, restore life and the limit of use of skills, improve skills, in addition to seeing a series of options such as: the registration of our game, the skills we have and build our sets, the relics to equip and a series of collectibles and texts.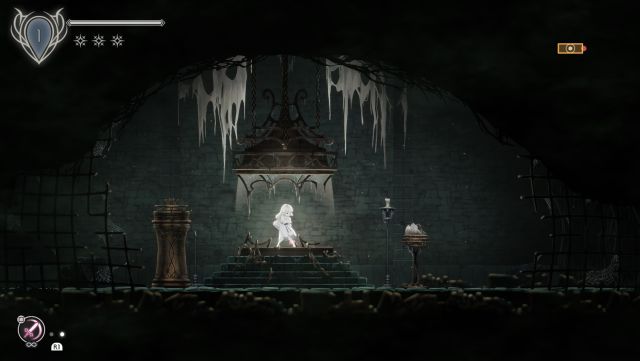 Customize your fighting style
One way to make a game unique is by giving the player the opportunity to create their own way of fighting and to choose between different abilities. We will have two sets to place different skills as we like more, it is true that currently there is a lower number available than what we will find in the final version of the game and, despite being scarce to depend only on a sword with uses Unlimited and somewhat awkward, it was perfect for our short experience. Each purified soul will grant us these abilities and they will fight for us, conducting some interesting strategies and keeping in mind the limited use of each of them. However, we can restore its number of uses by collecting red flowers or equipping certain relics that will develop different parameters according to our style of play. We will have to alternate each element and not depend on the sword to achieve an easier victory in complex situations with more complicated enemies.
It will also be important to find impure sediments, this will allow us to improve skills by increasing their attack or adding some improvement that makes fighting easier. As an example we will have as a skill the Guardian Sigrid, a kind of iron sphere that attacks adjacent enemies, it can be used with another main or secondary one, but it needs time between each use.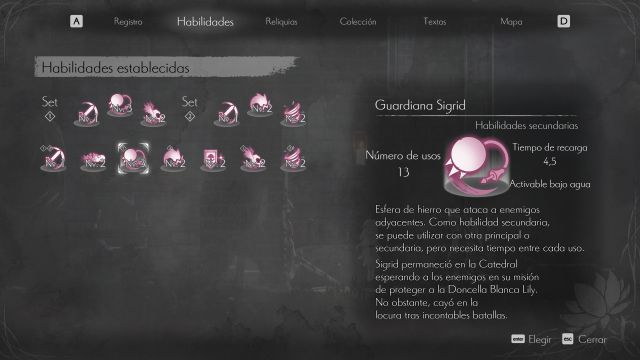 If we believe that our equipment between main and secondary skills is ready, it is time to face terrible and powerful enemies that await our presence, it should be noted that at the beginning of the game something low in difficulty begins and increases with progress. Thanks to the variants made previously, they will allow us to enjoy varied combats, but at the same time tense and exciting, although it will not be Lily who fights but the souls that accompany her. In these types of games we have to try to be patient and think about the next shot considering a good strategy and keeping our guard at all times. However, there will be different elements on the screen to take into account: the healing points (which will be three), the life bar and our level. The level-up reward feels a bit lazy at the moment and doesn't give much of a bonus for it. Achieving victory is not that far from what it seems, but we will have to run, dodge and use each skill in very intense combats, with very varied enemies and with final bosses. Currently we can fight against three of the eight bosses that will be in the final version of the game.
A great beauty among ruins
In Ender Lilies we can enjoy a 2D art set in a dark fantasy, but with a perfect contract between beauty and the curse of the immortals. It manages to place us before a beautiful cataclysm, with brilliant aesthetics, impressive details and an environment with charming gothic and dark scenes. Our protagonist Lily is the meaning of delicacy, a character that will only be represented with the white color of purity, will be accompanied by different souls that stand out for their different animations, both when they attack and when we are absent and reappear by our side . As for the soundtrack, it not only sets this fantastic fantasy environment, but also takes us to a fairy tale, with delicate tones and music that will change depending on the situation and the areas in which we find ourselves. Finally, it should be noted that in this short demonstration it already brings texts perfectly translated into Spanish.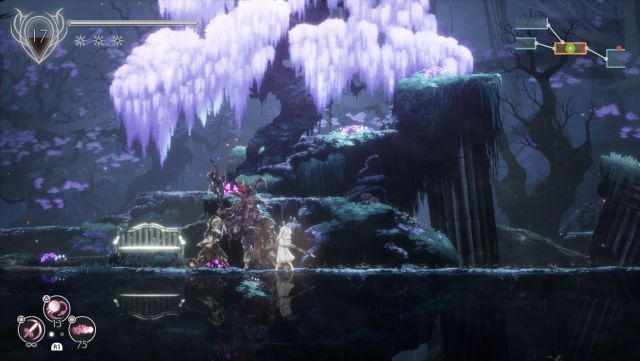 In short, Ender Lilies becomes a quite promising metroidvania bet with early access that perfectly attracts fans of this genre, although it is easy to stay with more desire to continue enjoying its history. With a style set in Hollow Knights and Dark Souls, a personalized combat and an outstanding soundtrack, we will be able to enter a challenging adventure from which they will create a great game. There are certain details in its gameplay that are still loose, but there is still time to enjoy this finished game, so it will be important to follow it closely.