The new title of the Codemasters saga will come to PS4, Xbox One, PC and Google Stadia with the novelty of having the My Team mode for the first time.
The traffic lights are about to turn green for Formula 1 not only in the video game world but also in the real F1 World Championship. With only a few days to go before the first Grand Prix of what is going to be an extraordinary season, it is time to review the essential information of F1 2020, which arrives this week on PS4, Xbox One and PC; later on Google Stadia.
F1 2020 release date on PS4, Xbox One, and PC
It will be this July 10 when we can get behind the wheel of all these platforms in different editions in both physical and digital formats. With the full license in pilots, teams, circuits and brands, the title promises to be the best at the controls of the entire generation. Codemasters has taken note of the good and the bad of previous iterations to also include the new split screen and the expected My Team mode, with which we can create our own team and customize it in a multitude of ways.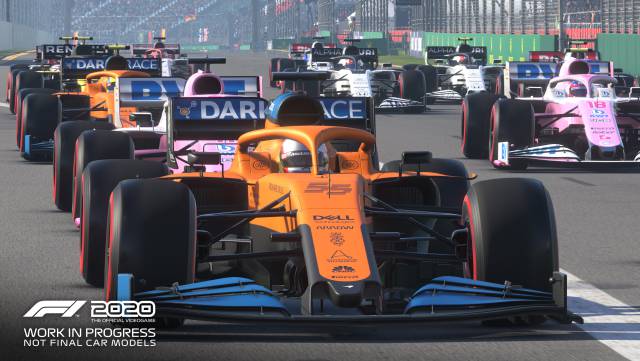 F1 2020
Currently, F1 2020 can be purchased in advance in various editions. The first, the Seventy Edition for 69.99 euros with some downloadable rewards; on the other, the Deluxe Shumacher Edition, which for 79.99 euros brings the full game, 3 days of early access (July 7) and four iconic Michael Shumacher cars: Jordan 191 from 1991; Benetton B194 of 1994; Benetton B195 from 1995 and Ferrari F1-2000 from 2000. Headlining the news you can see the main trailer for the title.
Teams and drivers confirmed for the 2020 F1 Season
As collected by our sports partners at AS, for this season there are only two novelties for the Formula 1 World Cup: Esteban Ocon and Nicholas Lafiti. The World Cup will begin this Friday, July 3 in Austria with a total of eight grand prizes with two doubles; the first of them in Austria itself. The next, if all goes well, will be at Silverstone on August 2 and 9. This is the list of drivers with their corresponding car in each team:
Mercedes W11: Lewis Hamilton and Valtteri Bottas
Ferrari SF1000: Sebastian Vettel and Charles Leclerc
Red Bull RB16: Max Verstappen and Alexander Albon
McLaren MCL35: Carlos Sainz and Lando Norris
Renault RS20: Daniel Ricciardo and Esteban Ocon
Racing Point RP20: Sergio Pérez and Lance Stroll
Haas VF-20: Romain Grosjean and Kevin Magnussen
Alfa Romeo C39: Kimi Raikkonen and Antonio Giovinazzi
Alpha Tauri AT01: Daniil Kvyat and Pierre Gasly
Williams FW43: George Russell and Nicholas Latifi
From FreeGameTips we have already been able to play F1 2020, the video game, and we have been able to chat with its director, Lee Mather. We tell you our impressions here. "The first laps of the F1 2020 circuit give us all the good things they built on this stage of Xbox One and PS4. It is better controlled than ever ", says Alejandro Castillo, editor of this house.