Villains and antiheroines who make seduction and cunning their main weapon.
There is an archetype of woman that has endured throughout history. The warning about how beauty can be as irresistible as it is dangerous has served to alert men to their own sexual urges and also to create a misogynistic narrative around women. From the myth in which Eve convinces Adam to eat the forbidden fruit, or Delilah conquering Samson to reveal the secret of his strength, there are several women who make their sensuality a powerful weapon. In film noir, this stereotype became popular as the femme fatale, with very specific characteristics that enhanced its appeal. In video games, we have also met ladies who we knew were going to bring us problems as soon as we saw them. From Mona Sax in Max Payne's noir story, to, through Elizabeth Comstock in Marine Pantheon, to spy Ada Wong and her presentation in Resident Evil 2. Today in FreeGameTips we talk about these seduction gunners and what makes them unforgettable, beyond its physical charms.
The figure of the fatal woman in film noir
Thanks to film noir, the image of the femme fatale has been imprinted in the popular imagination with very specific characteristics. That beautiful and elegant lady who comes to the detective's office looking for help, usually dressed in dark colors and smoking a cigarette holder. However, the mysterious air that surrounds her announces that her secrets may turn against us. Either she is the one who has murdered her own husband for her own ends, or she has connections with the mafia. Traditionally, her role is that of a villain, although she has evolved into an antiheroine / antagonist with gray morals.
In the magazine Mito, Ángel Carrión defines the fatal woman as "an expression of the male fear of female domination through her attractiveness and sexuality, the fear of being reduced to a figure, as beautiful as evil, that absorbs it and destroy it completely. " However, it is not enough for the femme fatale to be sexually irresistible and pernicious; must be independent and self-contained. Ellen Wright, a doctor who specializes in film noir, revealed for the BBC how this stereotype became popular in Hollywood after World War II to demonize female independence, after women occupied traditionally male jobs. Wright also highlights how she is not just a charming vampire: "I see her as an incredibly powerful and cunning character who not only drives the narrative, she revels in her sexuality and looks like a fable. She knows the system well and rejects her place within it. Whether she is punished for her actions – and the truth is that it always ends that way – I think she sends an empowering and invigorating message. "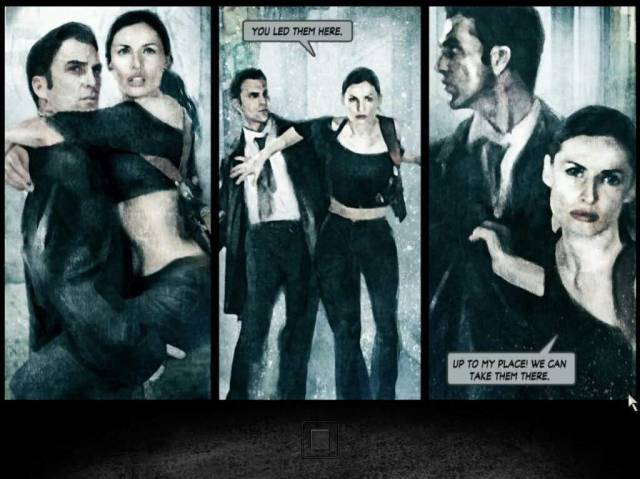 Mona Sax in Max Payne 2
NOTE: In this report there are spoilers for Max Payne 2, Grim Fandango, Resident Evil 2 and BioShock Infinite.
Mona Sax, Max Payne's best partner
If we talk about the genre noir in video games, the Max Payne saga is one of the biggest references. Sam Lake, writer of the game, created his tormented detective from Dark Justice, a sketch set in a dystopia; and a role-playing campaign inspired by classic film noir, as reflected in a report by The Startup. In Max's story, a seductive and mysterious ally could not be absent: Mona Sax. This professional assassin is presented in the first installment of the game, although it is not until the second part where she acquires her role as a co-protagonist. Suspicious and responsible for the murder of Senator Sebastian Gate, she teams up with Max Payne as they live a romance marked by desire and risk. Mona fulfills many of the defining qualities of a film noir femme fatale, as defined in Complex: "She is the woman dressed in black, mysterious and sensual. It's the perfect counterpoint to Max, because you're always questioning his loyalty, you don't know if he's going to take you to bed or if he's going to shoot you in the back. A hit man who considers death a business, Mona proves at the end of Max Payne 2 that love can with can with everything ".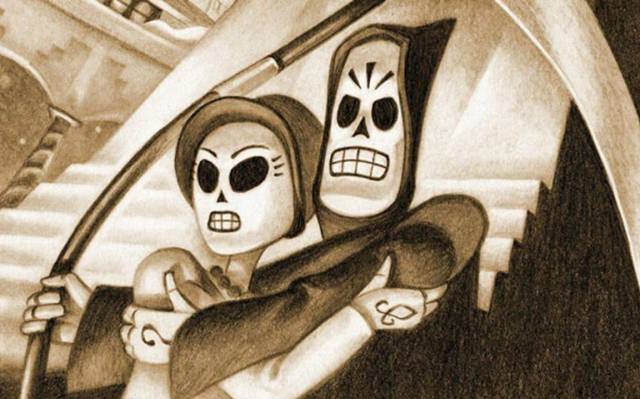 Mercedes Colomar and Manny Calavera on the cover of Grim Fandango Remastered
Grim Fandango: Mercedes Colomar and Olivia Ofrenda
Grim Fandango combines elements of Mexican culture with the precepts of classic noir cinema. "It is a tribute done with love", as defined by Tim Schaffer in his interview for GameStudies. "With Grim Fandango, I wanted to do film noir, but not what had already been done in video games, like Killing Moon and others. People had explored only one facet of noir, which seems very superficial to me. You know, that Sam Spade sitting in his office with a bottle of whiskey and a visit from a beautiful lady. " During the development of Grim Fandango, the designer attended a film noir festival held in his city and devoured all the screenings. In the aforementioned interview, he mentions Casablanca, Gilda, Perdition and The Eternal Dream as the greatest influences of Grim Fandango.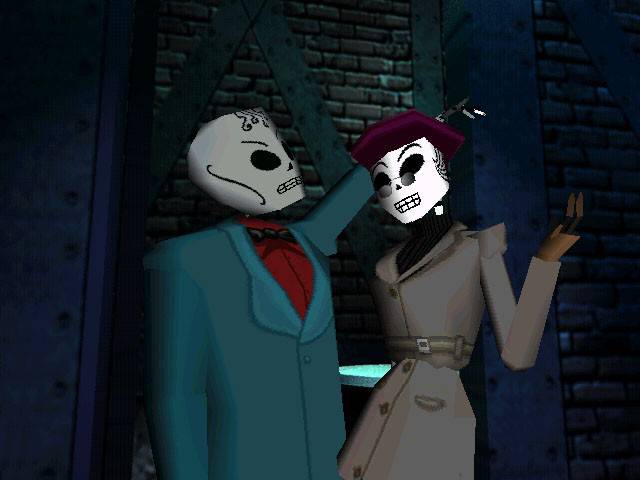 Olivia Ofrenda in Grim Fandango.
In the game we find two fatal women. One of them is Mercedes Colomar, Manny Calavera's love. The essay Game Noir A Case History of LucasArts's Grim Fandango analyzes his role within the game. With his cloche hat and suit jacket, his sweetness hides something else: "Grim Fandango also has that common element of noir: the femme fatale, the sexy and underrated woman who has a dark secret. In Grim Fandango, this figure takes on a certain complexity. Mercedes Colomar believes that Manny is involved in the scam that Hector and Domino have set up to steal the tickets for train Number 9 and, when he discovers her, he points a gun at him and threatens to shoot him, despite his immaculate record on the ground. of the living. During his incarceration and time with Domino, he begins to smoke. She sabotages Manny's mission to reveal the truth, but contrary to the typical femme fatale she is not destroyed because she is a threat to male dominance, as Telotte suggests. In Grim Fandango, it is the male characters who take the lead, and he fits into that male exploration of the environment so typical of film noir, but Meche's role shows that the main philosophy behind any noir narrative is, precisely, experimentation " .
Olivia Ofrenda is the other femme fatale in Grim Fandango, who most obviously sports the defining characteristics of this stereotype. Attractive (according to the canons of the gaming universe) and elegant, smoking with a mouthpiece and with a distant attitude towards men. In TV Tropes it is analyzed how seduction and manipulation are part of his narrative: "He goes out with a mobster and his lawyer at the same time, and shows all the traits of a fatal woman, according to the influence of gender noir in the game. She disassembles the topic when she helps the resistance against the evil conspiracy, but disassembles it again when it is revealed that she destroyed Salvador Limones, leader of said resistance. She also gives Manny Calavera to Hector LeMans, who she's dating. "
Elizabeth in Marine Pantheon, Evolution of Innocence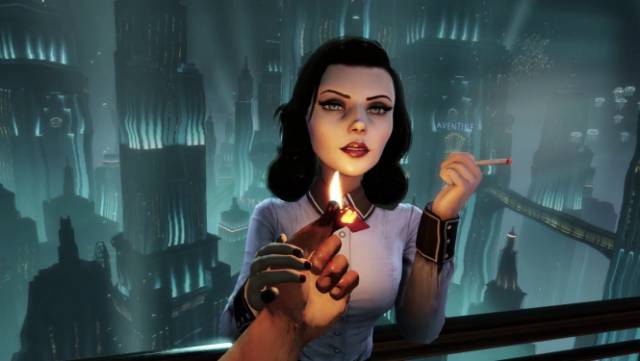 Elizabeth at the Marine Pantheon, seductively calling for Booker fire.
Co-star of BioShock Infinite, the role of Elizabeth Comstock breaks some established conventions within escort missions. A useful ally in combat, beyond a helpless damsel in distress. Amanda Jeffrey, level designer at Irrational Games, tells in the documentary Creating Elizabeth: The Women That Brought Her To Life how they gave her a life of her own so that she was not an empty satellite: "She does not behave like a passive follower, although she adapts to Booker. If we are still in a place, she explores on her own, fixes her attention on an object … Or we see her sadness when she leans against a door before it opens and she accedes, out of carelessness, to enter ".
Elizabeth's in-game journey deals with the loss of innocence that marks her maturity as well. She goes from being the princess of the tower to knowing the harshness of the world and even staining her own hands with blood. In the final scene, the Elizabeths of all alternate realities decide to eliminate Booker / Comstock from all timelines. This causes a space-time paradox in which all versions of Elizabeth disappear and transfer their knowledge to the last, who decides to pursue DeWitt to Rapture.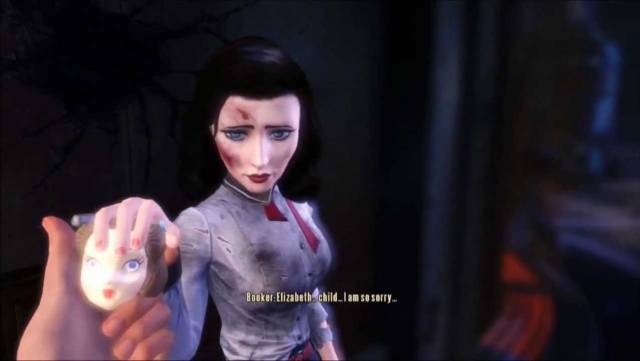 Booker begs Elizabeth for forgiveness before she rejects him.
The Elizabeth of Panteón Marino possesses all the knowledge acquired from all her counterparts, thus creating a mature and cunning version that has little to do with the happy girl who lived isolated in the tower. The opening scene is a carbon copy of the aforementioned noir cliché: Booker DeWitt, a private detective, is in his dark office and receives a visit from Elizabeth, who exhibits all the gestures of a femme fatale: her elegance and mysterious air, her attitude seductive when asking for fire. Ken Ken Levine himself recounts in a Reddit thread that his aesthetic was inspired by classic film divas such as Veronica Lake, Lauren Bacall and Rita Hayworth.

Ada Wong in Resident Evil 2, wearing archetypal spy gear.
Elizabeth tricks Booker into promising to help him rescue her adopted daughter Sally. Finally, the detective discovers the true identity and intentions of his partner, who cruelly rejects his forgiveness before watching a Big Daddy slaughter him.
Ada Wong, seductive spy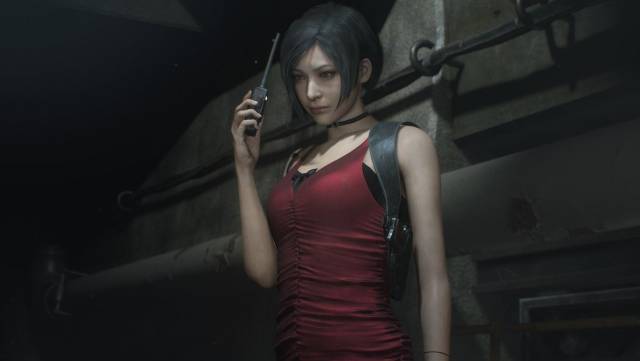 Ada Wong during her playable section in Resident Evil 2 Remake.
In the espionage genre, we observe an evolution of the femme fatale archetype: the femme fatale spy. On TV Tropes she is defined as "an attractive young woman who uses her charms – eroticism, emotional manipulation or both – to carry out espionage work under a guise of innocence".
In Resident Evil 2, Leon Kennedy meets Ada Wong, a survivor in Raccoon City who has landed in the infected city in search of her missing boyfriend. In the Remake, she introduces herself as an FBI agent. In both versions, despite the fact that the woman knows how to fend for herself, the rookie police officer is carried away by his protective instinct to take care of his new partner until they can flee together from Umbrella.
During the getaway, the attraction between Leon and Ada is brewing. However, at the end of the game, the young man discovers that his new beloved is actually a special agent sent by a rival company of Umbrella to steal a sample of the G virus. John, Wong's previous partner, worked for the evil drug store, and she had seduced him to get company secrets.
The sexual tension between Leon and Ada continues throughout the saga, while the spy's motivations are always ambiguous. Her appearance also meets the requirements of a femme fatale, as discussed in Rely on Horror: "Ada Wong is one of the best female characters in the saga. There is something about her mysterious demeanor and striking appearance that makes her unique. She is a beautiful woman dressed in red and a spy. And very good at her job, capable of fooling Leon's flirt a couple of times, then helping him at crucial moments. Basically, we can consider Ada as the female version of Wesker. She is quite a femme fatale ".
True to themselves and their own moral code, rebellious against the ideal of the submissive woman, femmes fatales are a dark fantasy of power. With their intelligence, autonomy and self-assurance, they are much more than just a pretty face. In digital entertainment we can find endless of these dangerous ladies and, although they are not all in this report, they are all there.