EA Sports chooses the 10 best footballers in the world for FIFA with their exact score for this season. Mbappé, Neymar, Lewandoski and more.
EA Sports has completed the ranking of the 100 best FIFA 21 players by announcing the final ranking of the Top-10; that is, the best footballers in the game. The long-awaited Electronic Arts simulator is preparing to hit stores with what promises to be one of the most complete editions of recent years, including launch on the next-generation consoles, PS5 and Xbox SeriesX / S. These are the best FIFA 21 players.
The list is headed by the best stars on the continent, since coincidentally all those chosen for the Top-10 of FIFA 21 belong to clubs in Europe. Number one is still the one who is for many the best player in history: Lionel Messi. The Argentine star, who will continue this season at FC Barcelona, ​​holds an average of 93; one point more than the incombustible Cristiano Ronaldo, from Piemonte Calcio (Juventus de Turin). The podium is closed by Robert Lewandowski, current UEFA Champions League champion, with a 91. This is surely his best season.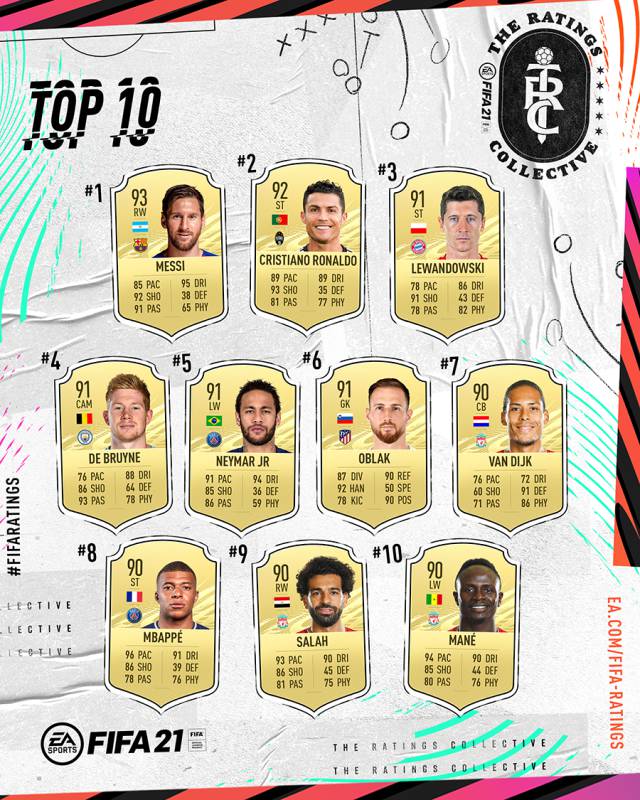 FIFA 21 hits stores October 9
The rest of the top is made up of names like Kevin de Bruyne, Neymar Jr, goalkeeper Jan Oblak, Virgil van Dijk, Kylian Mbappé and Mohamed Salah. A dozen stars that any team would like to have in their lineup.
FIFA 21 will be released on PS4, PS5, Xbox One, Xbox Series X, Nintendo Switch and PC on October 9; October 6 if we reserve any of the editions. The license of the UEFA Champions League and CONMEBOL will be maintained, in the absence of more news. You can know all the news of the game in our current section.
Top-10 best FIFA 21 players
Lionel Messi, FC Barcelona (93)
Cristiano Ronaldo, Piemonte Calcio (92)
Robert Lewandowski, Bayern Munchen (91)
Kevin De Bruyne, Manchester City (91)
Neymar Jr., Paris Saint-Germain (91)
Jan Oblak, Atletico Madrid (91)
Virgil van Dijk, Liverpool (90)
Kylian Mbappé, Paris Saint-Germain (90)
Mohamed Salah, Liverpool (90)
Sadio Mané, Liverpool (90)