EA Sports will offer all the new game mechanics and modes available in the title in August. VOLTA's return confirmed.
Electronic Arts will offer all the latest game modes and game mechanics for FIFA 21 next August. It will be then when the new installment of the popular EA soccer simulation saga details its main modalities and what we can expect in the playable plane.
For the moment, aside from confirming that the Spanish LaLiga will continue to be linked to FIFA for the next ten years, we know that VOLTA Football is back; the spiritual successor to FIFA Street. Also, another way that can not miss is FIFA 21 Ultimate Team, the star of the license in recent years. Pro Clubs will not miss this season's appointment, nor will Career Mode.
All this and more, in a few weeks with an assortment of news that we do not know if they will have an equivalent to the EA Play 2020 digital event or if they will opt for trailers accompanied by more traditional press releases.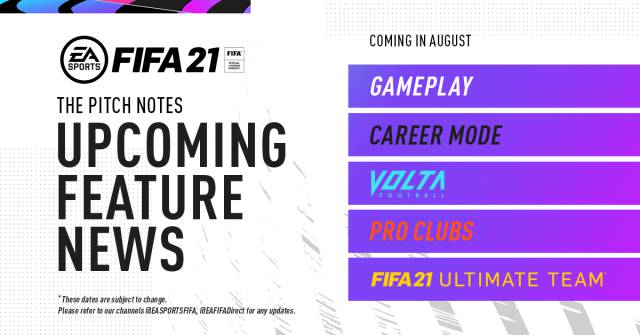 "During the summer we will tell you more about FIFA 21 for PlayStation 4, Xbox One and PC. Don't miss the updates and new trailers ", indicates EA in its official portal, urging to be aware of these developments through their social networks.
FIFA 21, October 9 on PS4, Xbox One and PC; coming soon on PS5 and Xbox Series X
FIFA 21 will go on sale on October 9 for PS4, Xbox One and PC. The release date of the Nintendo Switch is yet to be determined, as does that of Google Stadia. In the hybrid console, we are talking about a Legacy Edition, the same as in previous installments. In this way, FIFA 18 will be taken as the basis and an "improved presentation" will be applied in the game menus and graphics of the fully updated broadcasts, kits and equipment; However, it will not include new game modes or innovations in mechanics. Those who reserve will be able to start playing on October 6.
All those who buy PlayStation 5 or Xbox Series X will automatically take a copy of FIFA 21 if we get the title on PS4 and Xbox One before FIFA 22 is released. It does not matter if we do it in physical or digital format. We explain here what is that of "Double version" and what improvements will be available on these consoles.
More information | EA