Fitness Boxing 2: Rhythm and Exercise is a Nintendo game that introduces the gym at home. Boxing and music are combined so that home premieres become fun and varied.
Gyms strive to attract customers every year. Many of these clubs try to reinvent themselves by incorporating activities that are related to contact sports, but replacing the rival with motivating rhythms. Body Combat or FitBoxing are just two examples of the new disciplines that tone our body with sugar cane music.
These new modalities within cardio have gained many followers due to the high intensity of the training and the stimulating rhythm. However, the pandemic has caused the gym to move to our home. Ring Fit is being a revolution in 2020, but it is not the only one who wants us to sweat the shirt, Fitness Boxing 2: Rhythm & Exercise from Nintendo Switch offers us the best fitboxing on Switch to physically benefit us while we have a fun time.
First steps
To enjoy this game, no technical boxing knowledge is required, you just need to put on the joy-cons as gloves and follow the tutorial, which will start with the most basic: the position of the body and two types of blow. The first thing that we must master is the balance, since a correct footwork will give us stability and power in the execution of the movements. Do you want to refresh any movement? All you have to do is enter "First Steps" to review those blows that resist you.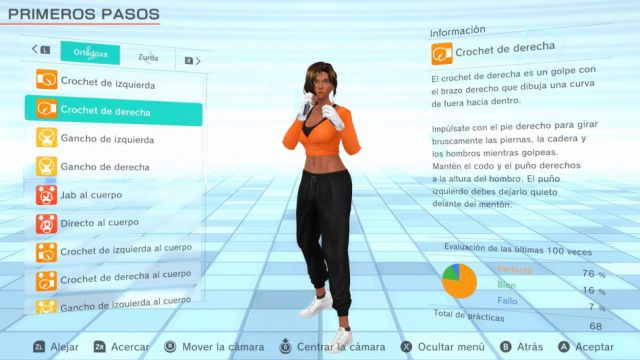 The next lesson will be to know the mechanics as a good rhythm and exercise game that it is. Fitness Boxing 2: Rhythm & Exercise has a matrix in which the types of blows that the player must execute at the precise moment circulate. Hitting the center of the marked space gives a perfect score. And if not, it can vary between a "good" or "failure". When we chain together a series of perfect movements, the "inspiration" state comes into play, where the set is transformed into a psychedelic show in which we can double our score. The key to hitting the hit is to keep up and start to lose sight of the on-screen indicators.
Consistency is the key
Before starting the exercise in earnest, it is worth checking the "my details" section. There our BMI is calculated and the amount of calories burned is estimated. The initial file will collect our age, height, weight and goal to achieve. If we do not want anyone else in the house to discover our data (the weight is highly sensitive information) it is possible to assign a password.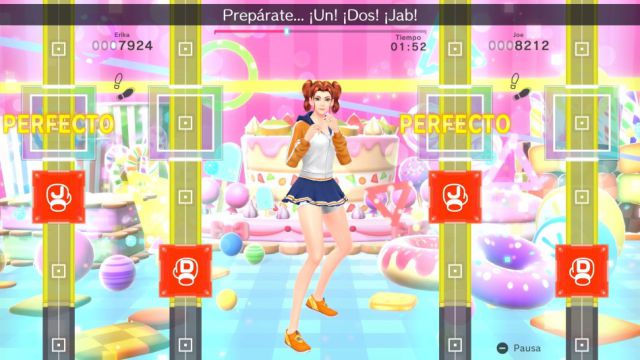 A coach will guide us at all times through the tests and menus. Janice, the first instructor, offers us essential information to get started in fitboxing and will motivate us during training. These include between daily session or free exercise. In the daily session, exercises designed according to the player's objective are carried out. The card indicates relevant data such as difficulty, time, part of the body to be worked on and the musical themes. They usually have three parts: stretching (warm-up), training, and stretching. As for free exercise, it allows us to focus on a specific area or movement, among other types of customizations.
Exercise customization
Based on my goal of working the whole body in 25 minutes, my instructor designed a very comprehensive exercise chart that included jabs (straight left), direct (cross), and 1-2. The next day I unlocked crochets, hooks, triple shots, and dodges. By combining many of these movements I noticed how the intensity of the training grew and I could work different parts of my body. At the end I obtained my statistics, and an important calculation was made: physical age. A moment of tension and reflection, -and reminiscences of Brain Training- and the perfect excuse to self-improve on a daily basis.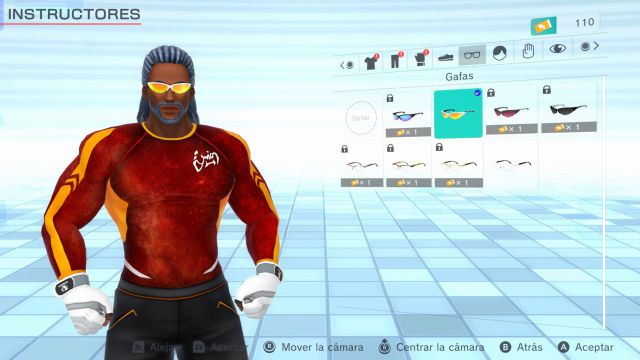 In Fitness Boxing 2: Rhythm & Exercise we will accumulate achievements for completing game objectives that are translated into reward tickets to customize our trainer. What you read, a very international group with their own voices and animations will be eager to teach us the discipline, and dress in fashion. Its accessories will be varied, as well as physical customizations (hair color, eyes …) It is also possible to unlock melodies from popular songs such as "YMCA" by Village People or "Hot N Cold" by Katy Perry. Of course, they are adaptations without lyrics.
In order not to skip training, an alarm can be added through the settings menu, this will cause the HOME button to light up at the time set and the Joy-Con to vibrate. There are no excuses for not spending time a day getting in shape. By the way, if you have played the original you can import your statistics in this second part.
Finally, we must talk about the cooperative mode. We all know that exercising in company is much more fun. Dare to challenge a partner with 2 or 4 Joy-Cons and do a session of Fitness Boxing 2: Rhythm & Exercise together. When finished, take a look at the statistics and challenge another super workout.
CONCLUSION
Fitness Boxing 2: Rhythm & Exercise is a rhythm title that aims to keep us healthy and fit while having fun. It offers a correct customization of training and alarms so as not to neglect our appointments. As well as complete statistics of the exercises carried out and calories burned. A good option for beginners of this directed activity.
THE BEST
Being able to practice fitboxing at home
Varied exercises and interesting customization
Simple and fun
WORST
Absence of voices in Spanish
More accurate motion detection is missing