Harmonix confirms the release date of its new music simulator for PC, PS4, Xbox One and Nintendo Switch with more than 100 different songs.
Fans of the genre of music simulators are in luck; And it is that Fuser, the new thing from the creators of Rock Band and Dance Central, already has a release date on PC, PS4, Xbox One and Nintendo Switch. This has been announced by Harmonix, confirming that the title will be available on these platforms as of November 10, 2020.
Merge your favorite tracks DJ-style
Thus, the main attraction of Fuser is that it will allow its players to merge more than 100 current and past songs in the purest DJ style, creating new versions by modifying the rhythm, melodies, lyrics and more of each song, thus enhancing creativity. musical of all those who cheer up with the mixers of the new Harmonix.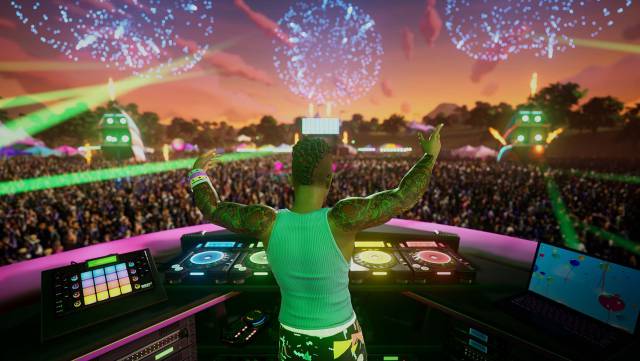 For this we will have more than 100 different songs by the most popular singers and groups on the international scene, both current and recent years; Here is a list of some of the best known:
Armin van Buuren "Blah Blah Blah"
Brad Paisley "Mud On The Tires"
Cardi B "Bodak Yellow"
Carly Rae Jepsen "Call Me Maybe"
Coldplay "Clocks"
Dua Lipa "Don't Start Now"
DMX "X Gon' Give It To Ya "
Grand Master Melle Mel "The Message (2012)"
Jonas Brothers "Sucker"
Macklemore & Ryan Lewis ft. Wanz "Thrift Shop"
Nelly "Hot In Herre"
Panic! At The Disco "High Hopes"
Pitbull ft. Ne-Yo, Afrojack & Nayer "Give Me Everything"
Whitney Houston "I Wanna Dance With Somebody (Who Loves Me)"
Zedd ft. Maren Morris & Gray "The Middle"
50 Cent "In Da Club"
Billie Eilish "Bad Guy"
Blue Öyster Cult "(Don't Fear) The Reaper"
The Chainsmokers ft. Daya "Don't Let Me Down"
The Clash "Rock the Casbah"
Fatboy Slim "The Rockefeller Skank"
Imagine Dragons "Thunder"
J. Balvin & Willy William "My People"
Lady Gaga "Born This Way"
Lil Nas X ft. Billy Ray Cyrus "Old Town Road (Remix)"
Lizzo "Good As Hell"
LMFAO ft. Lauren Bennett & GoonRock "Party Rock Anthem"
Migos "Stir Fry"
Post Malone "Better Now"
Smash Mouth "All Star"
Warren G & Nate Dogg "Regulate"
Everything to create new songs of dance, pop, rock, country and more either through campaign mode, another free mode to exploit our most creative side or online multiplayer to test our skills as a DJ, with the possibility of sharing our creations with the community.