Capybara Games has a superb title, with sublime puzzle design and highly addictive mechanics. Original Apple Arcade, now on Nintendo Switch.
When we think of the most recommended video games from Apple Arcade, the subscription service of the North American company, Grindstone inevitably comes to mind. It premiered, built a reputation for quality, and recognized itself as the ideal solution for Candy Crush formula lovers who wanted to break away from micro-payments, waiting times, and typical free-to-play practices. That is, in short, Grindstone; with the fortune to stand out, above all, for its unquestionable quality and a design capable of capturing you for hours, days and weeks. His arrival on Nintendo Switch is great news.
A formula that does not fail: simplicity, addiction, depth
Let's start at the beginning, what is Grindstone? A title of puzzles, RPG mechanics, strategy and a gameplay based on advancing little by little through dozens of levels connecting enemies of the same type or color; hence the grind. If we get to the door, we move forward. And so continuously, with more and more weapons, equipment, challenge and enemies that will make things more complicated for us.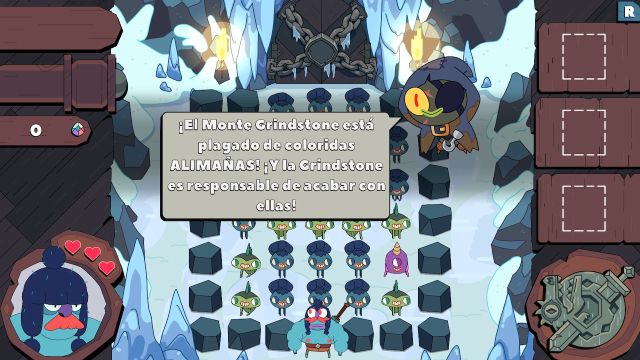 It is the latest work by Capybara Games, known by titles such as Below, Superbrothers: Sword and Sorcery or Super Time Force. A studio that understands the language of mobile apps and knows how to make good use of the reduced space on smartphone screens to develop experiences that do not renounce anything. An intelligent approach that is also breathed in the current protagonist, although there is a difference: the Nintendo Switch version is not played vertically, but horizontally. This is not a trivial topic, so it is clear from the beginning that, although we recommend this edition for the hybrid – especially on Nintendo Switch Lite because of its size – we must also say that it is not the perfect way to play it, but a ideal way to do it on a console for its use of hardware. The port is impeccable.
Grindstone was born as a mobile video game for a reason. However, we have been pleasantly surprised by the adaptation, it makes it clear that it is possible to migrate the mobile game formula if there is effort and dedication in the attempt. Here is a rare warning: there are no micropayments, there are no bars indicating the time we have left to recover life, and no advertisements between screen and screen. To make matters worse, if you like the typical RPG progression mechanics that invite you to be constant and come back frequently to improve your statistics, added to a slight roguelike touch, everything invites you to think that you are going to like Grindstone; and you may like it a lot, because it asks for very little and offers you all the good that you would expect from the best-known matches on the scene.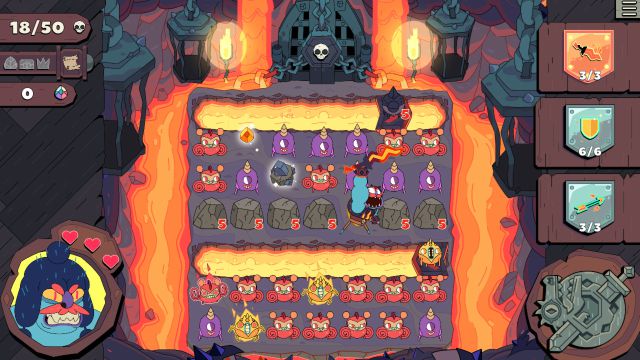 How to Play Grindstone and Why It's So Fun
Let's move on to explain how Grindstone is played and the reasons why it lends itself to spending at least ten or fifteen minutes a day. We have different levels with a lot of different creatures (vermin), each one of a different color or type. Our objective is to clean the area by eliminating all possible monsters through a chain line. We can draw the route vertically, horizontally or diagonally; the more combos, the more we will advance and the closer we will be to the exit to the next level. From time to time, grindstones will drop, which are kind of a wild card: they count as the species you are chaining. You decide whether to go backwards, draw a diagonal, risk or take the fast track. All roads lead to the exit, the magic is in how to reach it. Simple, regardless of age. It just works.
His grace is how incredibly familiar and intuitive everything is. It seems that you have been playing all your life, and with each addition, with each danger or new item that you can use in combat, the gameplay becomes more complex … but it is not more confusing, but more profound. Capy Games has managed to hit the bull's-eye in interface design, with a truly efficient on-screen arrangement of elements. All the additional information is left to the sides, without overlapping in a pop-up way on the board, so it does not overwhelm the eye or pile on the vermin.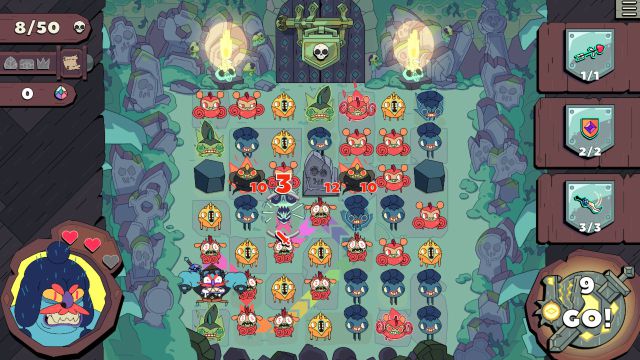 As shocking as it may seem, Grindstone is full of secrets and dares to introduce a structure based on limiting access to certain phases depending on our ability. That applies to both zones and gear unlocks. Even zone end bosses. In turn, the fact that the arrangement of the enemies on the panel obeys a random distribution gives meaning to the replayability. It is not exactly a roguelike nor does it opt ​​for a procedural design, but it does make each encounter a unique situation.
The difficulty curve, fortunately, is well designed; And although it does not reach infernal heights, there are quite complicated phases that will make us try our luck several times to solve them. Especially notorious is the way Capybara tries to keep up with the player and invites them to take risks. There will be times when we are near the exit, near the next screen, and the dilemma of trying a bigger combo will be freed at the risk of losing everything … or leaving directly. What is worth more, bird in hand or a hundred flying? So constantly. A coin tossed in the air where it may come up heads or it might come up tails, but where your skill can make the edge tilt more to one side or the other. That feeling is fantastic.
Good taste, good feeling
On a technical level we cannot put any fault. This version of Nintendo Switch looks great both on screen and in portable mode, with very vivid and well defined colors, seasoned with a competent soundtrack (signed by Sam Webster) and a Spanish translation with a font that reads wonderfully. The ideal is to play it in portable mode, which is how best we are going to trace —literally— each movement with our finger. By holding the console with one hand and drawing with the other, it is best played on Nintendo Switch Lite. In any case, the adaptation of the commands to traditional control is as remarkable as it could be. We can't think of any other way, with all the sacrifices that this entails.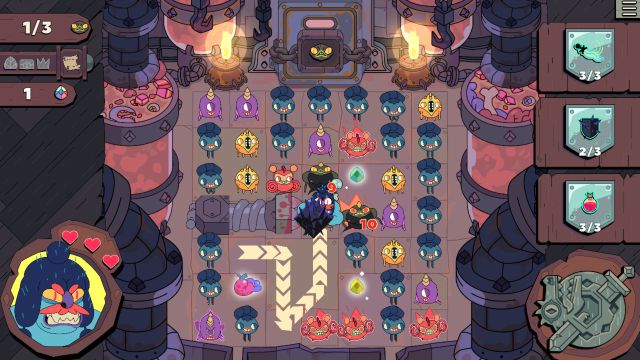 In the end, the important thing is that Grindstone is not splashed by the aforementioned monetization practices and invites reflection on whether it is more worth paying € 16.79 and forgetting about inconveniences, or agreeing with the game that is going to ask you for coins , limitations and certain sacrifices. Luckily, Grindstone is no longer tied to a subscription service and can be purchased on a portable-capable console that responds perfectly to touch control. Justice for this great work.
CONCLUSION
Grindstone is a brilliant composition of all the elements that should turn a mobile puzzle game into a great video game, in general, capable of captivating all kinds of audiences. First, because of how it comes off the most stifling and uncomfortable practices with the player; second, because its translation to consoles has materialized satisfactorily. Either with touch control or through buttons, Capybara Games rewards risk, adds challenge as we progress and gives personality to each situation, each enemy and each boss. He is deep, careful, detailed and intelligent. Grindstone is the perfect example of what we tend to call "gamefeel". Control is done to you to the extent that you do to mechanics. Essential for every lover of the genre.
THE BEST
The gameplay and the mix of mechanics; everything fits perfectly.
How simple to start playing and how satisfying to improve.
Audiovisually gorgeous on screen.
Great visual and mechanical conversion.
WORST
Waste of multiplayer options.
Very good
Remarkable finish game that we will enjoy and remember. A good buy, highly recommended for lovers of the genre. It is well cared for at all levels.