The video game service on demand from Microsoft presents the next titles that will reach its catalog on both Xbox One and PC.
At the gates of the second half of July, Microsoft has presented the news that will become part of the Xbox Game Pass catalog, the popular on-demand video game service for both PC and Xbox One, among which we find Grounded , Yakuza Kiwami 2 or Carrion, among others. This has been shared by the Redmond company, announcing up to a total of 8 games, one only for console, one only for PC and the rest for both platforms.
New video games for Xbox Game Pass in July
Thus, to the previously confirmed Yakuza Kiwami 2 (July 30) of Sega for PC and Xbox One (which in turn debuts on the Microsoft console), other titles are added such as the new Obsidian Entertainment, Grounded (July 28 ), the multiplayer court game starring a group of miniaturized children, also for both systems.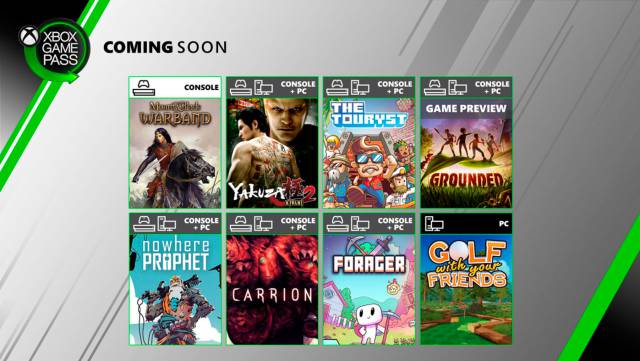 Another novelty this month at the launch level and also coming to the Microsoft service is Carrion (July 23), a reverse platform in which we control a bloodthirsty monster against the threat of humans, available also on both PC and Xbox One.
Another of the titles shared by both systems in the fun The Touryst (July 30), a light-hearted adventure in which you solve puzzles in a heavenly setting. On the other hand, both Forager (July 16) and Nowhere Prophet (July 30), will arrive on PC and Xbox One through Xbox Game Pass.
Finally, Mount & Blade: Warband (July 16), the standalone RPG expansion of mass fighting, will arrive only on Xbox One, while Golf With Your Friends (July 23), the colorful golf arcade, will only be available on PC.