We tell you everything you need to know to enjoy 2 free weeks of access to PlayStation Plus for PS4.
All those players who want to enjoy 14 free days of PS Plus can already do it through PS Store on PS4, a promotion for new users of the PlayStation premium service with which to have access to the PlayStation Plus advantages guaranteed for 2 weeks without spending a cent. We tell you how to get your free 14-day access to PS Plus through PS4.
Play online for free for 2 weeks
And if we sign up for PS Plus through the promotion of the 14 free days we can enjoy the advantages of the PlayStation premium service during the next 2 weeks from the day we start the service. Thus, we will have access to the online game without spending a penny for 14 days, as well as the other advantages, including free games of the month. For this we just have to go to PS Store and subscribe to the promotion.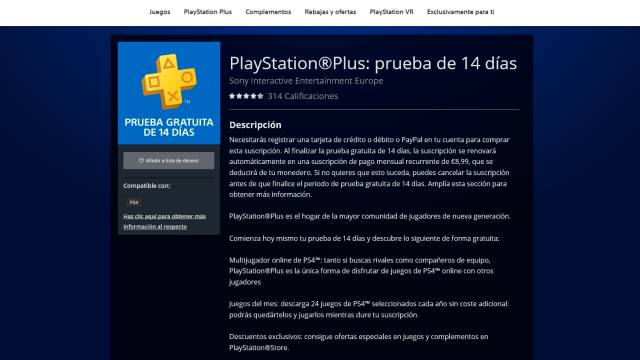 Of course, after the 14-day trial, the service will be renewed automatically, charging 8.99 euros for the following month; Those who do not want to continue with the subscription may unsubscribe at any time before the end of the trial period. On the other hand, this promotion is valid only for new users of PS Plus; If we have already been subscribers of the service before, we will not be able to access it.
"You will need to register a credit or debit card or PayPal in your account to buy this subscription. At the end of the free 14-day trial, the subscription will be automatically renewed into a recurring monthly payment subscription of € 8.99, which will be deducted from your wallet. If you do not want this to happen, you can cancel the subscription before the end of the free 14-day trial period, "you can read in the official description of the promotion in PS Store.