Joanna Dark, inspired by science fiction and spy movies, made her own name in a universe written in masculine.
The presence and evolution of female characters in video games has been discussed multiple times in the media. In recent years, interest has increased in studying the representation of ladies and breaking stereotypes that have restricted creativity. However, we must not detract from those virtual women who redefined the role of video games beyond the classic male hero. Thus, Lara Croft was a revolution in digital entertainment. At first glance, her beauty and sensuality stood out, but also her security, autonomy and impudence. Without a doubt, the archaeologist inspired a legion of protagonists who became the active subject of her story, without being the satellite of a main character. Today we commemorate a Rare heroine whose charm matched that of the aristocrat: Joanna Dark, the protagonist of Perfect Dark, became an icon of the espionage genre.
Female first person shooter
Martin Hollis, director and producer of Golden Eye and Perfect Dark, created for the latter a woman inspired by other personalities in the spy genre. Aware of the feminine revolution in video game narrative, she tells Now Gamer how it was time to have a woman in the first person of a shooting title: "We thought it would be really cool to have a heroine in an FPS, behind the camera. This broke all the rules. It was like YOU were a woman. I have fond memories of Kim Kimberly, a legendary secret agent and space pilot. Came out in [Sillicon Dreams] that trilogy of interactive fiction from Level 9, and in Snowball, where the player was surprised to see that it was a woman, and this happened with the game well advanced, if I remember correctly ".
Hollis declared a fascination with female spies and female leads in science fiction stories, which was the cornerstone of Joanna Dark's design. The designer cites Fatality Agent X-27 (Josef von Sternberg), Dana Scully (The X Files) and Nikita (La femme Nikita) as his most admired. "I also think there should be more video games focused on women," said Martin. "After having a game with a male lead, I felt like creating another title with a female lead. Also, we wanted her to be normal, not to look like a super model. We even wanted it to look androgynous. "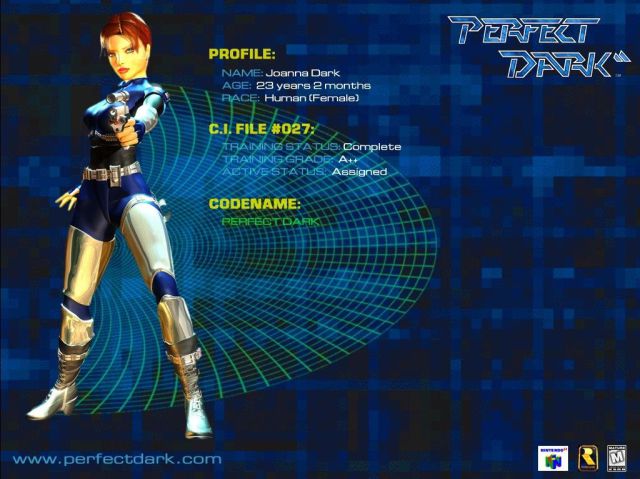 Joanna Dark's profile in Perfect Dark
The perfect secret agent
On the face of it, the undeniable appeal of Joanna Dark — also called Jo — may contradict Hollis's statements, although Rare strove to create a woman whose main charm was not a pretty face. When designing their apparel, they prioritized pragmatism over seduction, as David Doak explains in Nintendo Life: "Back then, we loved Sylvester Stallone's Ghost in the Shell and Judge Dredd, which influenced us a lot. . We also took a lot of inspiration from old anime. Joanna's outfit is modeled after Ghost in the Shell, the leather outfit is based on Emma Peel's from The Avengers, and the dragon dress got the Killer Instinct design. "
Joanna Dark's face was inspired by Winona Ryder, according to Brett Jones, studio animator and director of motion capture. Of all the references they had collected from the studio to create the spy, the actress from Inocencia Interrupted caught the attention of the studio with her pixie-style haircut and sweet features, but full of personality.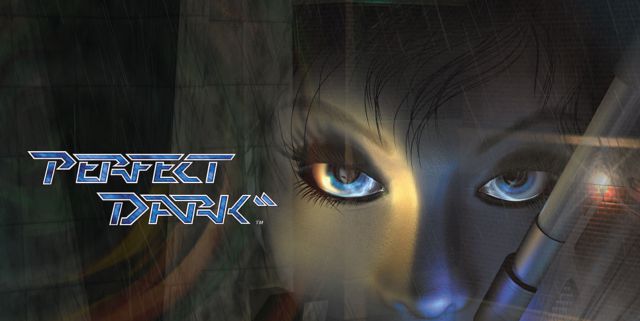 Picture from Perfect Dark
Motion capture artist Laurie Sage brought Joanna Dark to life: "She came in one day and we shot most of the scenes," Jones describes. "She was the ideal size for Joanna Dark; short and petite. So this time we had a woman doing motion capture for a female character. " This was a significant leap from the Golden Eye animation, for which they had actor Duncan Botwood in heels performing the Beatrix scenes. Eveline Fischer, songwriter for Rare, voiced Jo.
Joanna's name sounds very similar to Jeanne D'Arc, translated as Joan of Arc. David Doak, one of the designers of Perfect Dark, stated in Nintendo Life that this similarity is pure coincidence, although it turned out to be very convenient to convey the independent personality of the Rare heroine. For her part, Hollis points out the resemblance between the two ladies: "Joan of Arc is a very strong, vulnerable, feminine historical character and, despite this, capable of killing crowds."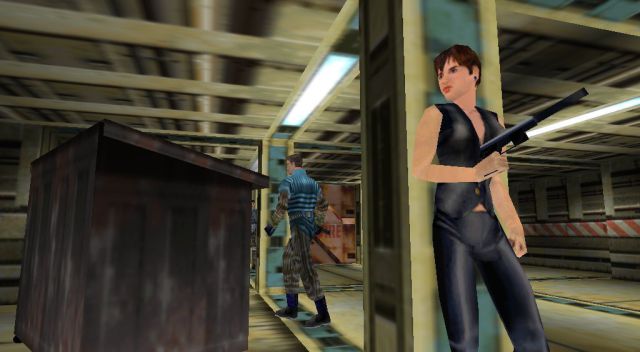 Capture of Perfect Dark
James Bond heir
Joanna Dark was the first piece of the Perfect Dark project, which would be the spiritual successor to GoldenEye, with the goal of finishing development within a year. The team would take the technology from the previous title to create new levels, but Rare's ambition was fueled by the creative process, which led them to improve the 007 game system.
Perfect Dark, which literally translates to "the perfect dark," takes that color tone as its leitmotif, as Hollis remarks: "At first, I hoped that the gameplay would incorporate darkness, which would make it a unique title. Second, the main activity of the game is killing, which adds a nihilistic or destructive essence. 'Dark' also conveys a desolate vision, like the word Zero [en Perfect Dark Zero]. And thirdly, it is my favorite color, that's why I always wear black clothes ".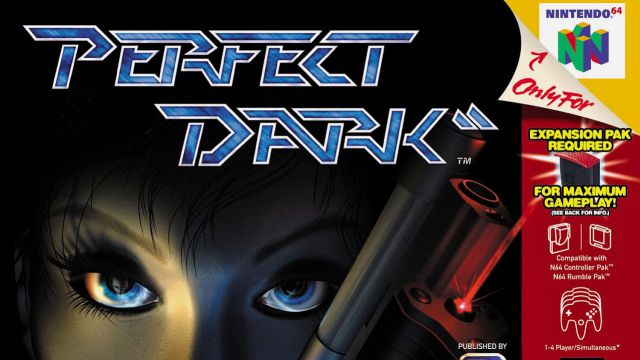 Perfect Dark cover
In addition to its inspiration in James Bond, Perfect Dark drinks a lot from science fiction. Conspiracy theories about aliens encouraged the studio to create a title that incorporated supernatural elements. However, it was vital that the result be credible and immersive. Therefore, they set the story in the near future of 2023, with scientific and technological advances shown in GoldenEye. In favor of realism, Rare renounced the abuse of lasers as a futuristic topic and decided that weapons in Perfect Dark would continue to use bullets. Of course, there would also be X-rays or FarSight vision to favor a futuristic setting.
GoldenEye laid the foundations for Perfect Dark as a shooter and infiltration game, with all the possibilities that opened up in terms of game mechanics. The studio had its eye on Metal Gear Solid and its tactical espionage system. Doak, in Nintendo Life, talks about how stealth would become an essential factor: "When we finished the development of GoldenEye, we created a set of mechanics that did not involve direct combat, such as infiltration or stealth. We realized there was good potential there, but we didn't have time to go back to GoldenEye and implement them. Also, the infiltration in the 007 title was not one of the main mechanics beyond disconnecting alarms. It became more solid when we started to enrich the level and check that it worked. "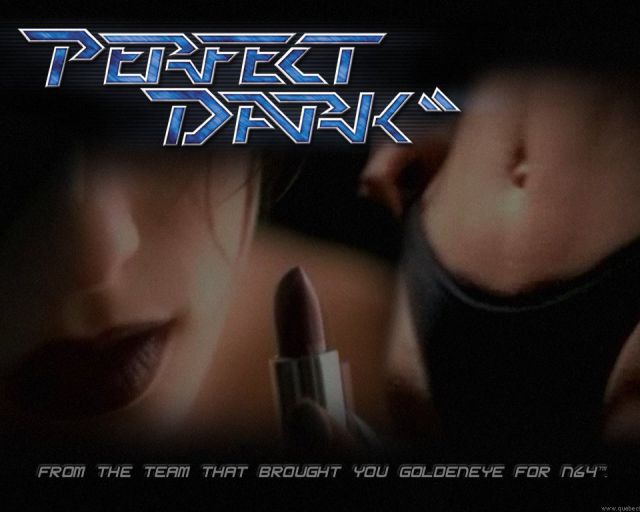 Image from Perfect Dark TV spot
Perfect Dark was released for the Nintendo 64 in May 2000 in North America, a month later in Europe, and in October in Japan. GameBoy Color later had a Perfect Dark complementary to the original title. Nintendo was commissioned to launch a promotional campaign that highlighted Joanna Dark as the protagonist, played by model Michele Merkin both in television commercials and in performances in shopping centers. However, it was shocking that the big N, whose corporate label bet on family titles, launched a work with adult content. Chris Stamper, co-founder of Rare, was direct at IGN when questioned about the controversy: "When video game players get older, they don't stop playing. There are no games for people who grew up on old systems. " Perfect Dark was one of the titles that expanded Nintendo's target audience and the limits of its themes.
Critics enthusiastically welcomed Perfect Dark, with marks that surpassed 9. But in addition to Rare's work, it was Joanna Dark herself who conquered the media, despite certain comments that considered her a sad rival of Lara Croft. Tom's Games ranked her as one of the best female characters in video game history, and defined her as "Charlie's three angels in one". The secret agent frequently appeared on the sexiest female characters lists, but she not only attracted attention for her eroticism. Entertainment Weekly ranked her on their list of powerful female characters, underscoring her relevance in a genre dominated by male characters, even today.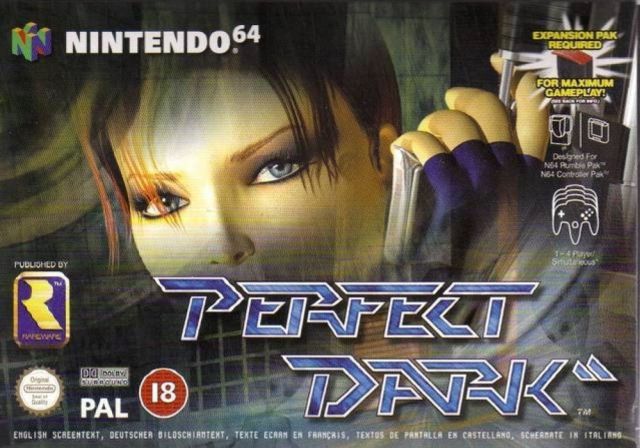 Perfect Dark cover
The evolution of Jo
In Perfect Dark Zero, designer Wil Overton decided to alter some details to make Joanna Dark an even more memorable woman. In this prequel, the spy appeared younger and with more characteristic elements: "That's why he gave her the star tattoo and the blonde lock, which stands out so much in her hairstyle. Thus, we can put any outfit on her and she remains an unmistakable Jo ", declared Dale Murchie, scriptwriter of Perfect Dark Zero at CVG.
Joanna's hair went from a Winona Ryder-inspired pixie cut to a medium red hair with the aforementioned blonde streak. This style, more versed in Japanese anime, did not end up liking Martin Hollis, as he expressed in New Gamer, and it is that red was the color discarded during the gestation of the secret agent: "It has caught my attention that the new Jo is dyed incandescent orange, a lo Leelo. This concept is beautiful, but I can't imagine why she would wear orange hair. It is improper. This is a practical matter: it is a garish color that puts a target in your face; secret agents do not wear orange for a compelling reason ". The fans of the saga also criticized the change of the agent, with which Rare chose to soften the style towards a more realistic tone that was welcomed with more affection. On this occasion, Joanna Dark would have the voice of actress Laurence Bouvard.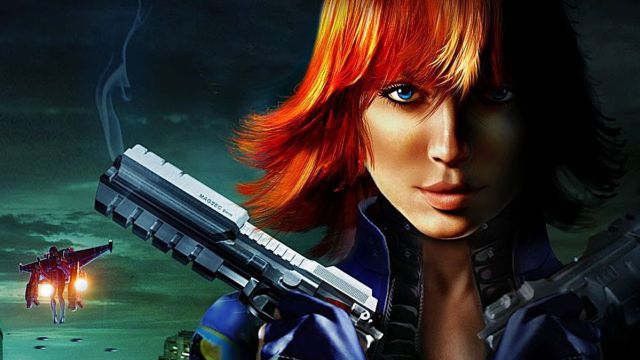 Joanna Dark in Perfect Dark Zero
However, Perfect Dark Zero was not as warmly received as the first installment, and sales fell short of Microsoft's expectations. This was the reason why the sequel Perfect Dark Core was canceled. Efforts would be devoted to more successful sagas like Halo and Gears of War.
Rare had exposed in various media how Perfect Dark Core was going to be and, if it had come to light, we would have had a title with a more serious sci-fi style. With Chris Seavor at the helm of the project, the atmosphere would be much more realistic and this would be reflected in the evolution of Joanna Dark herself, as narrated in Unseen64: "She would still be that ingenious spy and with her sense of humor, as we saw in the first game, although with some very important changes. This Joanna would be a colder, tougher warrior. His sanity would have been eroded to some degree by the years spent in his profession. " In the designs, we see her smoking and with a seductive demeanor, albeit a more rugged look compared to the popular image of the archetypal sensual spy.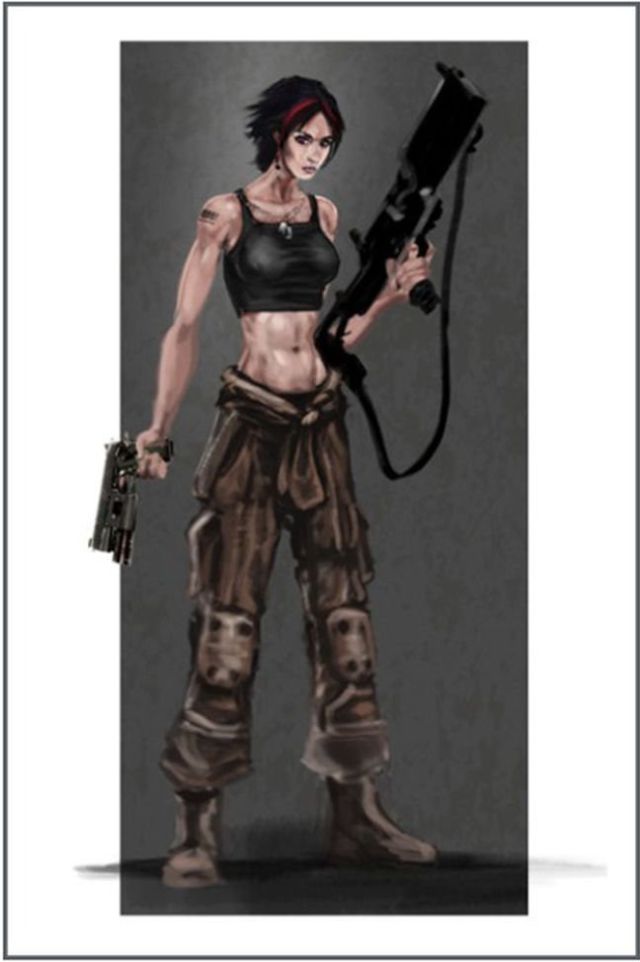 Sketch of Joanna Dark in Perfect Dark Core
With an abrupt end in video game history, Perfect Dark is a sci-fi treasure that enriched the shooter genre. Joanna Dark is a forgotten lady who managed to make her own name in the world of espionage. Twenty years later, we look forward to new adventures with Jo in the new generation.