The new CGI animation series for Netflix based on the Jurassic World film saga presents its first preview and confirms its release date.
A little over a year ago, we were echoing a new animated series project based on the Jurassic World film saga for Netflix under the title Jurassic World Camp Cretaceous, whose announcement was accompanied by a short teaser trailer. Well, Universal Pictures has presented with Netflix the first trailer for the long-awaited CGI animation series along with its official poster, also confirming its release date on that television platform: September 18, 2020.
Netflix premiere on September 18
Thus, we can already take a look at this new production aimed at the smallest of the house; Or perhaps not so small, since the trailer already advances us sequences of a real thriller with several carnivorous dinosaurs stalking the young protagonists, very much in line with the films in the saga.
The series is the work of Scott Kreamer and Aaron Hammersley in collaboration with Universal Pictures, Dreamworks Animation and Amblin Entertainment, with Steven Spielberg himself as executive producer alongside Colin Trevorrow (director of the upcoming Jurassic World Dominion) and Frank Marshall.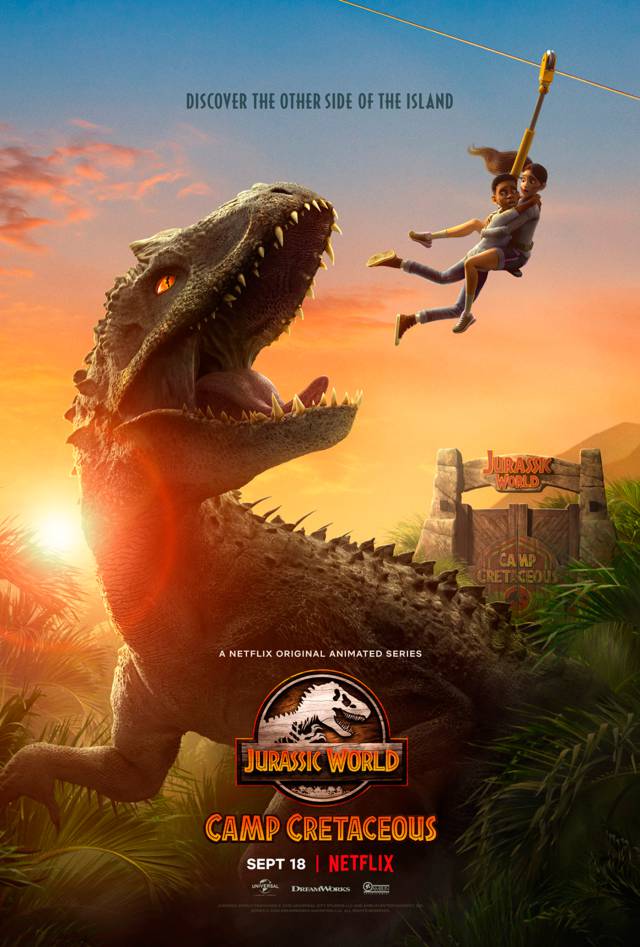 Taking advantage of the publication of the trailer, it has transcended the official synopsis of a series that will consist of 8 episodes: "Jurassic World Camp Cretaceous follows a group of six teenagers chosen to live a unique experience in a new adventure camp on the other side of the island Cloud. But when dinosaurs wreak havoc around the island, campers get caught up. Unable to contact the outside, they will need to evolve from strangers to friends, and from friends to family if they want to survive. "
The next thing in the Jurassic franchise in theaters is Jurassic World Dominion, the third part of the current film saga with Chris Pratt and Bryce Dallas Howard, a film that featured last year with a spectacular real action short set between the second and third parts.