In this guide of Life is Strange 2 we detail all the trophies and collectibles, how and where to get them to achieve the platinum of the adventure.
In this guide we will detail all the collectibles and their corresponding Life is Strange 2 trophies, explaining where and how to find them so as not to lose detail in the adventure of Sean and Daniel, prepared by Dontnod Entertainment and edited by Square Enix for PC, P4 and XBOX One.
All Life is Strange 2 co-selectable and trophies

The story is about how two brothers, aged 17 and 9, respectively, must face the adult world much earlier due to tragic events that occur in the first stages of the game. We will have to make decisions that will affect the plot of this customizable narrative adventure.
Despite not having the rewind power that Max had at the time, they will allow us to replay the parts of the chapter separately once it is over. In doing so, they ask us to choose between two modes:
– Play in standard mode: Restart the game from this chapter. It is the only way to see the consequences of your long-term choices. You can choose a different game to keep your initial game.
– Play in Collection mode: In this mode only collected collectibles will be saved and the choices you make will not be taken into account. Enjoy the trip without consequences.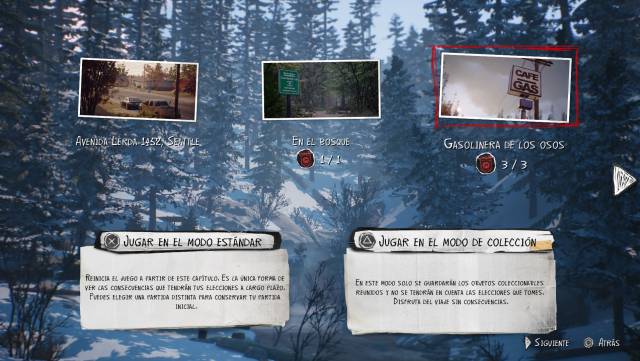 Our personal recommendation is that you play the chapter at your leisure, exploring everything you want but not getting frustrated if you don't find all the collectibles at first. We can always repeat that fragment of the chapter later.
As for types of collectibles we have two: Drawings and Memories. The latter are the ones that count most for the trophies, each having an assigned memory. For example, in the first chapter we will find six, which can be presented in the form of key chains, pens, stickers and others that we can later use in our backpack to decorate it.
In this Guide you will find a detailed tour of all of them, so that you do not leave any along the way. Let's start with those of Chapter 1: Roads and later we will continue updating the guide as the rest of the episodes come out.
Drawings
Collectibles – Trophies
Trophy List