First they will be for game reservations and at the end of the month, for everyone in open beta format.
Marvel's Avengers already has a date for its beta, as confirmed by Crystal Dynamics and Square Enix this Wednesday, July 15. The game based on The Avengers will be playable for the first time on August 7 on PS4, the console that will receive the beta first for those who have reserved the game. In addition, on July 14 the beta will arrive for users who have reserved the game on Xbox One and PC, and that same day the beta will be open to all users of Playstation 4. Finally, August 21 will be the date chosen so that the beta is open for all platforms.
In addition, the company has also announced a War Table to discuss the game on July 29 at 7:00 p.m. in Spain, which is expected to give more details about the contents of the beta and what will be playable, in addition to indicate the duration of the same since it is not indicated at the moment. In the absence of more details, the content that we will be able to see in this test version has already been overlooked.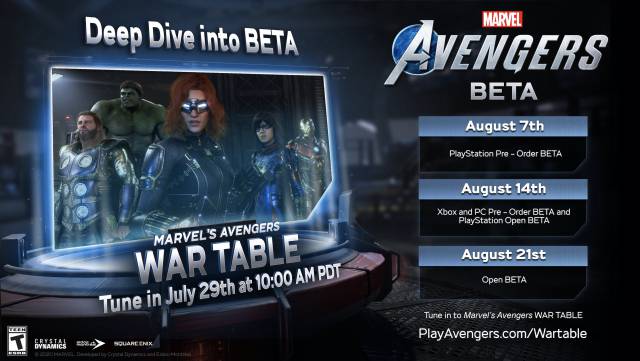 First details of the beta
"We've created the beta so that you can experience most of the things you'll do in the full game, and that ranges from playing a part of the single-player campaign to fighting cooperative missions, experiencing how hero progression works, and of the world, exploring War Zones and Drop Zones, a type of mission that we will talk about during the next War Table ", explains Shaun Escayg, creative director of the game in statements collected in IGN.
In the previous War Table new details of the game were shown and the protagonists could be seen in action. In addition to Thor, Captain America, Iron Man, Black Widow and Hulk, the title focuses its efforts on also introducing us to Ms Marvel, who is not known about the MCU but who is clearly booming in popularity in the comics and will be a key piece in the Title.