One of the sports IP of reference of the last 20 years is released in the new generation with the mission of also being an example on PS5 and Xbox Series.
2K Games and Visual Concepts continue to work despite the special circumstances that have affected a 2019-20 season that ended about a month ago, and a 2020-21 that will begin on December 22. In addition, these circumstances, which as we know have been caused by a global pandemic, are linked to the end of a generation, which led to an extremely continuous version of NBA 2K21 for PS4, Xbox One and PC in all aspects, while we were preparing for one on the new consoles, PS5 and Xbox Series. This, which we can access directly if we got the Mamba Edition of the game at the time, is accompanied by a lot of promises and with the premise of being a game created completely from scratch. Does it comply with all of this? Let's see it…
Basketball in the new generation
As in the past generation, the saga plays a leading role of graphic potential in this one that just started about a couple of weeks ago, and clearly, and as it did at the time, it does so in an exceptional way. The model of the players, with faces, muscles, tattoos and facial hair – Harden's spectacular beard – is only the beginning, since this is a section that already in previous consoles was at a very good level. It is when we talk about details such as the commentators, pets, the public – with 150 different models and very different behaviors – when we realize that we are really facing a generational change. To make matters worse, the lighting on the parquet puts the studio on a tray to demonstrate its capabilities in this regard, something that simply amazes.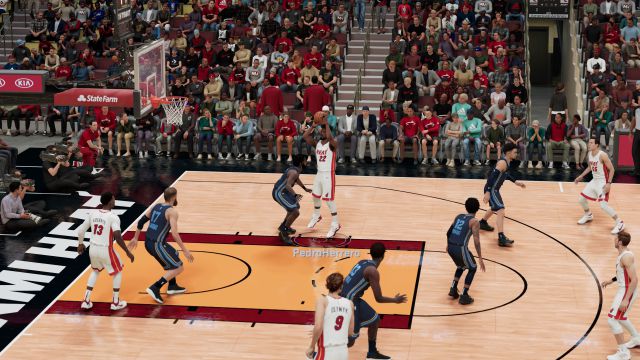 With all this, it is evident that we are not facing the typical game improved for PS5 and Xbox Series, with higher resolution and ray tracing, but a title that has been in the oven for a long time and that takes advantage, as far as possible taking into account the little time that the current consoles have been with us, their hardware. It is difficult to put a but to work on a visual level, also having some outstanding animations in the signature moves, such as the characteristic step back of Luka Doncic. Just look at a replay, of which social networks were filled during the early days of the game on the market, and see how some of them were almost indistinguishable from reality.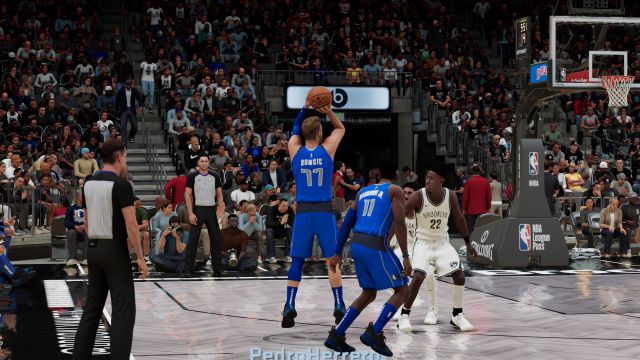 At the playable level, they have opted for a lower rhythm, the players are somewhat slower, which is not a negative at all, since the general speed of these in the last generation was probably higher than it should be. This results in greater difficulty when passing an opponent in a 1 vs 1, making things more difficult to attack and forcing you to play more as a team with slate plays or direct blocks. That said, the defense can be more effective: it manages to target the shots better, and although it has a lower probability of robbery index -more realistic too-, it is more effective in the pick & roll, and this time we are not going to Seeing pivot behaviors so strange that they will leave us sold for a penetration by the blocked or a continuation of the blocker. One of the problems also of the version for the last generation was the amount of offensive rebounds that the CPU could catch in a game, making a game equal that in other aspects we could have dominated. This was due to an AI problem that remains unsolved, and they are automatic aids from our inner players that leave their pair completely free to catch the attack rebound. Unfortunately, this continues to happen, although it is possible to minimize damage, as the rebound closure is more effective, and this time the opponent will not be able to win the position so easily. Whenever, we insist, our center or power forward is in place and does not go out to score a shot or defend a penetration that it should not.
Another aspect that generally did not convince is the new shoot meter. Basically, in this version next gen is exactly the same, with the same difficulties to aim correctly, although with one caveat. As the general speed has lowered, the movement when arming the arm is also slower, with which we can better calculate the moment of the relay, that is, when exactly the player is going to release the ball for the shot. In addition, as we know, we can launch in the old way, using the Square button -in the case of PS5-, but that does not mean that we have to look for good shooting positions, because as we said before, the defense in that sense has improved .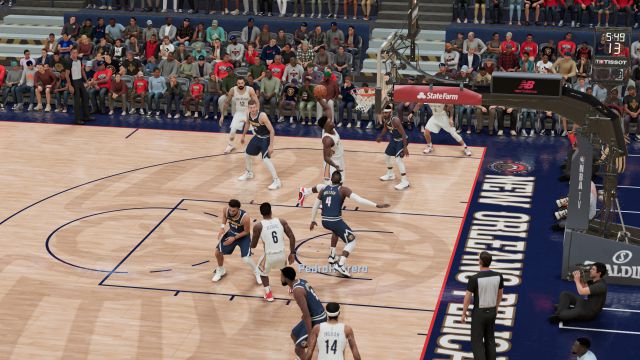 An entire city at our disposal
Another important novelty, much publicized by 2K Games, and with reasons, is the City, the logical evolution of the Neighborhood. Once the story mode of My Career is finished, almost –MASI- traced to that of the previous generation, we find ourselves before us an open environment of overwhelming dimensions at first. So much so that the use of a means of locomotion is mandatory, because otherwise, traveling from one point to another will be tremendously heavy, although a fast travel function would not hurt. Of course, we cannot access the City first, and first we will have to beat each other in a few 3 x 3 street games to prove our worth. There is nothing to fear, it is something that can be done in a couple of hours, also depending on our skill as players.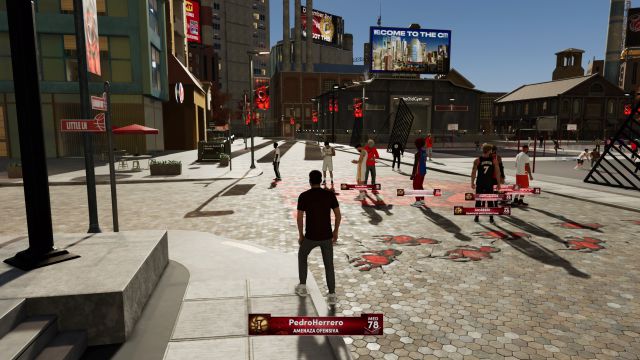 Once we are in it, we have to confess that we almost blush at having talked about the Neighborhood as something that made My Career mode almost a sports RPG, because the City is on another level. It is not only bigger and with more activities, but different from those already seen, and what is more important, also for a player. Yes, because throughout the City – divided into four factions – we will come across various NPCs who will grant us missions as if it were The Elder Scrolls. These are mainly playing matches by teaming up with other NBA players controlled by the AI, with which we can carry out a good amount of activities without the intervention of other human players, with the sometimes erratic or selfish behaviors that they have.
With this, and just as Visual Concepts did with the Barrio, the study marks a turning point in the genre, showing that despite its criticisms, which it has, the franchise is at the forefront of sports video games. Although at the time of playing our professional career in the NBA there are not many notable changes, there is no doubt that the City represents an immeasurable playground for those who enjoy this way, and that although for the moment it feels a bit empty, it does not it will take time to fill with dynamic events. It already is, in fact.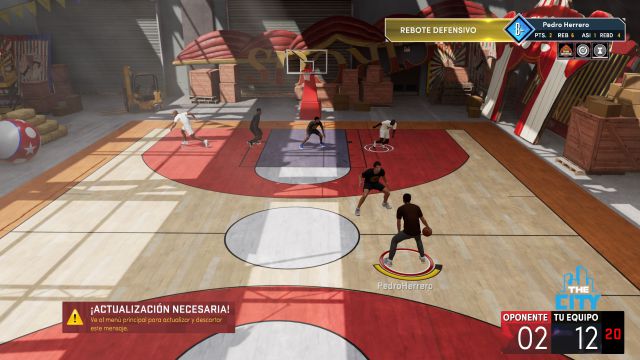 One of lime and another of sand in My Team
Where we do not find any outstanding news, and it is something that was known, is in the My Team mode, another of the stars of NBA 2K21. We will not go on to analyze its content, because we already did it in the original Reviews –it is the same-, but rather its evolution, and it is that the season system is not convincing 100%. It is not convincing because where it seemed that we were going to change our way of playing this way, in reality the system of progress and experience exercises a dictatorial hand forcing us to farm statistics with certain cards. In addition, and this is something that has led to disappointment, the vast majority of cards with which to get XP are found in envelopes, that is, they cannot be achieved by playing, with which, when talking about this kind of "battle pass" as something free, it must be done with caution. No, we are not obliged to buy envelopes if we want those cards, we can buy them in the auction house, but with the amount of TM that the game grants for each victory and the probability that we will be lucky in some reward envelope, first we will see Ben Simmons winning a 3-point contest.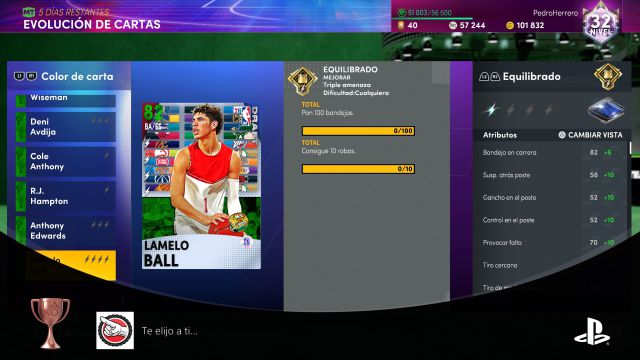 Also, in an incomprehensible way, great importance has been given to the most boring mode by far from My Team, such as Triple Threat Offline. Reaching 100 victories in the season – I repeat, 100 victories -, we will get a Diamond card with which to grow experience. Well, it has a pass, but the problem comes when the Spotlight challenges of Season 2 – and this third one goes the same way – are focused on 3 vs 3 matches instead of real matches, recalling some historical encounter. It is difficult to make any sense of this decision, but for the moment, it is what it is.
That said, and once this season system has been adopted as something common in practically all video games on the market, a question should be raised. Obviously we all want the jackpot, that card, skin, weapon or whatever is at the highest level, but … are we having fun in the process of getting it or are we farming experience and challenges as if there was no tomorrow making it terribly tedious? With that said, which of the two situations is NBA 2K21's My Team mode in? Probably the mere fact of questioning that already answers the question …
Another NBA 2K21 triumph: a space for them
Fortunately, we can talk again about something positive, and that is that the inclusion of the WNBA this time is without half measures. There is no longer only the possibility of playing friendly matches, but also of enjoying a complete way through several seasons, and what is better, embodying a player during her career in the league. This characteristic is present with practically the same options as in its male counterpart, with the exception, obviously, of those associated with the City. That is to say: in addition to creating our player -with a complete editor of physical appearance and archetypes- and choosing a team in which to start, we can make the usual decisions of a player, with an interesting inclusion that forges our personality, or rather , our role in the league.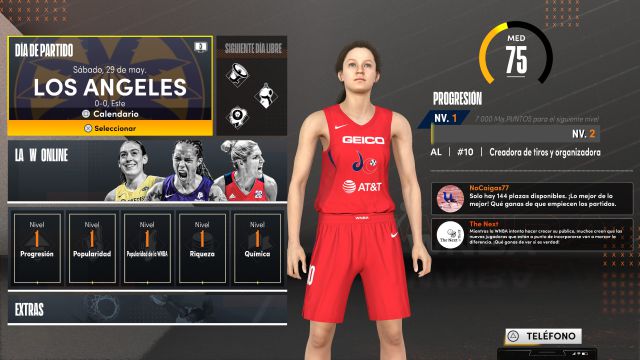 In recent times, the WNBA has been given an important boost throughout North America, especially considering that during the NBA and NCAA rest period, it is the only professional basketball that can be enjoyed when there are no FIBA ​​competitions. Not only players with great personality like Candace Parker, Elena Delle Donne or Liz Cambage have been part of that impulse, but also the late Kobe Bryant, since his also deceased daughter Gianna pointed out the ways of her father. This mode allows us to be one of those personalities who does to increase the popularity of the league with activities off the court, but it also gives other options, such as focusing these on the fans or even being an influencer. In short, a very complete way that, as we said before, City Apart has very little to envy its masculine side.
A hopeful beginning, but changes in the model are urgent
We are facing a delivery to release a generation that gives hope for what is to come, but also drags past vices. The technical section could hardly be more spectacular at this point, as well as the invention par excellence of this iteration, such as the City, in addition to The W, however the unpopular micropayments are still present. Lots of clothes to buy and attributes to improve in My Career, envelopes in My Team… The VC –Virtual Currency- are still very present and obviously this has to change, because a game at a full price of 70 euros cannot have gacha free mechanics to play. As always, it is not mandatory to go through the box, it was not missing more, but the feeling that we are a step or two behind who does it is there, and it is inevitable.
CONCLUSION
NBA 2K21 fulfills the difficult mission of setting a bar for the sports genre in the new consoles, and for the moment, with its virtues, it does it more than enough: technical section to match, satisfactory gameplay, a full stop with the City and authentic commitment to the WNBA with his credentials to continue to rule not only in virtual basketball, but in sports in general. However, we have to demand more, namely that an almost shiny set is slightly smeared by a business model unworthy of the general category of the game. As we usually say with each installment, it is as if Damian Lillard and Kevin Durant were at the controls of the technical and gameplay, while when making design decisions and monetary model they were Eric Bledsoe or Hassan Whiteside.
THE BEST
Technical section in general, visual and sound, really worthy of a new generation.
Playable the pace has dropped a point, it is more realistic, along with new animations and improvements in contacts.
The City is a before and after in the genre, that simple.
The involvement with the WNBA is already unmitigated: The W very well, although with room for improvement.
WORST
No news in My Team mode, with deficiencies in content and progress system.
Micropayments are still ubiquitous, and it's time to change your business model.
The new rail camera is spectacular, but not practical.
Very good
A game with a remarkable finish that we will enjoy and remember. A good buy, highly recommended for lovers of the genre. It is well cared for at all levels.