Visual Concepts offers a conservative experience with NBA 2K21, although with minor changes in the gameplay and in My Team that are worth noting.
NBA 2K21 is the last installment of the franchise in this generation, at least if we stick to the strategy followed seven years ago, when we made the generational leap that led us to PlayStation 4 and Xbox One. At the same time, it is still being played the 2019-2020 season, in completely extraordinary circumstances, how could it be otherwise in a year as turbulent as this one we are experiencing. Both facts directly influence an iteration for current consoles not only in its launch, but more importantly, in the development of the game as a service, and in how Visual Concepts and 2K Games will approach the arrival of new content during the virtual season, while the real one is resting in an atypical period.
We have been through several seasons in which the news around the franchise is centered around changes rather than new additions, because we are dealing with a saga that more than lacks things, has plenty, and we all know what we are talking about … Of course, Despite, one more year –and now they are… – having no competition whatsoever, Mike Wang and company have insisted on giving a 180 degree turn to an aspect of the gameplay that brought all the players down the street from the bitterness on the first day of the game in the market, and that for sure he will do it and it will not please everyone, because it is impossible.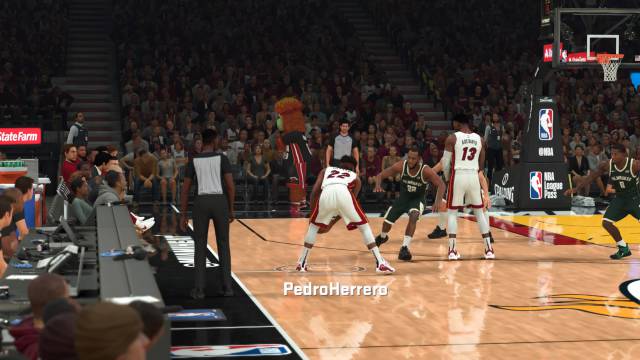 A controversial new way of shooting
In the time of the triple, in which the team that shoots less than 25 shots from beyond the arc is a rare bird – hello, Popovich-, in which it is no longer only Stephen Curry who makes us question what we understand as long distance –Lillard, Young-, Visual Concepts has broken all the schemes by radically changing the meter and the way of shooting in NBA 2K21. It has been customary to give this aspect of the gameplay a spin from time to time, perhaps more frequently than is desirable, but we can say flatly, and even knowing that it is a decision that has not been liked by part of the community, that it has been a total success.
So far, when it came to throwing, we only had to worry about the timing of the relay, that is, releasing the fire button -or right stick- at the moment when the player is going to hit the wrist at his launch. . It is time to reinvent itself, and the fact is that the addition of the Pro Stick changes not only the dribbling, but also the shot, showing a different shootmeter in which we have to control not only that timing, but even its direction, having to place a bar in the center of a colored area on the meter. Is it a cumbersome system? No, it is a demanding system, tremendously demanding, in fact, but we have to be consistent, and if we have been demanding more from Visual Concepts for years, when they comply, it must be said.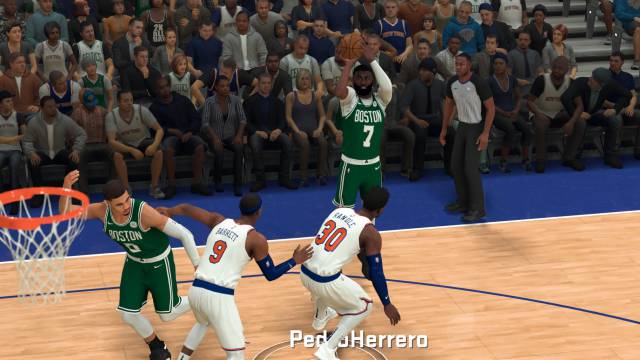 That does not mean that, as we said before, the first day with the game was completely chaotic and we were –press, players, pro players…. all- unable to score with some fluency from medium and long distance. The shots in the green were celebrated on social networks as if they were goals, and even Damian Lillard, the player who occupies the cover, publicly complained. It didn't take long for a patch to fix this, something that has only been applied in certain game modes and at specific levels of difficulty.
Also, Mike Wang himself has left some tips to be more successful, such as pressing the left trigger at the same time, pulling again with the Square or X button and removing the shot meter … He already warned that a new way of shooting is something new to master, and we can no longer conclude that this system should stay, and it is a matter of time to get used to it and learn to play with it, especially coming from a metagame, NBA 2K20, in which we always end up scoring when playing with Pink Diamond cards. or Galaxia Opal in My Team, or players with averages over 90 in the Park, Pro Am or My Career. Even so, as we have said before and without risk of being wrong, we are talking about a very large and very diverse community, with new players who play from time to time and want to put them all in, and on the contrary, professional players who want to take their time to dominate it . In this situation, the best thing Visual Concepts can do is leave it as it is, because it is completely impossible to please everyone and you cannot spend a whole season applying two patches in a week like this first one.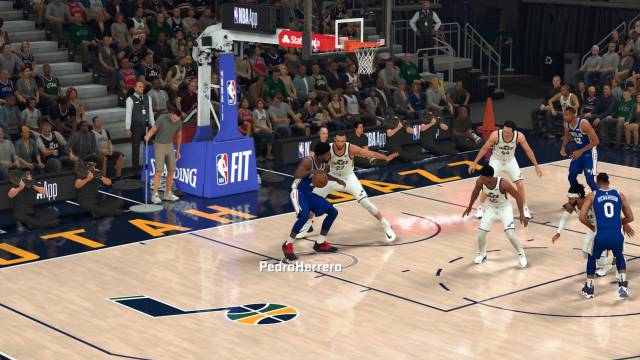 Luckily, and although it is the most notable and controversial, it is not the only change in the gameplay, although it is true that the others are minor. Surely we can appreciate a greater difficulty when scoring in contact, as well as when trying to go for speed simply in a one-on-one, unless there is a lot of difference in this and there is an advantage of a small against a large, so in definitive defense, especially of the CPU, has been reinforced. If we add to this the "theme" of shooting, we find ourselves facing certain difficulties in scoring, something that makes the use of slates and systems more important, especially considering that, at least in My Team mode, we are going to have very specific objectives throughout the season, which will force us to take our time when planning a game and the strategy to follow.
My career needs a change … which will have in the next gen
For some time now we have been warning that the narrative part of the My Career mode is decreasing in importance in relation to the final set, and it does not seem bad at all. We believe that for the sports fan in general – because this is not the only sports license in which this occurs – a story that puts us in a situation before starting with the real bulk in this way is not relevant. We simply have to assume that we are never going to enjoy something similar to fantastic sports-themed movies such as Un Domingo Anyone, Hoosiers, He Got Game or Coach Carter, for the simple fact that we are talking about a video game for all audiences .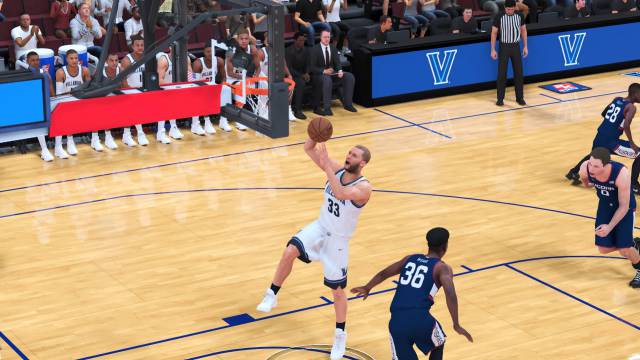 It is worth highlighting the effort of Visual Concepts to make us enjoy NCAA basketball again –with the presence of colleges such as UCLA, Michigan St. or Villanova-, and to capture the life of a player also off the court, especially in the days before and after the Draft, but on those days almost anything can happen. Let them tell Len bias … You cannot develop such a story in a video game suitable for everyone, and it is not something that should be attributed to 2K, it would be missing more, but given the history of this NBA 2K21, and without being bad, we sincerely believe that we could consider eliminating it – or presenting it as a separate mode – for future installments. In this house we certainly would not penalize him.
But before starting this narrative, we must go through our player's editor, as complete as ever, and also complex, because we must be clear about what archetype we are going to make to enjoy the game. Obviously, for well-known reasons, a pure shooter is going to have it raw, at least for the first few weeks … Nor do we want to make a guide to archetypes, that is not the purpose of this text, but it is advisable to take a look at multiple videos from content creators about NBA 2K to be clear about what type of player can best adapt to our style of play. Like last year, we will be able to choose our Domain, and the badges progress system is maintained compared to last year, which was already a success.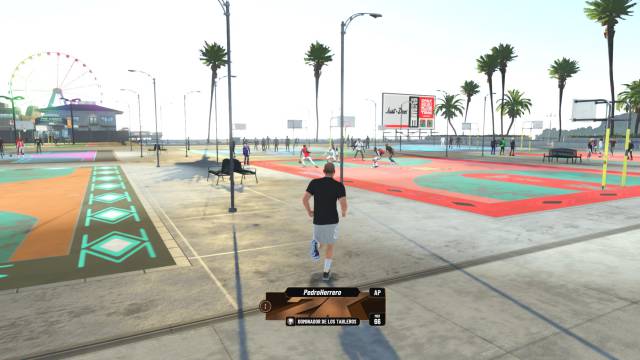 We also have to talk about the neighborhood, which has given a radical change in aesthetics, since in the content it is practically the same: the same activities, the same courts … But this change of setting suits him great to give a little more touch casual to this section of My Player, since it is basically for that: to play some pachangas in more or less short game sessions, since to compete at a higher level they follow both the Rec Center and Pro Am. In general we cannot exactly talk about changes, since we are facing a very continuous game mode, something that has its explanation: the radical change will come in the next generation. As we already know, our progress with My Player will not be maintained when we make the generational jump to PS5 or Xbox Series X – yes, the VC wallet – because there will be too much news in this mode to be able to continue it at the point where we left off. What changes are involved remains to be seen, but we are pleased that the news goes beyond a mere increase in resolution, given that said generational leap will not be free.
A My Team full of content
We are going to find something very different in My Team, where, by being able to continue with our progress in its entirety in the face of the generational leap, it is very remodeled and full of content to be able to offer enough fun for a full season. Visual Concepts has succeeded, and you have to start by mentioning the great success of this NBA 2K21: the Seasons. In the style of Battle Pass games like Fortnite or Call of Duty: Modern Warfare -although free in this case-, these Seasons propose us to get experience based on completing challenges and thus obtain increasingly succulent rewards.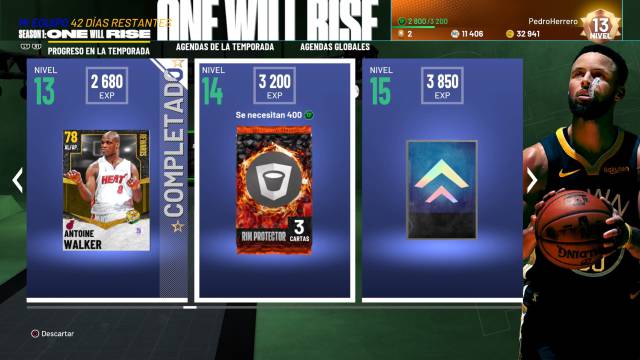 Said like this it may seem like an addition without more, but in practice it changes the way of playing My Team completely, since these challenges must be completed with specific cards, which encourages us to try new players every so often, and it must be said that At the moment, the challenges are updated practically every day. In this way, throughout this season it will probably be the case that in February or March we are using Emerald, Sapphire, or even below cards, something that adds a lot of life to the game, and incidentally, challenge, because let's not fool ourselves, playing with Pink Diamond or Galaxy Opal cards is no longer the same … The only thing we can get out of the Seasons is that some of those challenges have to be completed with cards that appear in limited packs, which It forces you to go through the cash register or invest in the auction house, which this year takes on a new, much greater importance.
As for the content for a player, the now classic Domination continues, in which this season we glimpse a change that does not quite convince us, and that is having to beat the current teams in Hall of Fame difficulty to get the three stars. Honestly, it seems like a disproportionate level of difficulty for rewards that are not worth it, and they change the way of dealing with this mode a bit, since Domination was practically the first step to take. Now, it is only advisable once we have a solvent team that can compete at that level, because with Gold or Emerald cards there is absolutely nothing to do. Of course, the Challenges also continue, among which we find four: Weekly, Featured -the already known Under the Spotlight-, Moments and Personal. This point is key.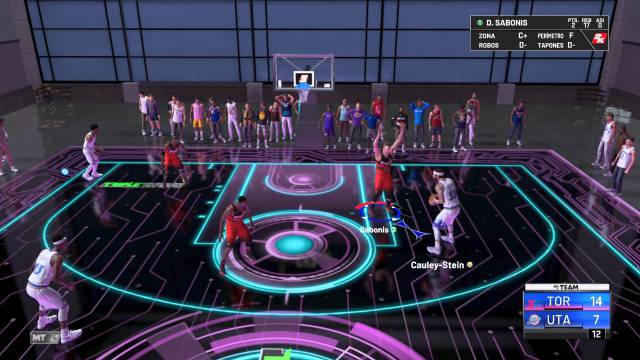 And it is basically for two reasons. The first, that as we mentioned earlier, the next NBA season will not begin until January 2021, according to rumors, with which Visual Concepts must be inspired by matches and historical moments to offer content based on the real competition, at least until this start again. The other reason, or better said, key aspect, is the frequency. In NBA 2K20 it seems that the challenges Under the Spotlights did not convince even the developer herself, since Jeremy Lin's was the last one, in January, and we did not see similar content again until two months later, yes, immense. You cannot go so long without offering new challenges to players, especially in critical game months such as the first few months of each year, even those in spring, when there are more dropouts.
Another success is the limited multiplayer mode, limited – redundancy is worth – to the weekend, and whose name is because we cannot dispute it with the cards we want, but we must meet certain requirements. A perfect way to compete and demonstrate skills beyond the quality of the cards, although during the first weekend we found it too random to get the champion ring that gives the right to the maximum reward after obtaining 6 of them. After each victory we can choose between three rewards, and this ring may or may not be among them, something completely unfair if, for example, we win 6 or 7 games during two days and this ring does not appear. You have to review it, without a doubt.
Apart from all these aspects, new ways to evolve the cards have been added, in order to adapt them to our style of play, fairer rewards in Triple Threat Online, a new way to get cards with The Exchange … In short, the New additions to My Team are practically counted as hits, something we have to celebrate since, as long as the opposite is not said from 2K Games and Visual Concepts, this is exactly what we are going to find on PS5 and Xbox Series X.
CONCLUSION
As might be expected in a delivery on the eve of a new generation, NBA 2K21 is continuing, but there are also efforts to make the game worthwhile if you already have NBA 2K20. The new shooting system forces us to reinvent ourselves and it is a challenge to master it, making us have to work more on good launch positions, and added to other small details, they make the gameplay the most refined of the generation. As for the game modes, while we wait for the very remodeled My Career that is promised in the new generation of consoles, we have very interesting additions in My Team such as the Seasons or the Limited multiplayer mode, which make it a very complete mode. A good way to warm up before finally competing in the long-awaited version for PS5 and Xbox Series.
THE BEST
The revamped shooting system adds a major change to master.
Although it has hardly changed, on a visual level it is already irreproachable, with more recognizable players
Seasons are a great idea for My Team, a mode with more content than ever
The possibility of playing entire WNBA seasons, not just friendlies
WORST
Although the efforts are there, the fatigue of seven years with the same hardware is already noticeable
Very few novelties in My Career, before which are promised in the next gen
Micropayments, as always, more present than we would like
Very good
A game with a remarkable finish that we will enjoy and remember. A good buy, highly recommended for lovers of the genre. It is well cared for at all levels.