We analyze Partisans 1941, a good real-time tactical strategy game that follows the path of the Commandos formula by introducing several new features.
When one approaches Partisans 1941 for the first time, it is inevitable that it evokes one of the iconic classics of homeland soft, the great Commandos: Behind Enemy Lines that Pyro Studios released in the distant 1998. And although the similarities are there And they are not few, this successful war title with a tactical approach and isometric perspective by the small Russian studio Alter Games tries to find its own personality and offer a differentiating proposal. To do this, add to the mix small doses of role in the form of a progression tree for our partisans, light management elements when organizing our clandestine camp, and a coverage system similar to that of the XCOM saga during battles, among other elements that seek to give a differentiating touch to the title. And although in general we liked it, certain imperfections and irregularities make it far from recent titles with a similar proposal such as Desperados III or Shadow Tactics: Blades of the Shogun, games much rounder than this Partisans 1941.
Thus, we are before a good war game of tactical strategy in real time, where we will manage a small group of partisans in missions where stealth and infiltration prevail, having of course also room for direct confrontation in battles where we must make decisions. adequate and effectively manage our combatants to come out of the fight with flying colors. The study behind the game is made up of several veterans of the sector with experience behind them in titles such as Heroes of Might and Magic, King's Bounty or Blitzkrieg among others, and the truth is that their proposal has made us enjoy, although it is true that you have several edges to be polished.
The Soviet perspective
We are used to reliving the events of the Second World War both in film and video games. What is so usual to us is that the perspective from which the bloody events are narrated is not the usual one for the Americans or the European allies. Being a title made by a Soviet study, they have decided to put us in the shoes of the Russian resistance in full German occupation, which will be one of the differentiating elements of the title proposal.
Our protagonist will be Commander Alexey Zorin, who after miraculously fleeing at the last moment when he was going to be executed decides to mount a clandestine revolution to stand up to the German occupation forces that are ravaging his country. Throughout the adventure, he will recruit a series of companions who will join his fight, whose motivations and reasons for engaging in the conflict will be narrated in small sequences and conversations at the campfire in our camp. Without having too much weight in the development of the game, it is appreciated that this at least worries about telling a brief story for each character and worries about being something more than a mere excuse to launch us on arduous infiltration and stealth missions.
The plot of the game takes place over 20 missions where we contemplate the evolution of the conflict in Soviet territory. Depending on our expertise (and the selected difficulty mode), we have 20 to 30 hours of gameplay, and we may even want to try out a mission using a different approach than we did the first time. Fortunately, all the texts in the game have a correct translation into Spanish, so it is accessible if we do not speak other languages.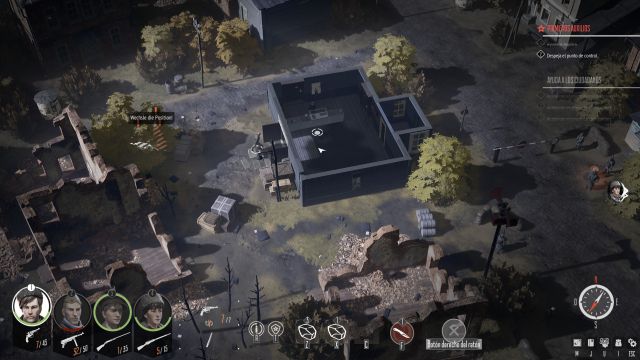 Real-time tactical strategy, management and role.
As we have already mentioned, Partisans 1941 tries to find its own personality and not limit itself to being a mere clone of titles such as the aforementioned Comando and the like. The basis of his proposal are missions where we manage a small group of partisans, usually 3 or 4, in missions where we must be stealthy in the face of direct combat, always from an isometric perspective that allows us to have good control of the situation. We will assign the orders with the pointer, and as usual we can direct the squad simultaneously or assign tasks to each of its members separately. Each of them will have their own abilities, so that some may go unnoticed in front of enemy soldiers, others are specialists in stealth, or others will be skilled fighters skilled in one type of weapon or another. It is up to us to decide how to exploit the unique characteristics of each one to meet the various objectives that each mission poses.
Although we are allowed some freedom, the stealth approach and infiltration is the most recommended option to fulfill the missions. To do this, in addition to the abilities of various characters, we have common subterfuges such as stones or bottles to distract enemies. By selecting them we can see their cone of vision, with the area where they will detect us if we pass through it. But to make things even more difficult, in addition to vision, enemy soldiers can also detect us by the noise we make when we move. Various indicators on them will show us how close they are to giving the alarm signal.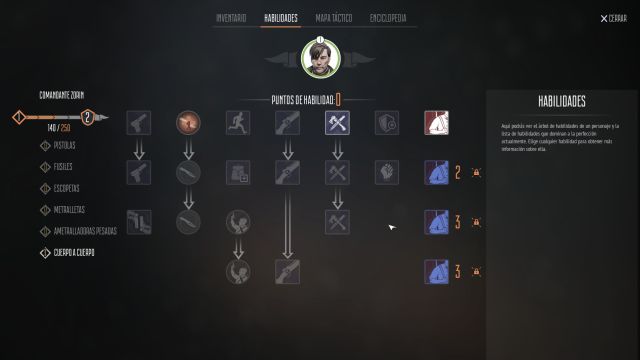 When the situation gets out of hand, and as we have already commented normally as a last resort, we will have to move on to direct confrontation. To facilitate the task and have greater options for victory, we can press the space bar to activate the tactical pause. This slows down time (without stopping it completely) and allows us to assign orders to our characters in order to make that perfect ambush and end the fray with the least possible damage. In a similar way to what happens in the XCOM saga, certain elements of the stage will have a shield symbol that represents cover where to equip our partisans, reducing the damage received. Every bullet counts, so you will have to look for ammunition in the scenes. The same happens with the elements to heal our soldiers, since in addition to seeing how their health is diminished in combat, they can also suffer altered states that will have to be healed.
To season the mixture, small droplets of roll have been added to it. During the missions, our characters will gain experience points, which we can exchange by selecting various abilities in a simple development tree, so that we can guide them to hand-to-hand combat, different types of weapons, make them more stealthy or enhance various particular abilities of each one, such as the ability to go unnoticed and even distract rival soldiers that a kid who accompanies us has. We would have liked a bit more depth and options to develop the characters, but in any case it is an option that is appreciated and adds a layer of depth. For each mission we will be able to choose between several different characters from those available, so we will have to look for a balanced squad that allows us to fulfill what the missions ask of us.
Another element that spices up the game's proposal is a small management section in the intermission between missions. We will have to manage our clandestine camp, take care of the feeding of our soldiers, whose efficiency will be severely diminished if they do not eat well, and organize small automatic skirmishes that if they go well will bring us huge benefits. Each partisan will have to be assigned a task among the several available. We can also organize our inventory in this section. In the same way, at the campfire of our camp we will see various conversations that will reel off part of the plot of the game. The depth of this part is not too much, and although there are important elements that if not managed well will have a negative impact on the missions, these are the playable core of the title and the management part is an addition that seeks to give diversity to the game.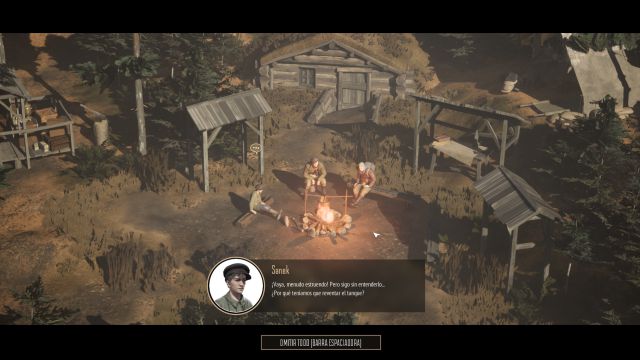 Regarding the missions, we must emphasize that the game has a hard time starting. The first missions are very flat and uninspired, and several of them are also very corseted. From the middle of the title is when it reveals its potential, offering us a much more successful, varied and full of possibilities level design. It is also when we have more diversity of characters and we can focus these missions more to our liking. We also have several objectives per mission, some of which are even optional and very hard, but in turn they will provide us with important benefits in the form of experience to be able to increase the skills of our characters or even resources such as weapons, ammunition or food. On certain occasions we have noticed that the objectives of the mission are not entirely clear, and we have seen ourselves going around and around to obtain a key object that we did not know where or how to obtain. And we have also suffered several problems with the movement and interaction of the characters with various elements such as the doors, leading to very desperate situations. The title needs a patch to polish those things up. In order to make it accessible to all types of users, we have several difficulty modes, so that both those who are approaching the genre for the first time and the most experienced war strategists will enjoy.
On a technical level, Partisans 1941 complies but without much fanfare. We would have liked a higher level of detail in both scenarios and units. In order to recreate the horrors of war, a tone and a palette of dark and dirty colors have been chosen, which does not allow an excessive visual display, being far from the isometric beauty of which titles with a similar proposal display. This is compounded by rather uneven performance, requiring good equipment to keep the frame rate stable at which the title works. This turns out to be excessively demanding at the hardware level for what it shows on the screen, another point that we consider should be corrected with an eventual patch.
CONCLUSION
Partisans 1941 is a correct war game of tactical strategy in real time with an isometric perspective, focused on infiltration and stealth, which we liked and made us enjoy, but due to several edges to be polished it is far from the best exponents of the genre, such as Desperados III or Shadow Tactics: Blades of the Shogun. Their attempt to have their own personality and add elements to the "Commandos formula" is greatly appreciated, but the depth of their management and role additions does not have the depth that we would like, although they add and bring freshness. The title has a hard time getting started, with some uninspired first missions that don't show the full potential of the game, and it has some annoying control problems. However, starting in the middle of the game, this is revealed as a very competent title with many possibilities. It also offers several levels of difficulty so that your proposal adapts from the uninitiated to the most expert strategists, who will find a challenge to suit them. We still have a good example of the genre that will make us spend hours commanding our group of combatants while we deploy our best strategic skills.
THE BEST
Once it reveals its full potential, it offers very satisfying missions with many possibilities and great level design.
His attempt to bring freshness and personality to the mix by adding management and role elements is appreciated.
WORST
He has a hard time getting started, with some very uninspired initial missions.
Drag certain problems of control and interaction with elements of the scene quite annoying.
Technically it is a discreet title and very demanding at the hardware level.
Good
It meets the expectations of what a good game is, has quality and does not have serious flaws, although it is missing elements that could have taken it to higher heights.