Nintendo returns to make its game available to Wii U users after its withdrawal coinciding with the presentation of the Deluxe version for Switch.
Curious move by Nintendo, which has re-enabled Pikmin 3 in digital format for Wii U after its withdrawal from the eShop just a month ago. And it is that this action coincided with the presentation of Pikmin 3 Deluxe, the new version of the game for Switch; Now, and without giving any kind of explanation, Pikmin 3 returns to the eShop of the Gran N console of the last generation at its same usual price, that is, 24.99 euros.
Similar actions with other ports
Nintendo, at the moment, has not shared any explanation about this curious movement, something that has already happened in the past and that the Kyoto company has never justified. Without going any further, Donkey Kong Country: Tropical Freeze was removed from the eShop coinciding with the new version of Switch, although in this case it was only removed from the American digital Wii U store, since it is available in the European one. .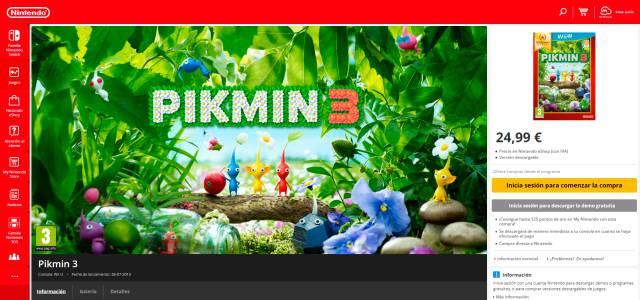 By contrast, Mario Kart 8 was one of the first Wii U games to hit the Switch and was never removed from the eShop; Will Nintendo make a similar move with Super Mario 3D World after its next arrival on Switch in its improved and augmented version? At the moment there is no news of any similar action, although Nintendo does not usually notify of this type of action.
Be that as it may, Pikmin 3 is once again available on the Wii U digital store for those who want to get hold of one of the most celebrated games of the previous Nintendo console in digital format. Don't miss our original Reviews of Pikmin 3, the title of which we said: "Pikmin 3 becomes one of Miyamoto's most personal works because of its formula and because of the charm it gives off from the first minute. This is a video game that knows how to perfectly mix RTS mechanics with dynamic and constant action. An intelligent and well-designed title in which to draw up the strategy to follow, to be responsive and quick to move before the end of the day is vital to success ".