Niantic confirms that the packages of three Remote Raid Passes for a Pokécoin will be temporarily enabled at the end of September.
Naintic has detailed the exact dates that it will offer Pokémon GO players the possibility of getting three batches of 3 Remote Raid Passes for just 1 Pokécoin. As on previous occasions, the only requirement is that we have less than three passes stored; that way, we can buy more.
3 Remote Raid Passes for 1 Pokécoin (€ 0.99)
The dates for obtaining the three Remote Raid Pass batches, which allow you to play in Raids from anywhere as long as the position is within our location range in the Near section, are as follows. To highlight, the new one that will be enabled from September 21 to 29; always with start and end dates of 22:00 (CEST).
September 1-30: Get three Remote Raid Passes for 1 Pokécoin in the Shop
September 10-19: Get three Remote Raid Passes for 1 Pokécoin from the Shop
September 21-29: Get three Remote Raid Passes for 1 Pokécoin from the Shop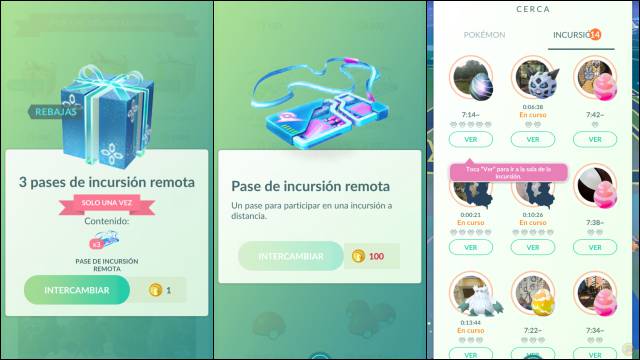 The procedure is very simple as long as we do not have three passes in the bag: we open Pokémon GO, access the Store and select the blue gift lot. Instead of the usual 100 Pokécoins, this time it will cost us only one Pokécoin (0.99 euros), which can be obtained very easily when defending Pokémon Gyms, for example. This type of special passes, which differ from the standard ones, are characterized because they enable access to the Raids from anywhere that is within the Nearby section; which may be several kilometers from our location, but not very far either.
The assessment of the community is very positive because at a time like the present, where there are still movement restrictions in many countries due to the health crisis of COVID-19, this measure opens the doors to play Pokémon GO raids from home.
We remember that this weekend will be celebrated the September Community Day, a very special event having Poyrgon as the protagonist, who will learn Triataque if we evolve to Porygon-Z until two hours after the event ends. You can find all the details of this Community Day here.