We assess the current state of one of Xbox Game Studios' most important intellectual properties in the face of the impending next generation.
It is difficult to understand the beginning of a generation of consoles without driving, without speed. If PlayStation has Gran Turismo, Microsoft has Forza Motorsport; in fact, it is currently the latter that has managed to position itself first among the referents of the simcade genre, capable of discerning the most simulation-focused and wild way, where anything goes, making Horizon a recognizable icon, a way parallel. Not a secondary series.
The presentation of games from Xbox Game Studios this July that we now begin is exciting. We do not know the date, we are just at that moment where we see the traffic lights in red without being very clear when they will turn green. An exciting summer awaits us, because when that well-known catalog of PS5 games combines with the characteristic green of those of Redmond, we will finally be in the dilemma of where to start first.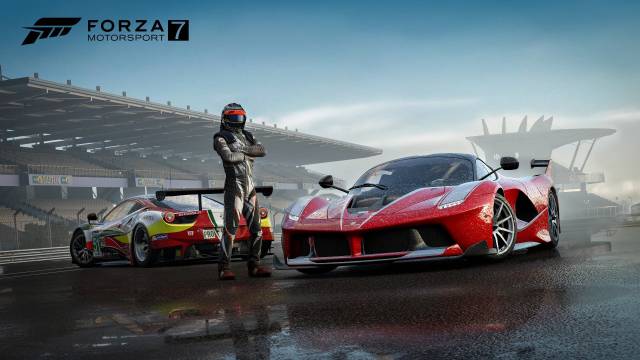 Forza Motorsport 7 | Turn 10 Studios
It is curious because, although the Turn 10 Studios, responsible for the main line, has stated several times that they are already working on the next installment of the saga, their official announcement has not yet been formalized. We do not know if it will be Forza Motorsport 8 or if they will bet on a different surname; what few doubt is that this name will be one of the fundamental pillars to establish Xbox Series X, either at its launch or throughout 2021.
In this article, we are going to review how things are, where the brand comes from and where it is headed, with its successes and mistakes in a generation of no less than seven years where many things have happened. There is one thing clear: Forza Motorsport's health status is not in doubt.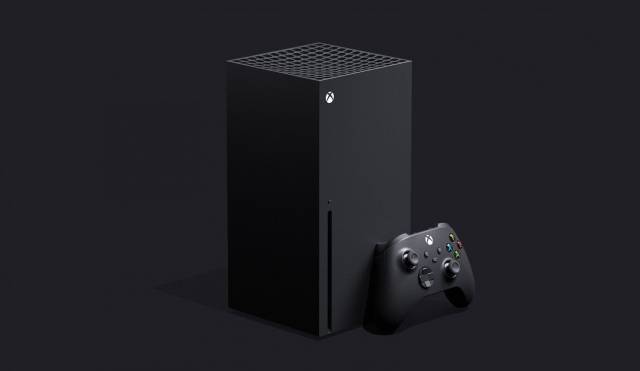 Turn 10 Studios, synonymous Xbox
When we look at a breakdown of the fifteen Microsoft internal studios, what we know as Xbox Game Studios, we realize that Turn 10 is already one of the oldest teams in that lineup. Phil Spencer knows that two different products are born from this intellectual property: Motorsport and Horizon. The first, in Redmond, near the company's headquarters in Washington state. Far is Playground Games, also internal to Microsoft, but with a different, British spirit, which implies not only a particular vision of IP but a different way of doing things.
It is perhaps that one of the greatest merits of Forza, having known how to coexist with two perfectly differentiated brands several thousand kilometers away without this ever having an impact on the quality of both series. The Turn 10 case is a team of more than 200 employees, devoted to the world of driving and specifically stabilized for this task. It was in 2001 when Microsoft, then under the seal of Microsoft Game Studios, decided to open a subdivision that was going to be exclusively in charge of cementing what was to become a new speed saga emblematic for Microsoft. After Project Gotham Racing, one of the most beloved works of the first Xbox, Forza Motorsport was born in 2005 for the original Xbox; thereafter, three numbered installments for Xbox 360 in 2007, 2009 and 2011, with the last one as the current undoubted peak of what the series has yielded: Forza Motorsport 4, one of the most complete driving games and transcendent of the last five years.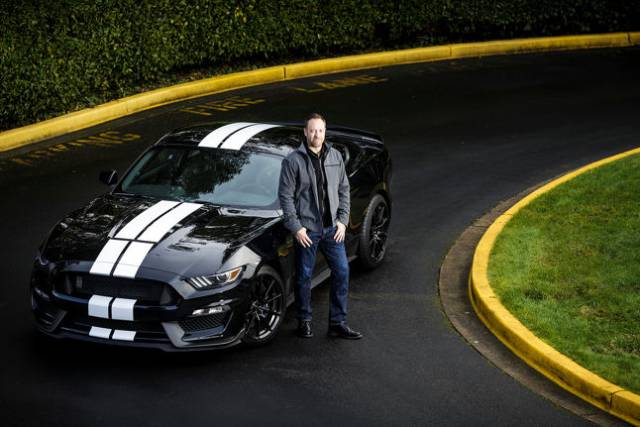 Dan Greenawalt, Creative Director, Turn 10 Studios
We must highlight three names within these nineteen years of history of the saga: Alan Hartman, leader of the study; Dan Greenawalt, creative director; and John Wendl, director of content. They are the main responsible for Forza is currently the largest driving video game saga in the sector, ahead of Need for Speed ​​(EA).
It was Xbox One: methodology, philosophy and risk capacity
Let's head to 2013, a difficult moment to forget because it places us on a stage with many similarities to that of 2020. Both years were generational transition exercises and, in both, Forza sounded strong to accompany the launch of, back then, Xbox One It came from FM4, a title that squeezed heavily Xbox 360 and featured a breakdown of content hard to match immediately on a much more capable and demanding console. It was logical, however, that the first Xbox One Forza could not include those doses of content if it wanted to launch in 2013. Everything had to be modeled with more assets, definition, textures. Plus everything. So how do you find balance without disappointing fans?
"During the launch of Xbox One, with Forza Motorsport 5, we really tried to hit the 'reset' button on the way we did our games, and also on what our consumers were like," Greenawalt said in a meeting with GamesIndustry back in 2007, when Forza Motorsport 7 had been launched and sales accompanied as never before. Change the methodology. A trilogy of iterations on Xbox 360 at the rate of a launch every two years supposed, in the best scenario, about 24 months of unique concentration for this project. That pace was maintained when moving from one hardware to another and —as diehard fans of the license agree—, sacrifices had to be made in the process.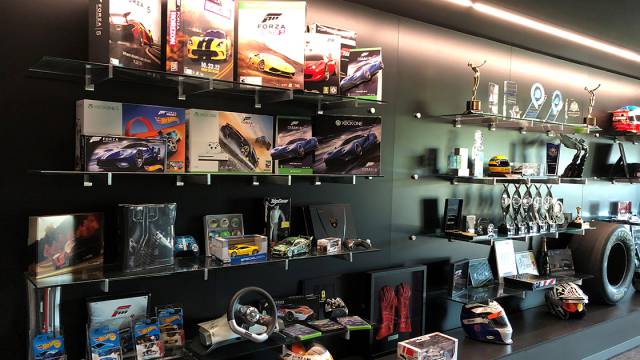 Turn 10 Studios offices
"We and Playground both tried to figure out how to target our players and why they were playing our titles. We don't just look at the competition. " Times changed and social networks also brought the possibility of sharing what we played; They put faces and eyes to those records, those numbers without clear entity of the online games so far. The arrival of photo mode in Forza Motorsport 2 was a decision surely ahead of its time because, after all, in 2009 there were not many ways to share that merely contemplative power that car video games evoke. Appreciate art … period. 2013 was another story. Facebook, Twitter, higher quality images, High Definition the order of the day in many countries …
There were more and more players with very different tastes. That is why Horizon was born, to respond to those who wanted to play visually realistic titles, but playably implausible in real life. "Our mantra was that we had to shape the future of motorsport entertainment. We care deeply about the world of cars and the culture of the automotive industry; and also for games and that genre. So instead of thinking about it as a competitive set, we started to think about where we wanted to see ourselves in four or five years from now, "he continues, in relation to his vision that year 2013. From those conversations, modes such as ForzaVista, Forzathon, Blueprint were born , Green Line or the possibility of rewinding at any time.
The goal was clear: to be able to innovate in both areas, in Motorport and Horizon by parallel, not perpendicular routes. Because the Greenwalt team has never designed the Forza installments thinking that they were only realistic driving video games, but "taking our horizons beyond racing; look at other genres and games, constantly deconstruct it … but also looking at what is far from gaming, "he said at that meeting.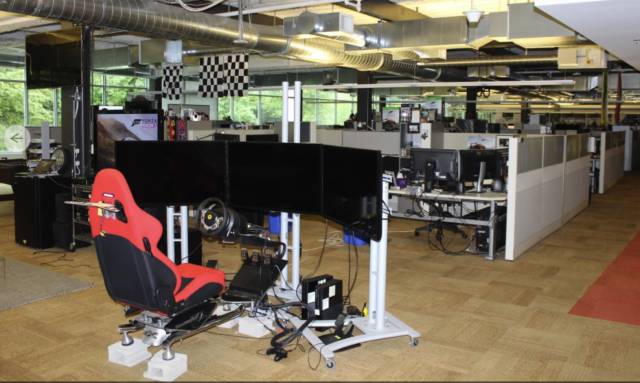 Having two series so settled is also a double-edged sword, because they can compete with each other. They are aware of this themselves: "You can say that we have two games right now, in the same franchise, that are competing with each other," and so it is.
All in all, throughout these five years the vision of the Forza property has expanded its sights both from doors out and from the company itself, with its participation in electronic sports through the Forza Racing Championship in 2016, serving on Xbox Live, Kinect and with a fundamental collaboration to highlight the power of Forza Motorport 7 (2017), the most technologically cutting-edge installment and also one of the most criticized for the design of its loot boxes as well as other controversial decisions. It will always remain the debate of his should have bet on nurturing Forza Motorsport 6 (2015) for years and give it a coverage of approximately five years or if, on the contrary, a new installment capable of taking advantage of the 4K of the console released to half generation.
Where we are going: the immediate future of Forza Motorsport
And now that? Removing loot boxes in Forza Motorsport 7 was a decision that essentially revealed that that policy had been a mistake, a nuisance. We had to wait until March 2019 to learn that Project Scarlett, as we knew Xbox Series X then, was going to have its own Forza. Turn 10 Studios' message was quite exciting: "We are moving a large part of our team to this new project that we are already working on, but we are doing it with a new methodology […] We want our players to go to Discord and get in touch with us to really be a part of the process with the team; that they feel that their voice is heard. And we all together shape the future of car entertainment. "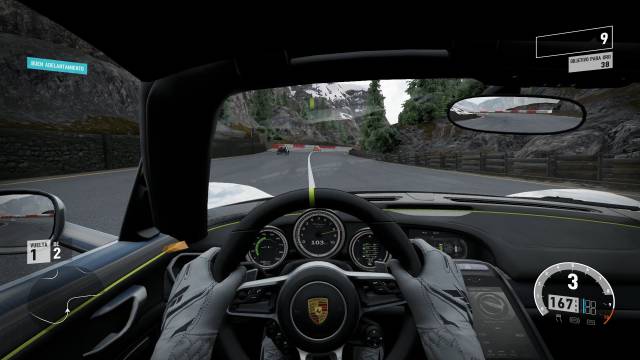 Basically, we know that the new Forza is being developed with a change of mentality and procedure, as has already happened with the fifth installment. It is to be hoped that the title knows how to adapt to current times, as Horizon 4 has already done with seasonal content and a constant update of temporary additions that serve as an incentive for those who have spent time without logging in.
Faced with constant questions from the community, Xbox boss Phil Spencer came to the fore to say shortly after E3 2019 that he did not want to hear anything related to the rush. Many voices were clamoring Forza and Halo: Infinite with the premiere of Xbox Series X, absent at the fair: "We are giving them the opportunity to think so that they have a great creative impact when they launch […] I want to give them time to think. " 343 Industries, so far, has confirmed its presence at the launch of XSX with the new Halo.
Meanwhile, Forza Horizon 4 continued to grow and set a new record in the saga: 12 million players. Its availability on Xbox Game Pass from the first day, as well as additions of media interest such as the LEGO: Speed ​​Champions expansion, have allowed this work to become life insurance for Microsoft, one of its greatest successes of the entire generation. in terms of downloads and player community. In October 2019, we understood that the situation was going to be long: Turn 10 required new employees with very specific profiles. Finally, it was learned in January that at the Game Developers Conference (GDC) in San Francisco —canceled by COVID-19— they were going to show how they were working with ray tracing techniques, presumably the ones that will incorporate serial hardware Xbox Series X, DirectX Raytracing. According to Jason Ronald, Director of Program Management at Xbox, "Having that hardware capability from the start is great because it's a very complex type of computing."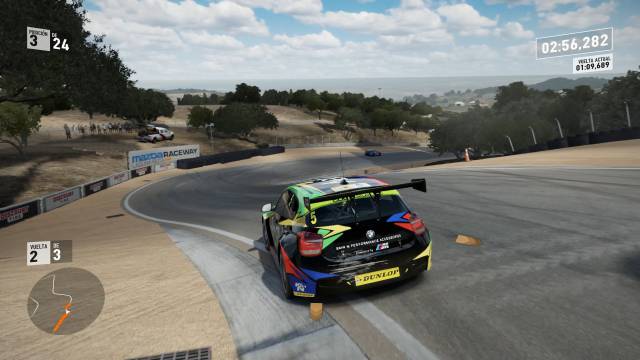 The 'corkscrew' of Laguna Seca.
In Xbox Series X, DirectX Raytracing will be accelerated by the hardware itself, it will not be simulated. For him, it will be like "the holy grail of digital graphics. It will be very interesting to see how developers take advantage of it. " It will not only benefit the expression of lighting and shadows, but also in the framework of sound with the so-called Spatial Audio. DirectX Raytracing will be able to "emit rays around a stage and determine how sound bounces off this concrete wall or bounces off a wet floor", so that the acoustics we are used to will gain nuances without having to acquire high-end headphones.
What do we want from Forza Motorsport 8?
This July's Microsoft game presentation event, the Inside Xbox, promises to offer us the first major exclusives from its internal studios, the Xbox Game Studios label. Although we do not know the exact day, we do know that from July 21 to 27 they will enable during the Summer Game Fest "more than 60 unpublished demos" that we can play from home. Users want to know about Halo: Infinite, but the big X community wants to know if that new Forza is as close as we think it is, too.
Now, what do we expect from this new generation delivery beyond an impressive technical section? On the one hand, an intelligent use of the technological capabilities of the console. Forza Motorsport 7 had excessively high load times, with breaks between championships that were too long and that, with the passing of the hours, did not invite to play short games even if we used an Xbox One X.
But if there is a recurring complaint in the community it is the competitive section. It is true that Microsoft has the Forza RC series, but its impact and packaging is far from what Polyphony Digital has achieved with Gran Turismo Sport. And the problem is not with Turn 10 Studios, but with the infrastructure of the title. Neither matchmaking is entirely smooth nor are there online penalties. In other words, the community is full of players who do not play completely fair and, without penalty, these users are not encouraged to respect the rules of a simulator. Because this is not an arcade game, as much as it has accessibility options to adapt the single player experience to what each one legitimately seeks. But there are elements that are evidence: in online races, especially if they are long, it is very difficult to finish without headaches. It is necessary to improve the lobbies, give customization options between the races and make that desired fluidity of other great online competition games such as iRacing or, without going any further, Project CARS and Asetto Corsa —without being perfect the latter—, which in console have a much more varied performance in options and resources.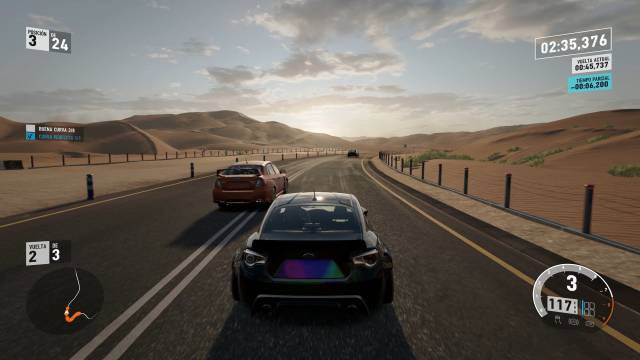 Another aspect that intervenes in the gaming experience is the adaptability of the control both to the steering wheel and pedals and to the controller itself. This is a double to-do for almost any driving simulator: making you feel pure regardless of choice. Although the vast majority of users play with an Xbox Wirelles Controller and the Xbox One triggers are a delight in this type of experience, it can still be improved. There is scope to make it even more enjoyable to play forgetting a steering wheel with pedals. However, if we opt for the latter, the path still has a lot of room for improvement. We want Turn 10 Studios to work closely with the main peripheral manufacturers and, whoever can afford it, buy a new set or can use the one they already have with backwards compatibility with better guarantees, without getting lost in a thousand configurations.
And let's move on to the content. To licenses. As if it were the FIFA vs PES battle, it is logical that all video games are interested in having traces or marks that are only in their title. Let's imagine that a work closes an exclusivity agreement with the Laguna Seca circuit, or the Spa circuit, or the Nürburgring circuit. The impact is tremendous. As much as if Ferrari closes an agreement with PlayStation or Microsoft. This, in reality, only benefits companies and not consumers, but it is necessary for Forza to expand that number of shared licenses so that there is not so much recourse to original circuits. It is not that the latter do not work, but stepping on the asphalt of real routes is a pleasure for lovers of the world of four wheels.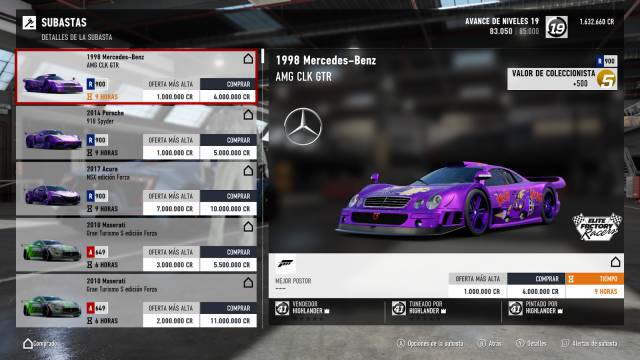 Finally, more options. We would like Forza to embrace more disciplines, to dare with a career mode like Project CARS, where you start from the karts and have to gradually climb to the big competition; We want more options for personalization of the character, that there is risk. How would you like a story mode? Decision making? Carnets? We are not sure if looking at Polyphony Digital will be the most appropriate because, after all, the player from Gran Turismo and the one from Forza Motorsport are looking for different things, no matter how many similarities there are; what is clear is that we do not even want to return to the path of loot boxes.
New game modes are always welcome, although the greatest peace of mind would be that we have options such as guaranteed dynamic weather, 4K and 60 FPS, ultra-reduced load times and seasonal events so that Forza Motorsport 8 feels like a live video game. It's easy for us to be dazzled by that next installment, all we need to do is fit the pieces together.