The console will go on sale this November 19. All the details to reserve PS5 in store or on the web, prepayment and available models.
PS5 and PS5 All Digital can now be reserved in Spain. Sony Interactive Entertainment has confirmed during the PlayStation Showcase that its next-generation console will hit European stores – Spain included – on November 19 for 499 euros and 399 euros, respectively; on November 12 in the United States and Japan. GAME Spain was the first to open the reserves.
The well-known chain of stores has informed through the social network Twitter of the opening of reservations of both models and the control, DualSense, which can be purchased separately for 69.99 euros. To be able to set aside a unit it is necessary to have a GAME member account.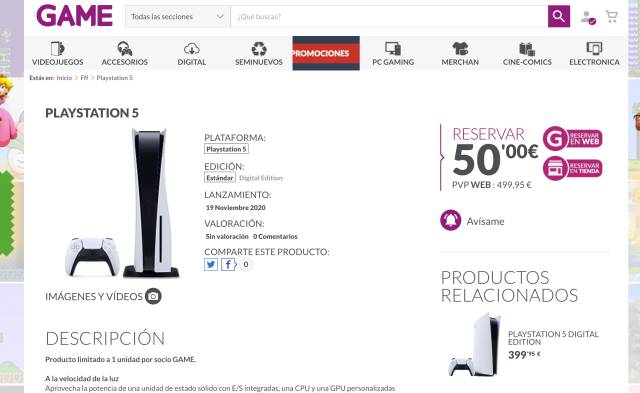 Then, we will be given the option to choose if we want to make the reservation in store or through the web. In both cases, it is mandatory to pay as a down payment an amount of 50 euros that will be reduced from the final payment when the shipment is made (that is, 449 euros in the case of PS5 and 349 euros if we choose the digital model).
Reserve PS5 with disc player in GAME for 499 euros
Reserve PS5 All Digital in GAME for 399 euros
Reserve the DualSense remote control in white for 69.99 euros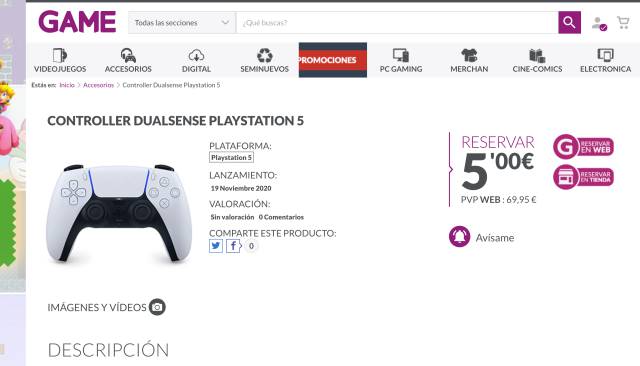 More information | GAME
All PS4 games that will update for free to PlayStation 5
Unlike the previous generation of consoles, both PlayStation Studios and other major publishers such as Electronic Arts, Bethesda, Codemasters, Ubisoft or CD Projekt will not charge users twice who buy their video games; something similar to Microsoft's strategy with Smart Delivery. Under the name of "PS5 Upgrade Available", all those titles that present an indicative on the cover with that nomenclature will allow the digital version of those titles to be downloaded and run for free in their new generation version. We are talking about games like The Witcher 3: Wild Hunt, Watch Dogs Legion, Assassin's Creed Valhalla, WRC 9, Monster Boy and The Cursed Kingdom or Rainbow Six Siege, among many others, as we collect here.
Apart from the launch of the console, we believe it is important to point out all those video games that we will be able to play on the new Sony console this year, that is, in 2020. Not all of them will go on sale out, but of all these they are guaranteed In-store presence before we change pages on the calendar.
PlayStation Showcase has been the event where the main departure games for PlayStation 5 have been revealed. In this article we will summarize everything that the conference has given.