We tell you our initial impressions after the first days with the heir to the rich legacy of Playstation
The fifth generation of PlayStation arrives with the satisfaction of a job well done with a PS4 that has regained the dominant position of the market that Sony had enjoyed, with the exception of the third console and its catastrophic launch that marked the end of the meteoric rise of Ken Kutaragi. . PlayStation 4 is today the fourth best-selling console in history, only surpassed by the Game Boy and Color set, by Nintendo DS and by a PS2 that many wonder if it will ever be relieved of the first place. Such a good result was not something that was done in a day, but rather came from taking advantage of the good dynamics that changed the fortunes of PS3 and building hardware that was tailored to what SIE, rightly, thought the public demanded: a machine designed by and for playing, with an architecture familiar to developers that allows them to develop on it without additional headaches and at a starting price that is as adjusted as possible. The rest would be made by the catalog and some of the successes inherited from PS3 such as the Plus service – yes, with the "adjustment" of making it the gateway to online on the console, leaving this facet firmly paid, although games each month sweeten the deal.
Looking at the evolution of PS4 and the trajectory that SIE has followed in recent years, we are not surprised to see in PS5 an evolution of some of the lines of thought that have governed the design of the console, its operating system and ecosystem. Although we can also note some divergences, which we do not know whether to associate with a moderate daring not to be restricted or needs that have been addressed in the best way that the team of engineers led by Mark Cerny has known, within the complex labyrinth that is to design a machine taking into account strategies, logistics, costs, etc.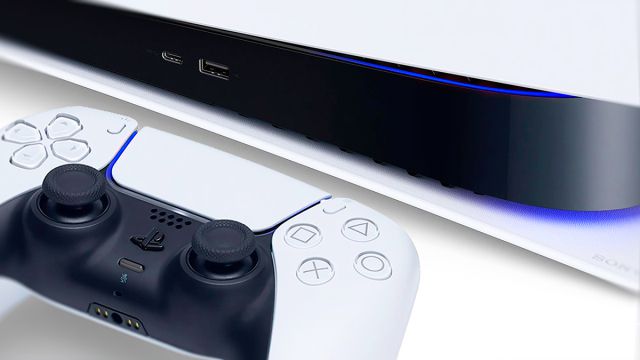 What is a console scan?
Although we formally call it that, in order to make the reader understand that our assessments are with the time we have been using the console (a little over a week in our case), the idea of ​​"analyzing" a console at the beginning of its life and without just games seem a bit strange, something that does not escape us. In the opinion of the writer of these lines, it is more appropriate to analyze a console at the end of its life, when we have a more or less complete perspective of the catalog and the balance of its successes and errors. But the interest is many times (too many even) in what is new, in what you can buy in the short or medium term future, and that is why it is understandable that what we have to do now is to evaluate what is nothing more than a newborn , with his whole life ahead of him and a potential that we can only guess with a crystal ball. But we will try to narrate our experience with the machine and thus try to shed light on the doubts and anxieties of our readers. Of course, you can keep looking forward to a lot more coverage as the launch approaches, this is just the beginning.
A considerable size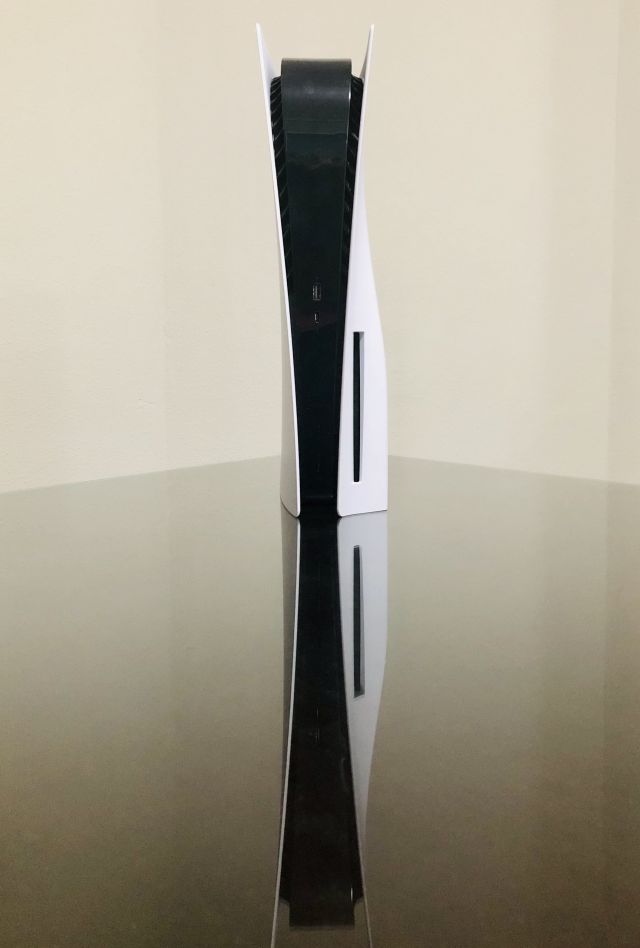 The first sensations as soon as you take the machine out of the box cannot be more than physical, tactile and aesthetic. And wherever you look, PS5 is a large console that can generate a headache depending on the cabinet where you have the TV. Vertically it is surely the tallest console we have ever seen and horizontally it therefore occupies an important place on the surface. It does not feel as bulky as the original PS3, but the design with the "wings" on the case designed to facilitate ventilation and the layout of the disk drive take up a space that makes it larger than it is. Aesthetically, it seems pretty to us, highlighting the contrast between the pristine white exterior and the black chrome interior, with that striking curved design that reminds us of a work by Calatrava (no leaks, hopefully). It is curious because since PS2 and the inclusion of its DVD, Sony has adopted a philosophy that the console should be invisible in the living room, something similar to the traditional movie player that does not hurt to see next to the television. There hasn't been much room for quirkiness since then, beyond the PS3's outrageous size which wasn't an aesthetic decision. PS5 is the one that breaks that mentality the most in all aspects.
Exact measurements and connectivity
To have a precise idea of ​​what we are talking about, these would be the measurements of the two versions.
PS5: 390mm x 104mm x 260mm (width x height x depth)
PS5 Digital Edition: 390mm x 92mm x 260mm (width x height x depth)
It should be noted that the clamping support is not contemplated here, so when placed vertically it adds a few millimeters. The process of putting it vertically or horizontally with that support is quite clear, but vertically it requires a hidden screw in the base itself, so it is not trivial. As for the input and output ports, it has a high-speed USB (Type-A) input port; another super high speed (up to 10 GB per second) and two rear USB-C ports. The console has an HDMI port compatible with 2.1, VRR, 8K televisions and 4K televisions with refresh rates of up to 120 FPS, on televisions that support it. Finally, it has Ethernet connectivity (10BASE-T, 100BASE-TX, 1000BASE-T) IEEE 802.11 a / b / g / n / ac / ax and Bluetooth 5.1 -although, as with PS4, you cannot connect any device that you fancy, such as headphones.
The heart of the machine
On the technical specifications of the console there is not much new to add. It uses an 8-core Zen 2 CPU at 3.5Ghz variable and a GPU with RDNA2 architecture "on demand" capable of processing 10.28 TFLOPs, thanks to its 36 2.23 GHz CUs (also variable). On this point there is some controversy, since Microsoft has implied that its Series are the only ones that carry a complete integration of the new RDNA2 architectures, while Sony seems to have adopted a customized solution, which does not necessarily mean that a is better than the other, simply that AMD have asked different things within the same family. On the other hand, we already saw in the video in which the console was disassembled how it opted for a liquid metal solution for its cooling, which will give it the necessary stability to maintain an adequate temperature regardless of the "punishment" they are suffering. the components. It will have 16 GB of GDDR6 and, of course, the jewel in the crown: a self-designed SSD capable of transferring 5.5 GB / s uncompressed and 9 GB per second of compressed data, performance superior to most SSDs in the world. market right now – the Samsung 980 Pro PCIe NVMe Gen4 line can rival in uncompressed data, reaching up to 7 GB, although at a current price of almost € 250 per 1000 GB. By the way, as practical information, say that the amount of really usable hard disk of the PS5 is 667.2 GB of the 825GB it has.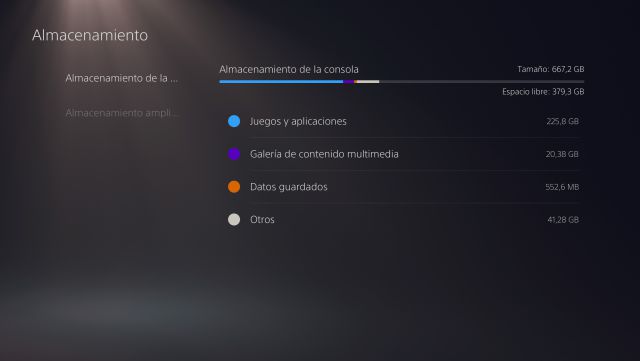 The reality is that until some time passes we will not be able to translate the entire maremagnum of numbers and figures into what really matters: framerates, resolutions and, of course, comparisons with the direct rival in the market, which is what many will be waiting for. have juicy and endless debates between fans and console warriors. For a few days / weeks we won't be able to see the same games running on different systems to check, so stay tuned. We can say that the loading times in both Astro's Playroom and Marvel's Spider-Man: Miles Morales are directly non-existent, and that the machine is indeed very quiet during these first days – with the only exception of the disk drive when you have read PS4 games to copy, we will address it in its corresponding section.
We start the console
The first thing that stands out when you turn on a PS5 is the noticeable interface change. Since Sony adopted the XMB (Xcross Media Bar) on PS3 and PSP, the company has opted for an evolution of it for its tabletop platforms, with a minimalist presentation supported by a horizontal row of games and apps, and services that we can go from left to right. That principle is not lost with PS5, but the minimalist approach here takes a step back to bet on a much more visual and impressive presentation. What used to be icons on the characteristic blue background is now a full screen image of the game, accompanied by a fragment of the soundtrack that quickly enters through the senses; the icons are made smaller at the same time, allowing you to cover more terrain and options on the same screen. If we download a game, we will access different sections such as "featured news", "video trends", "accessories" or "activities", in a wide display to give the user all the content they may want within the ecosystem of the platform.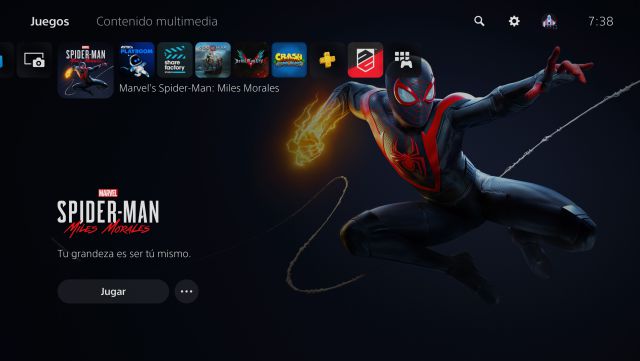 Navigation in the menu is similar to what we are used to and it will not be a problem for us to quickly get hold of the basic functions. But there are greater layers of depth to the console's already known features, plus some completely new ones. The rationale behind the entire philosophy of the PS5 interface is based on the idea that "the player's time is valuable", which is why quick accessibility to all functions, quick access to games and multimedia is valued. (which we will talk about at a later date) and being able to enjoy the game to the fullest without having to resort to external platforms, which includes an improved experience in terms of sharing content with the community, one of the triumphs of PS4 and its Share button , which is now taken to its maximum expression with the Share Factory Studio, which we will address in its respective version.
Perhaps one of the most paradigmatic aspects of this is the control center, which can always be accessed with the button with the PlayStation logo between the two sticks. By pressing it at any time, we will display a discreet lower bar with which we can access different options such as incorporating music into our game by integrating our Spotify account, use of microphone, friends list, alarms, remote control battery and other functionalities. But the main task of the control center is the use of the cards, some tokens that will indicate, if we wish, the progress we have made in the game, the activities that we have to complete in a certain area, the approximate time to complete it and even the possibility of accessing video tutorials to offer us immediate help to overcome that part where we are stuck, although this guide function will only be available for Plus users in certain PS5 games – Astro Playlab includes it as a example-.
Share the experience, build community
We still can't comment on the console's online functions – the servers aren't even fully enabled. But there are some details that we can observe. The Share button (now Create) returns to the same prominence it did on PS4. We have three alternatives that we can change at will between pressing it once, pressing it twice, or keeping it pressed, depending on what we want to have more direct access to. We can capture an image, capture a fragment of time that we stipulate (30 seconds by default although it can be configured), completely record the last hour of the game or start recording and finish at will. Within these options, we will have the option of recording in different formats and resolutions, in addition to activating HDR or allowing what the DualSense microphone picks up or what is commented on in the group with which we are talking to be recorded, if we are. It's a way to make sure that not just the game is shared and viral, but your own and your friends' experience with it, if you wish.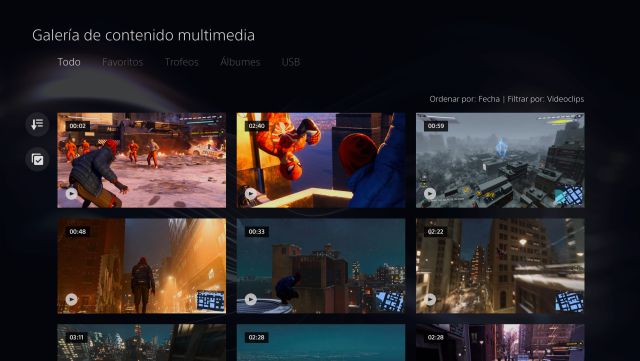 In addition, we will have a new and more powerful version of Share Factory, completely free, which will allow us to edit our videos and images with the remote control, quickly create memes or edit 4K videos with a complete set of tools that can give us more results than effective from the console itself and with a fairly fast rendering. It is a great complement if we want to take our facet of home "influencer" to a new level.
DualSense, one of the pillars of the console
We already talked about the first impressions of Astro's Playroom on the importance of DualSense and for now it is with this game with which we can really gauge the potential of its haptic response. The ability it has to transmit sensations through vibration and the internal speaker are very remarkable, with many fun and effective examples that get us even more in the game. But, as we said in that text, its potential will depend on the will, imagination and resources of the developers. We do not expect that during the first batch of intergenerational games it will be used in a way that is even remotely similar to the deployment that is done in Playroom, we have good proof of this in Miles Morales himself, who despite being a game from an SIE study Because it's Insomniac, it makes testimonial use of the controller's capabilities — at least what we've played, in the absence of possible future patches.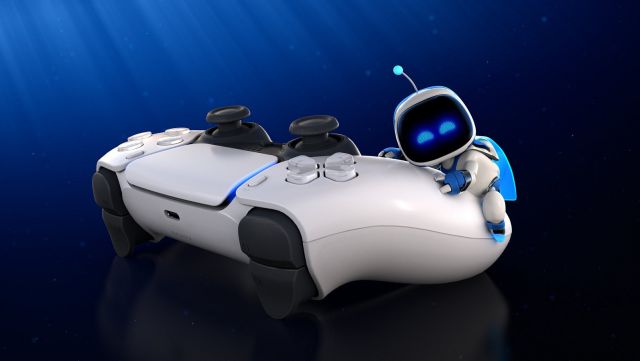 Aside from the more esoteric capabilities of the controller, its build and shape are excellent and it is poised to become the best controller in the Dual line. It is somewhat larger and heavier than a DualShock 4, which is nice and gives an illusion of robustness. The crosshead is within the quality standards to which Sony has accustomed us in this regard, so if we are used to the PS4 we will not have major problems here. The front buttons are more pleasant to the touch and greater satisfaction when pressing, while the sticks have that rough surface to improve grip – and that we trust it is of higher quality than that of the first PS4 controller units to avoid Let it be shattered over time. It retains the main functions of the previous remote, but adds a built-in microphone (along with a new button to mute it directly from the remote) and a higher quality speaker). Perhaps one of the most striking aspects is the evolution of the R2 and L2 triggers, which offer greater depth, resistance and travel, being immediately more pleasant – which added to the ability of the control to create vibration and specific resistance on those buttons, It should make for a very attractive experience in shooting or driving games, to give two clear examples. In addition, it is an aesthetically very beautiful controller, matching the design of the console.
Backward compatibility
The console is backwards compatible with most of the PS4 catalog, although given that it is a software emulation and that Sony seems to have less experience than Microsoft when it comes to addressing this facet, we will not be surprised to see more problems in a growing number of games as the console reaches the general public and the real "testing" begins, things that in any case should be solvable with patches and a careful monitoring of SIE and the studies involved. What we have tested has worked without major problems, although given the time we have it in our hands and the need to cover games like the Special Edition of Devil May Cry or the new Spider-Man, we have not been able to do exhaustive tests yet, but To do a little experiment with a more niche game, we decided to test the PS4 disc version of Maldita Castilla from our proud indie patrios Locomalito and gryzor 98, being able to confirm that it works perfectly.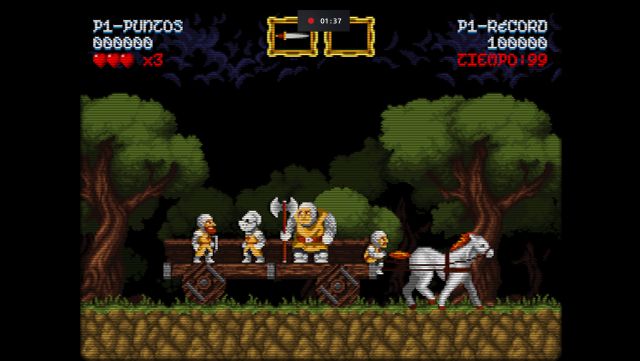 When you introduce a PS4 game in the reader, the console reads the disc and installs it directly on the hard drive, and then looks for the latest patch if we are connected to the network – although we can play without it. This is the only moment, while we are installing it, in which we have noticed some noise in the console due to the intensive reading of the disc, which makes us wonder what will happen when we install our first PS5 disc, although we imagine that the response will be similar – A one-time installation that avoids having to access the disk once we start playing, which would be a complete waste of the ultra-fast SSD and ruin the pleasant silence that we enjoy right now with the machine. SIE engineers already commented in their day that it was important for them that it could be played from disk, even in the case of not having internet, so that our physical library (for games not exclusively online, obviously), will be safe and secure. usable for the future for those who do not want to have an exclusively digital library. Obviously, our PS4 digital games are also waiting for us in the library, once connected to our account.
Astro's Playroom, a great gift
The fact that a console arrives with a built-in game should be a tradition to keep in this industry and from there some of the most emblematic names in the history of video games have emerged, titles that have defined the success of their respective machines such as Tetris by Game Boy or Wii Sport Wii. We do not anticipate that the Team Asobo game will reach such heights, but it perfectly fulfills the triple function of offering a pleasant "gift" for the whole family with the purchase of the console (avoiding becoming the new Knack), to be an impeccable and sympathetic celebration of all that Playstation has been and is and to set the bar high regarding the expectations of the DualSense, perhaps in the hopes that other outside studios will take note of some of the ideas they can implement. It is a very competent platform, very simple and affordable, full of nice details and secrets to find, as well as very inventive with the use of the controller. All a success.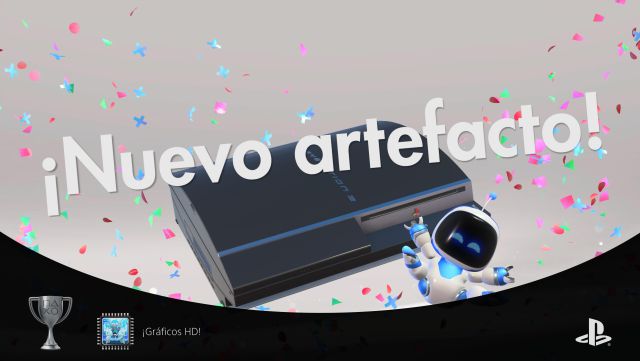 Final thoughts … no verdict
We stick with the idea of ​​not being very categorical with a console that we have been using for just over a week and for which we have not yet tried a game specifically designed for it —Demon's Souls will not reach us until a few days after publication of this text. We are in a world in which fast, exaggerated and too often hasty opinions are demanded, on pain of falling into irrelevance in the face of noise and external fury, but we understand that our role as a specialized media and dean is also to decide our own times if with this we provide better service to our readers.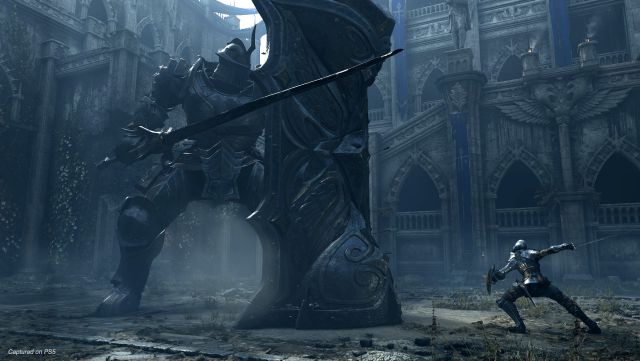 In fact, these lines cannot even have immediate use as prescribers. If you are reading this with a firm reservation, there is little to convince there and in a few days you will be able to experience what the console offers in its first days of life. If you don't have a reservation, Sony has already confirmed that there will be no single units available for last-minute impulse purchases, so you can comfortably sit back and see people's opinion before deciding on it in the future.
What can we say? Or rather, what do we mean? Well, these first days with the console have been very pleasant. As our colleague Salva Fernàndez rightly commented, the immediate advantages of the new consoles are based on comfort. In the speed and satisfaction of sitting on the couch and starting to play before you finish reclining. There was a time when it was normal to plug in the console and play immediately, but we sacrificed it in pursuit of cutscenes, CD-quality soundtracks, and more ambitious worlds, making it something for Nintendo laptops (and computers with SSDs installed) . That this idea returns through the big door will be one of the best news of this generation.
We miss, yes, the "wonder factor" of that first game of a new machine, that Super Mario World, that Halo, or that Ridge Racer that taught us clearly what the future is about. Of course, this is an opinion conditional on seeing the aforementioned Demon's Souls soon, perhaps the only hope of seeing a new generation project in its habitat. Miles Morales is a great game that will be superbly enjoyed on a PS5, but it will hardly justify the day 1 purchase of a € 500 console given the differences we envision with the PS4 version. In any case, it's clear that the generational leap isn't what it once was, and that's not necessarily a bad thing either – there's a long list of corpses and regretful users under piles of precariously released games to get to a new machine. Is it worth the jump? She will undoubtedly deserve it along the way and once more games designed for her start to appear. Meanwhile, it is a very enjoyable luxury that makes us dream of what we will see, and play, in a few months.