Traffic lights turn green for a championship divided into three key dates. We review all the information to participate.
Red Bull wants to put names and surnames to the best amateur player in League of Legends. The Riot Games phenomenon, which remains ten years later as one of the most popular multiplayer video games in the sector, will have new protagonists this summer through Red Bull Solo Q, whose online and face-to-face rankings are already public. Let's take a look for key dates and how to sign up to participate.
Online qualifiers
Let's start with the important: how to enroll? You just need to access this link and stay tuned to the Red Bull Spain website and social networks to follow all the steps. There are three key dates for the first qualifying events of the tournament: July 11, 18 and 25. These days are enabled for online participation; There will be a maximum of 512 participants on each day.
The games will be played to the best of one (Bo1) in all the initial phases. Once we reach TOP-16, the system changes to the best of three (Bo3), while the final will be to the best of five (Bo5). From each qualifying day we will have a single winner, so that being three days there will be three winners. Simple.
Amateur players of @lol_es … your time has come!

Do you dare to face 1vs1 with "first blood", first destroyed tower or score of 100 minions?

REGISTRATIONS #RedBullSoloQ Spain open.

– Red Bull Spain (@redbullESP) June 29, 2020
Face-to-face qualifiers
What if you can't qualify online? There is an on-site alternative to sneak in among the best. We will have to wait until September 5, 12 and 19 for the Elite Gaming centers to open their doors in these phases live and direct.
Extra life: last online qualifier
This other alternative is the last chance. On September 26 the Last Chance will be played, the last option to be among the best. This time there will be 512 participants and a single winner. The games will be played for the best of one (Bo1) in all the initial phases, with TOP 16 for the best of three (Bo3), and the final for the best of five (Bo5).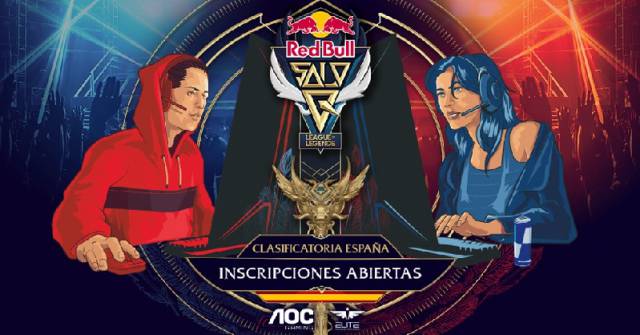 Red Bull Solo Q
The great National Final Red Bull Solo Q
When the three selection processes are completed, there will be, if the accounts do not fail, 16 players, who will be the faces in the great National Final of Red Bull Solo Q on October 3. The winner will take the corresponding trophy and may represent Spain in the European final. And that's not all, when the National Final closes, the winner will be able to enjoy a bootcamp with Vodafone Giants to prepare himself surrounded by professionals and Spain can play a great role in the continental event.