We analyze in depth the new Obsidian Entertainment title, The Outer Worlds, available on the 25th for PS4, Xbox One, PC and later on Switch.
We wake up from a state of cryogenization after 70 years and the first thing we see is a mad scientist hitting the glass of our capsule. It gives us a few indications and sends us to an exotic planet where we have to learn to defend ourselves against wild marauders and mysterious creatures while we understand how things work there. Large commercial corporations control everything in a space system that presents food shortages and various problems that we will discover. It will be in our hands to decide whether to fulfill the orders ordered by the leaders or to face them and try to change the destiny of the worlds they control.
This is The Outer Worlds, the new work of Obsidian Entertainment that arrives on October 25 on Playstation 4, Xbox One, PC and later on Nintendo Switch. We have played it in depth and we can tell you what we found in each of its sections. Blacks and whites in a complete role title that innovates in some aspects and remains somewhat fair in others.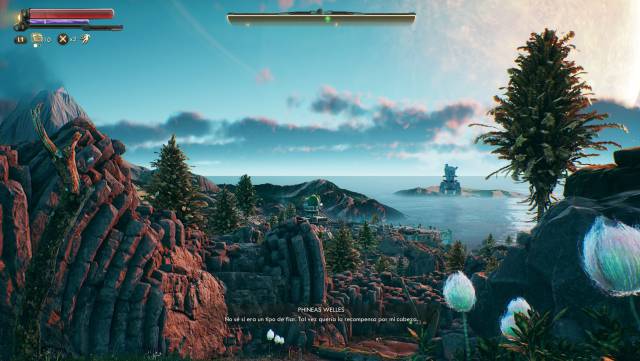 A combination of 15 years of work at Obsidian
It was less than a year ago when we went to the Obsidian offices in Irvine (California) on the occasion of the first presentation of The Outer Worlds. At that time, the company's CEO, Feargus Urqhart, clarified that the project is a combination of what the team has worked during its 15-year history. And so we noticed when embarking on the adventure proposed by the game, although the genre has changed from fantasy to science fiction in space.
The first thing we must say before entering the detailed Reviews is that we are not facing a game as big as Fallout: New Vegas was. It is a comparison that we have heard a lot in recent weeks, as we learned more about the title at hand: "The spiritual successor" of one of Obsidian's most recognized works. Because we are facing a double A instead of a triple A, something that the game team has been responsible for highlighting on more than one occasion, we must go with the idea that The Outer Worlds will be somewhat limited before starting it.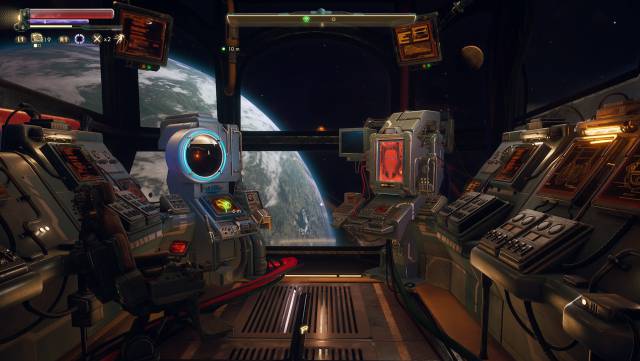 It is something we can see in the extension of the worlds to explore. In the first bars of the game we get our own spaceship and thanks to it we can travel through the different planets that make up the system on which the game's plot is centered. Therefore, it is not a great open world but rather several semi-open scenarios with their own characteristics and biomes that we can explore at will. Of course, it should be noted that they are not available to visit all the worlds we see on the star map, at least for the moment (something that could indicate the existence of future DLCs).
A detail that we will discuss in greater depth in the technical section but that we can mention here is the fact of finding ourselves with excessive loading screens every time we want to access a building that has some complexity inside. This generates situations in which we will have to wait a good time because, for example, make a quick trip to a large city and appear at its doors, so we must add another second loading screen. Of course, the wait is brightened up thanks to the posters with the characteristic art of the title and the playable tips that appear on the screen.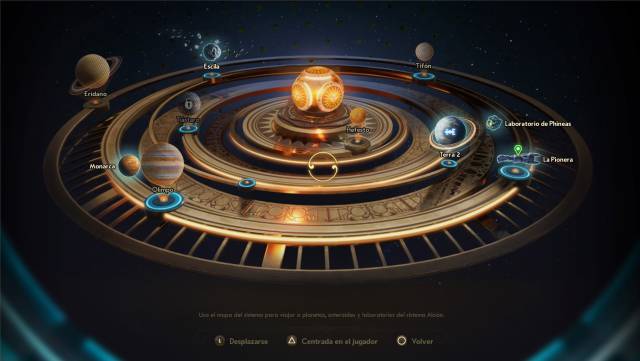 Returning to the game itself, we find a lot of side quests, factions commissions and others beyond the main quest line (which is not too extensive). As in other role-playing games, we have various factions with which to ally, confront or be neutral and all of this has an impact on a particular karma system with each of them. Through our decisions and actions a fan unfolds that makes the game shine, as they propose various situations in which to use our word proficiency or our combat skills.
An elaborate system of attributes and talents
Another of the strengths of The Outer Worlds is the large number of options that we find in the system of talents, attributes, skills and abilities. From the first moment, in which we create our protagonist, we must choose a series of parameters that define us and indicate those points in which we stand out and those others in which we present weaknesses. As we progress and level up, we get points to divide among various categories among which we find, for example: technology (medicine, science and engineering), dialogue (persuasion, lies and intimidation), stealth (infiltration, hacking and locksmithing) and "at a distance" (guns, long weapons and heavy weapons), among others.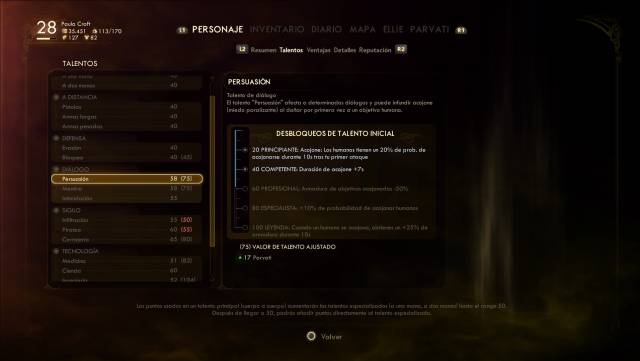 All this will make us more or less prepared for a series of conversational, action and combat situations that will happen as we progress through the adventure. Especially for the first, the conversations, we must have a high level in various competitions if we intend to go out graceful and deceive our interlocutors to persuade them and take them to our land. Everything will be based on our personal preferences and the way we want to carry out each mission, meeting and situation.
Another of the sections in which The Outer Worlds innovates is in its stealth system. In addition to bending over, moving forward when the guards do not look, hacking terminals to open doors and so on, we will also have "shrouds". It is a kind of costumes that are activated automatically when we cross into a restricted area and allow us to camouflage ourselves among the guards who patrol that place. They run out after a certain time and if at that moment they detect us, we must pass a lie, persuasion or bribe test unless we want to start a shooting (and that stealth has little).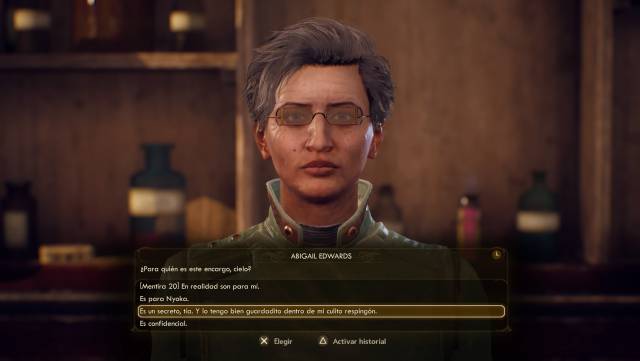 On the other hand, a system of weaknesses has been implemented. As we move forward in history and overcome various battles, we propose to sacrifice some attributes in exchange for an extra point of advantage. An example is robophobia (fear of robots), which removes 1 point in dexterity, perception and temperament but instead allows us to choose between various bonuses. It is up to us to accept these weaknesses or to follow a route with fewer advantages but with unaltered attributes.
Gunplay with innovations and some shortcomings
If we enter the field of weapons and gunplay, we find a fairly wide variety of options for triggering the trigger: guns, rifles, shotguns, grenade launchers, flamethrowers and other melee weapons such as scythes, spears, knives and hammers. Of course, throwing objects such as grenades and derivatives remain outside the equation. It should also be noted that The Outer Worlds does not seek millimeter realism when shooting, but originality in the effects of their weapons.
We see this enhanced in the "technological weapons" of the scientists' faction. We find them linked to a secondary mission and each of them has special and unique characteristics. Some examples of this are the reducing beam, the pringue gun (which produces an anti-gravitational effect on its objectives) and the mind control beam.
Most of the weapons can be improved, repaired and added improvements (stability, more damage, corrosive effects, etc.) thanks to the work benches found in various settlements and in our own ship. It is not a complex system, but it does add another degree of customization to our weapons, something to be grateful for in order to assemble the equipment we want and experiment with all kinds of combinations.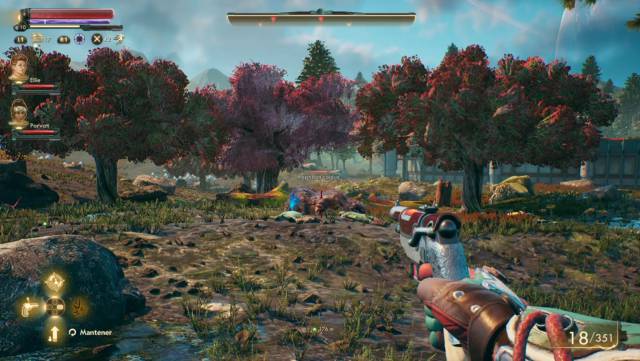 As for the control of weapons, in general, it works well on the playable level and soon after starting the adventure we get used to its system. In addition, we have a skill called "tactical time dilation" that allows you to slow down time in order to aim at the enemy and discover his weaknesses and effects that we can produce if we shoot him in one or another area (confusion or blindness for example). On the other hand, this ability also serves to be tactical and think well about our next move in case we are in trouble: heal, hide, etc.
The types of enemies we can find are divided into three mainly: humans, robots and mutated animals. The latter are the most common in open areas, robots are usually in abandoned and restricted areas and in the case of humans there are plenty of marauders and outlaws (or any being we get too pissed off). In addition, we remember the fact that we can skip several direct fights if we manage to convince our interlocutors in a peaceful way.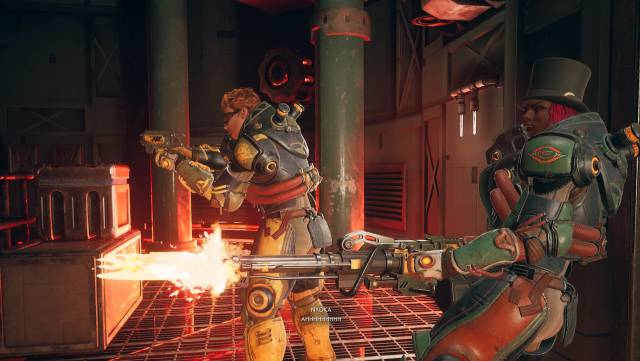 A crew that could have given more of themselves
As we mentioned at the beginning of the Reviews, at the beginning of the adventure we will be granted our own spaceship: the Falible. This works as a personal base and has several rooms where we find cabins with beds to rest and a trunk to store objects, machine rooms with a workbench to modify our weapons and more. All this is controlled by the ingenious AI on board: ADA. We can talk to her at all times to explain her point of view in certain situations or, simply, to select the direction we are going to take next to another planet or satellite.
Of course, for a ship to function properly we need a crew. In the case of The Outer Worlds we find and recruit them as we progress through the adventure. They are a total of three women, two men and a robot: Parvati, Ellie, Nyoka, the Vicar Max, Felix and SAM and each of them has its own plot background. We discovered this by performing his character missions, thanks to the conversations we have with them, the comments they make in each situation and so on. We remember that there is no romance system, so we should not enter the game expecting something similar to Mass Effect (although there are similarities between them).
This is where the teammates shine, since in the playable section they have been reduced to a simple combat skill that we can activate by means of a quick access button in the middle of the battle. However, although each one has a profession linked to his plot (surgeon, mechanic, smuggler and others), we cannot send them to unlock a terminal or open a door with picks, for example. This is something we do see in some titles of the Fallout saga and would have been a good addition to the title at hand.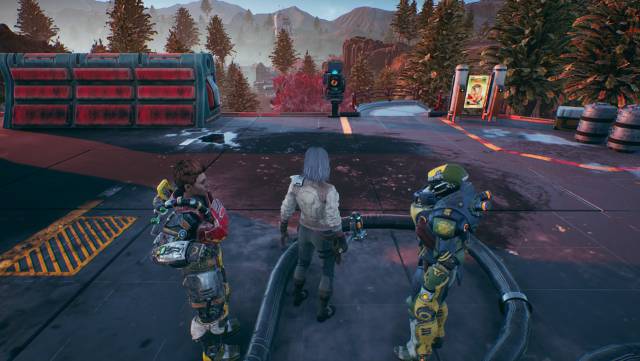 What the partners do give us are bonuses to our own abilities (like a +10 in medicine if we take Ellie on the team) as we unlock her advantages as she levels up. We can also change weapons and armor at will, in addition to deciding at any time if we want them to leave the group permanently. It should be noted that this is a decision that they can take themselves if our actions are too radical and do not go according to their morality, but will only occur in extreme cases.
Technical, graphic and sound section
The Outer Worlds does not stand out especially in the technical section. From a slow load of textures to some occasional falls of frames, we will find several small errors that do not hinder the game but can be a barrier for those players who arrive at the title waiting for a careful technical performance to detail. As we have commented in the first paragraphs, we find excessive loading screens every time we move from one area to another, something that reduces the title's fluidity.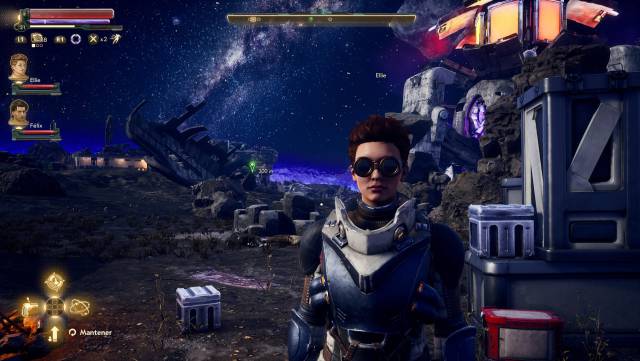 As for the graphic, the new Obsidian preserves the special essence of the study, something that we can observe in its detailed scenarios, the art of posters and food and even in the design of characters and their facial expressions. Even so, the quality of the textures and some animations is improved, something that would help raise the whole to a higher level.
The sound section does not stand out as much as we expected, since we did not find a lot of musical themes as it happened with the fallout radio feature: New Vegas. However, it has good actors and voice acting actresses (only in English), good sound effects and adaptive ambient music depending on the situation.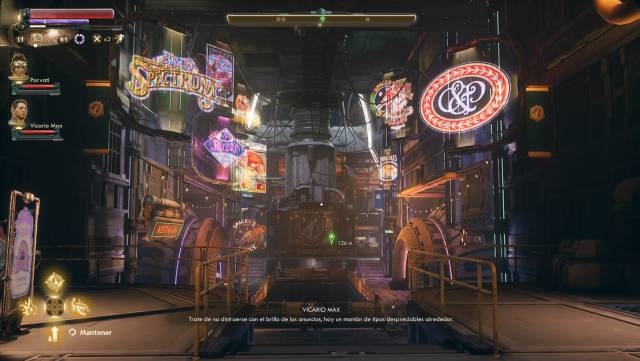 In short, if we arrive at The Outer Worlds with the idea that it is a double A instead of a triple A (with the limitations that entails) and we like the RPG genre and Obsidian style, we will enjoy its new work despite the shortcomings mentioned. A series of faults that could be solved when arriving patches that fix the technical part and DLC that extend the history and allow us to explore those worlds to which we have not yet been able to travel. Over approximately 20 hours (which may decrease or increase depending on the amount of secondary tasks, exploration and customization we perform) we will discover a stellar system that is worth visiting and people with whom you will be interested to talk, in addition to having Our hands the fate of it all. It is up to us if we take it through diplomatic channels, we give in to capitalist corporations, or else we blow everything up (almost literally).
Reviews performed the PS4 version of the game, provided by Private Division.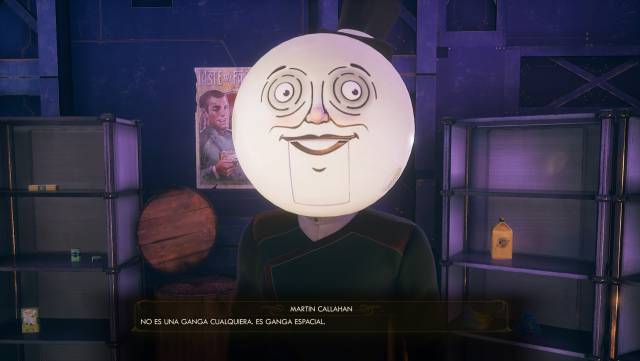 CONCLUSION
The Outer Worlds is a new science fiction RPG adventure by Obsidian Entertainment, masters in the role genre. We notice it only at the beginning and discover the huge amount of customization options we have in terms of attributes and talents. The history and setting of the game are interesting and propose us to travel through various planets, with particular biomes and designs, in which we find a wide range of main and secondary missions that invite us to squeeze the title and its approximately 20 hours of play. It is worth noting the replayability that it presents due to the multiple outcomes that each conversation and situation can have depending on our decisions. As for gunplay, it is fun and we find several weapons with original effects, but we need the crew that accompany us to have more options beyond their particular combat ability.
Technically we find some problems such as a slow loading of textures, excessive loading screens and certain low SPF. On the other hand, graphically it maintains a characteristic and attractive style and in the sound we do not find a particularly remarkable BSO but a good distribution of voices in English and sound effects taken care of in detail. In short, The Outer Worlds will like those who go with the idea that it is a double A (with the limitations that entails) and enjoy a good role title with a story that is worth living as Let's decide to live it.
THE BEST
A lot of customization options for attributes and talents
Rejugable: different routes and ways of proceeding in each conversation and situation
Gunplay with various options and technological weapons
A good script, with side missions to remember
The characters and their particular stories
Obsidian's characteristic humor
WORST
Slow loading of textures and some of them of poor quality
Excessive loading screens
The crew's characteristic skills could have given more of itself
Not being able to explore all the planets that appear on the star map
Very good
Remarkable game that we will enjoy and remember. A good purchase, highly recommended for lovers of the genre. It is well taken care of at all levels.