The manager, until now president of Sony Worlwide Studios, leaves the PlayStation ranks after three decades playing different roles in the company.
In the video game industry many come and many leave. Creatives who are in a company today, maybe sign up for the competition a few years later. However, there are a series of figures complementary to a company in question. No one imagines Shigeru Miyamoto in a company other than Nintendo. Even so, almost nothing is forever and many of these conventions have been broken. Who would imagine that Hironobu Sakaguchi, Hideo Kojima would leave their companies for a lifetime? Now it's Shawn Layden's turn.
The news jumped unexpectedly, with no more dramas than a tweet on the official PlayStation account: "We are excited to announce that the president of Worldwide Studios, Shawn Layden, will leave SIE. He will miss his visionary leadership. We wish you every success in your future adventures; We are deeply grateful for your years of service. Thanks for everything, Shawn! ", The statement said. Layden, on the other hand, has not made a public statement about his departure. It is also not clear who will sit in the presidential chair from now on.
It is with great emotion that we announce that Worldwide Studios Chairman Shawn Layden will be departing SIE. His visionary leadership will be greatly missed. We wish him success in future endeavors and are deeply grateful for his years of service. Thanks for everything, Shawn!

– PlayStation (@PlayStation) September 30, 2019
The causes, a power struggle?
It has not gone unnoticed that the announcement of the departure of Shawn Layden occurred without the usual pomp. A simple tweet has been enough, without any statement from other managers, or even a longer press release. Eurogamer, for example, has tried to gather more information about it, and the company has replied with a brief "there is no more information at this time". Meanwhile, Layden remains silent. He has not retweeted the PlayStation tweet or made any comments.
However, GameDaily.biz points to an internal power struggle, which coincides with two of the PlayStation milestones: on the one hand, becoming a truly global enterprise; on the other, the transition from PlayStation 4 to PlayStation 5 and the restructuring that is taking place within Sony Interactive Entertainment.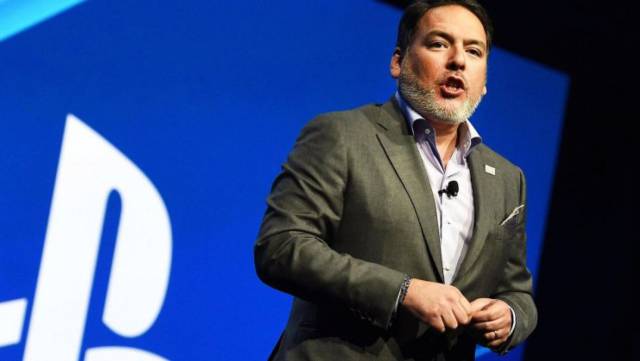 Shawn Layden
The president of Japan-Asia SIE and director of the Japanese division, Atsuhi Morita, has dropped out of office with immediate effect, as Takashi Mochizuki, a Wall Street Journal journalist, revealed in his personal Twitter account. Your substitute has already been announced. It will be Kazuhiko Takeda who exercises the role of president, although it has not yet been confirmed who will take the reins in the director's vacant chair. Anyway, the departure of Morita falls within normality, as the manager had turned 60, an age at which retirement in Japan is not strange.
Although Takeda's case is not part of the restructuring to globalize the company, changes in that direction have occurred recently. John Kodera took control of America and Japan, while Jim Ryan did the same in Europe. All marketing divisions responded to Ryn, while Layden's position was designed to take responsibility for the content of the platform.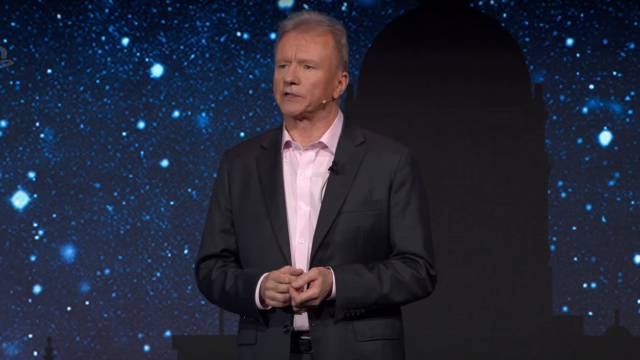 Jim Ryan, current CEO and Chairman of Sony Interactive Entertainment.
In practice, collisions occurred due to territorial differences. Marketing in American and European markets is different, not to mention Asian. Therefore, the situations of confusion followed and according to GameDaily, there were frictions between Jim Ryan and Shawn Layden that ended up affecting the transition to the new generation of machines. In fact, an employee of a large third party with knowledge of the cause confirmed to the media that the confusion generated by the reorganization has caused serious difficulties in the generational change.
"It is the time we have had less clarity" in regard to a new console in the process of transition, the source (who has demanded to remain anonymous) commented. "I think that (global restructuring) has exponentially exacerbated the already difficult process to move on to a new generation. And now we are getting nervous. "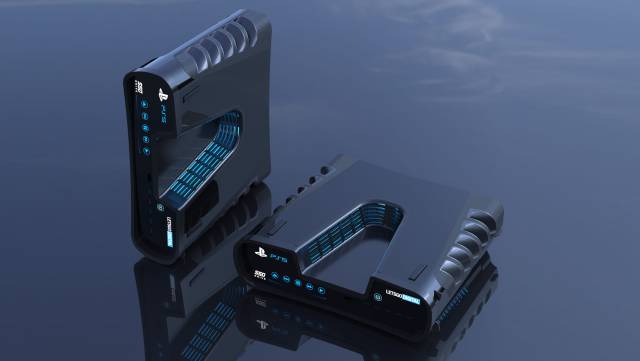 PS5 development kit
First contacts with video games
Shawn Layden's trajectory in Sony is extensive. The former director became part of the company in a distant 1987. Polygon drew an excellent portrait of the character, who on the other hand, has always maintained a low profile. The article was elaborated directly from the statements of Layden himself in the interview he had with the journalist Brian Crecente. The former president of Sony Worldwide Studios is defined as a member of the Pinball generation.
"I remember the first time I was in the recreation room, which of course was next to the bowling alley, as always. They had Computer Space. Do you remember that game? Have you ever seen the movie Soylent Green? That was what they had in one of those high-rise apartments: it was video fiber, a kind of psychedelic glass fiber housing. " Layden was surprised. "I fall in love".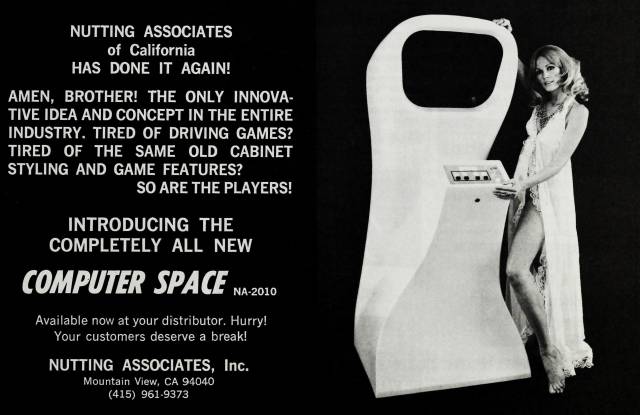 An advertisement for Computer Space.
Around the same time, when he was growing up, he had an Atari that his father bought "so he could do financial accounting," something he finally never did. "But it came with Space Wars and Centipede."
Assistant to the president
Upon entering the public relations department, he was appointed secretary of the president, who was at that time Akio Morita, co-founder of Sony. He was responsible, among other things, for writing the speeches. "Akio Morita was, and probably remains, the most famous businessman in Japan in history. When I was president of Sony, I remember that the prime minister's office had plagued him the possibility of joining the cabinet as foreign minister. " According to Layden, Morita thought about it, but ended up coming to the conclusion that he would have more influence as president of Sony.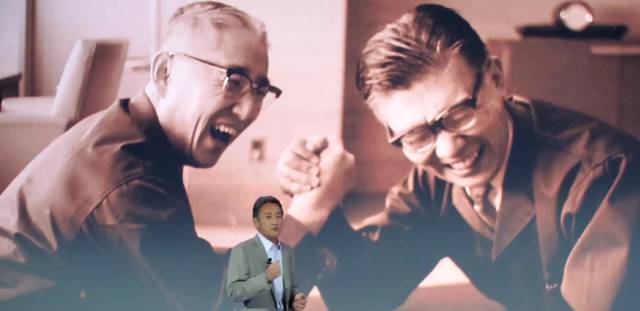 After Shuhei Yoshida, the two founders of Sony, Akio Morita (left) and Masaru Ibuka (right).
"He was part of the Trilateral Commission," so he knew Kissinger, Pete Peterson and David Rockefeller, who walked around the office on occasion.
Later, he heard about PlayStation. "PlayStation was going to happen with Nintendo," but finally that agreement was broken. Teruhisa Tokanaka, president of PlayStation at the time, had dinner with Shawn Layden and asked if he would like to work in the video game business. "Morita-san had had a heart attack, so she wasn't going to the office anymore." When Tokanaka raised that opportunity, Layden replied that he had never worked in that market, but the Japanese responded bluntly. "None of us have done it."
The basics of PlayStation
The first stage of PlayStation enjoyed important synergies between Sony Corp and Sony Music, engineers and hardware. "They knew how it worked, but they had no idea how to get a publisher or developer to sign." They moved the model to video games: sales, marketing and relationships with third-parties. "The video game industry changed completely because of it. Until then, it was only the world of SEGA and Nintendo, which were a bit clumsy in their practices. "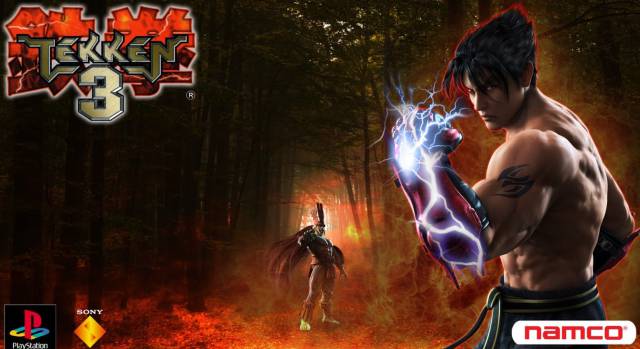 Tekken, one of the most successful sagas on PlayStation.
"It was innovative for us to start putting the names of the developers on the cover, something Nintendo and SEGA had never wanted to do." According to Layden, they were aware that only with their internal teams could not be the leaders, getting 60% of the market was an impossible task. "We knew that only third-parties could make it viable. PlayStation is the third-party platform, so anyone can come. "
That PlayStation focused on external developers encouraged Western studios to work on the Sony machine. However, selling foreign games to the Japanese public was no simple task. "I played games all the time. I had a real problem of addiction to Tekken (in the days of the first PlayStation). We played in arcades where I was living in Tokyo. But I think the decisive game, for me, in any case, was Tomb Raider. " Layden traveled to Core Design and met the Smith brothers and Toby Gard with the intention of obtaining the title license. However, in the end they decided on SEGA, although the character was known as a PlayStation icon for quite some time.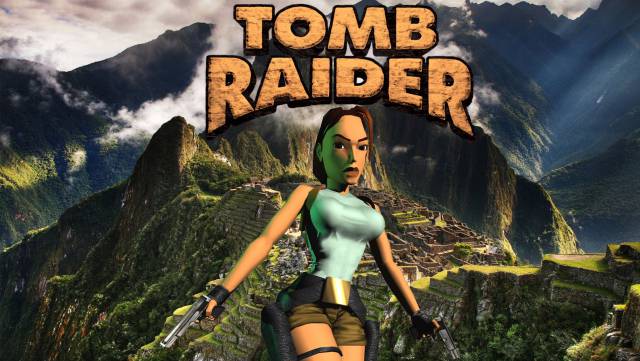 Tomb Raider finally became a PlayStation icon.
President of Sony Computer Entertainment Japan
After a period of time in London, back in 1999, the manager tried to sell North American and Japanese games to the European public. It was in 2007 when Kaz Hirai, president of Sony Computer Entertainmnet, proposed to become the president of the Japanese division. "At that time, I had been named vice president of international software development in London and my team was getting a lot of content. We also had many collaboration agreements then. We were the official editor of Namco. We were the official publisher of Disney and Square. "
When Shawn Layden returned to Japan, the business was not going well with PlayStation 3. "I think they called me because they thought they needed a new pair of eyes to observe this challenge, since they thought that anyone they had in the bedroom would simply continue with what the uncle was doing before. " The manager maintains that it was very hard, that they were forced to restructure everything deeply, "something that is not easy to do in Japan." However, they set aside a group of veteran executives for the youth to come into play. "We opened some opportunities here and in 18 months we were again in a profit position, we were doing reasonably well."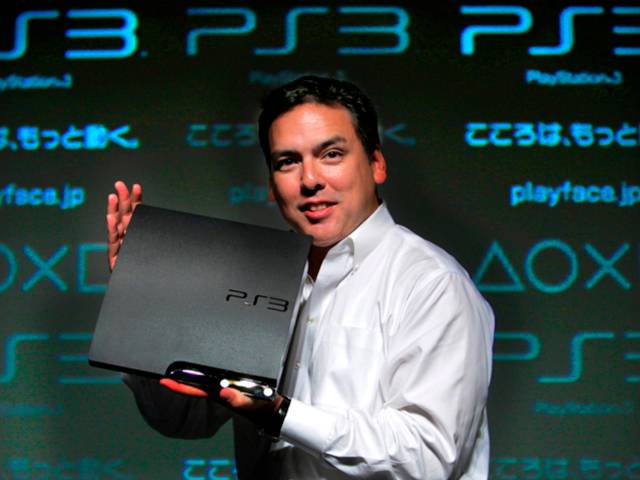 Shawn Layden, in his time as president of Sony Computer Entertainment Japan.
Shawn Layden worked three years in Japan in his role as president, but it would not be his last move, because after that period he went to Silicon Valley, where he was in charge of Sony Network Entertainment. The manager reveals that it was an experience that "took years away from his life", but he learned a lot from it. Then, with his appointment as president of Sony Computer Entertainment America, he came to fame, the focus of attention, the E3, the conferences, the looks.
"I try not to think about it, but fame, I don't know what it means. I think there is a certain responsibility that emanates with it, so I am very judicious with what I write on my Twitter account. " He believes that some expectation is generated by what is said and affirms that he tries to be as accessible as he can with the followers. "We want our company to resemble our fan base, so we want to open up to that diversity, which is so important in video games, to attract more people, enjoy more people."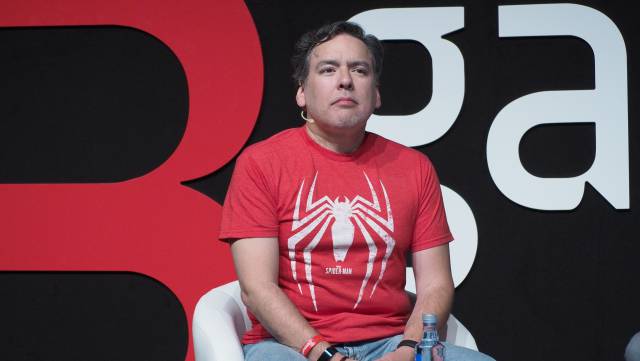 During his visit to Gamelab 2018, he wore a Marvel's Spider-Man t-shirt from Insomniac Games.
Shawn Layden, the visible face of the agreement with Insomniac Games
In March 2018, he received Sony's latest assignment: to lead Worldwide Studios, a network of the company's large internal studios, including Sony Japan, Sony Santa Monica, Naughty Dog or Guerrilla Games. However, only fifteen months later, Layden set aside his position, but not before being one of the protagonists of the acquisition agreement of Insonmiac Games. The studio was one of the first to work on the first PlayStation.
"It also highlights that the relationship between them has always been pleasantly satisfactory, especially with the recent Marvel's Spider-Man, one of the greatest joys for Sony of what we have been generating," said the manager. It is curious that when their paths have finally crossed, one of them has decided to abandon that sensation. Ironies of life.