We analyze Spellforce 3: Fallen God, this new expansion presents the tribe of trolls, with a story where the objective will be clear: to survive.
A few months ago, THQ Nordic and Grimlore Games announced what would be the launch of Spellforce 3: Fallen God, an extra pack in the form of an independent expansion to their flagship game, Spellforce 3. With its just released on November 3 for PC, We were able to check out all the new content that it introduces, as well as a new faction, the trolls. The whole story will revolve around them, a misunderstood people struggling to survive in the new continent of Urgath and who keep their hopes to continue. In this game we will be able to experience a perfect mix between role-playing and real-time strategy, in an exciting narrative mix within a campaign that lasts about 20 hours, and with a multiplayer that will allow us to choose different options that complement the individual game styles.
A misunderstood faction fighting for its life
The number of trolls is rapidly decreasing due to various diseases and many problems that are making it difficult for them to survive. Although their main objective is to stay safe, the corrupt poachers will not stop until they find their valuable fangs and finish them all. In fact, the leader of the tribe was killed by the elves and now his son, a young chief named Akrog, will have to find a way to save all his companions and, at the same time, find the way to salvation: resurrect a fallen god.
In this way, the responsibility will fall into our hands that all of them manage to maintain their lives on a long road to travel through various places, such as forests, caves, temples, among others. We will have to face terrible creatures that have appeared for no reason and with various troops that will become great threats to all of us, in addition to being persistent in their repeated attacks. Our gameplay will turn into an interesting and unusual synchronization of RTS and RPG, and we will be able to experience the strength and personality of a true troll.
Customize your tribe and choose your fighting style
Our character creation will be made up of a group of four trolls, of which we can only customize three, as one of them, Noag, will be added to our group later. His abilities will be immovable and the behavior of Akrog will influence the way of creation of this troll. The sections that allow us to modify will be the appearance and the class. Within the appearance we will have several aesthetic options to change according to taste, such as the head, the body, the haircut and accessories, although the application of these options will be practically invaluable. Also, a troll is a troll, we cannot pretend that there is much aesthetic variation between them.
In the case of the class, first of all we are going to give importance to the skill trees, since they are fundamental for the customization of our trolls. The video game gives us different types of skill trees or also known as talents. These are: Path of crushing things, gift of blood, path of throwing things, gift of ice and flames, gift of nature and gift of darkness. To get acquainted with some of them, for example, the gift of blood weakens its enemies with a perfidious power and wounds them with a pure power that it cannot stop; instead, the gift of darkness brings dead creatures back to life and fight by his side. Whichever you choose, do it carefully because they cannot be modified during the campaign. Additionally, each chosen tree will unlock different synergies with each troll's individual tree.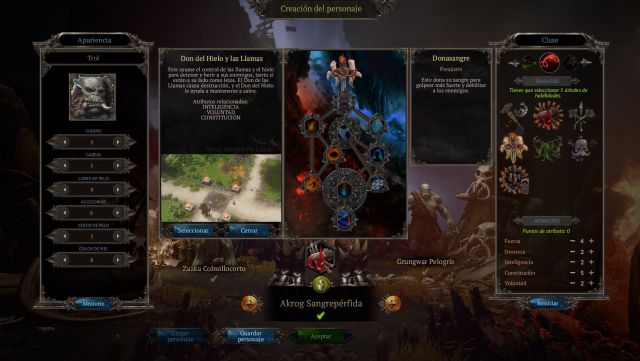 Apart from these skill trees there will also be a section known as attributes, those that many of us are sure familiar with, these are: strength, dexterity, intelligence, constitution and will. These attributes have an effect on a character's strengths, such as his spell power, health, or critical chance. At first we will have 10 points to distribute among the attributes that we consider best, but always bearing in mind that depending on the chosen skill tree, certain attributes will be further enhanced. However, if everything we just told you seems confusing, the game provides us with several preset classes, with their respective skill tree and designated attributes. The classes that we can choose from are: assassin, blocker, hunter, master of calls, touched by darkness, cub of the earth, blood donor and launcher. For example, the hunter has good eyesight and will be able to throw sticks at a great distance, and instead the blood donor donates his blood to hit harder and weaken his enemies.
First steps: immerse yourself in Urgath
The new continent of Urgath awaits us with a multitude of adventures and a very detailed and personalized environment, in addition the game will provide us with information with various tutorials so that in this way it is much easier to understand everything that surrounds us. We will be able to use a world map to travel around Urgath, and in this same place they will point out those missions that we have to carry out. Once our group touches the first map, we will have to take into account a more than important, fundamental element, which is the Stones of God. These stones are magical anchor points that will allow us to revive dead heroes and can also be used to travel around the map by teleporting between two God Stones under our control.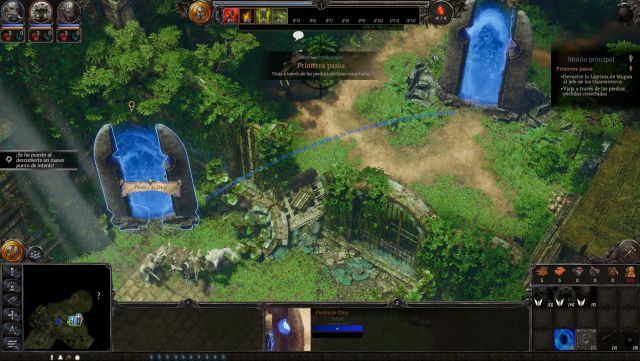 As for the NPCs, there will be one in particular that will help us a lot, this will be Zaramak, the blacksmith. He will be able to disassemble any object that is not useful for us or for the tribe, and by disassembling objects, we will obtain a certain amount of resources: plates, essences of creation, perfidious essence, among others. With these resources we can make other more suitable objects for trolls, be it weapons, armor or potions, but taking into account that for the creation of each object different resources will be needed.
What if we have to become much more familiar is the interface that the game itself presents us, this will be very complete and will provide us with all kinds of details. We will have an inventory, also a section where to see the skills, as well as a book of spells, missions and a glossary with all the information that we collect in our history, in addition to including progress. When selecting the units that we want to handle, we will see a much broader information about each character in the lower part (damage, resistance, health), and even about the objects they carry, about any buff that has been applied to them and about the controls. tactical. At first this interface, with the skills at the top along with the experience bar, resources and all the information of the characters, can be overwhelming, but in the long run it manages to be quite simple and intuitive.
Create your base alone or in company
Of course, Spellforce 3: Fallen God was going to continue with the same mechanics as its predecessors when building our own camp. This camp will play the role of being our main base, as well as helping us when it comes to managing resources. The fundamental element will be the capitol, since it is the heart of our base, and that is if an enemy manages to destroy it we will have lost. The capitol and sector outposts will also display available workers to be assigned to various jobs. However, most buildings will need workers to function, and keep in mind that they can kill them, even if they reappear.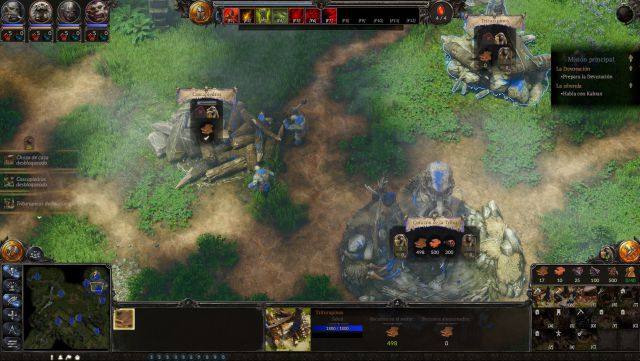 In these bases we will have the opportunity to build a variety of buildings that we will have to unlock by finding the plans, some of which are: wisdom huts, battle towers, shooting ranges or hunting plots. However, the trolls will have two basic combat units: the Smashers and the Iron Pickaxes, which can be crafted in the Battle Hut. Both units can fight, although they will not have enough experience and will develop their full potential after being improved in a field, taking into account that certain trolley units have special abilities that can be activated in addition to their normal attacks. Of course, it will be essential for our victory as long as we conquer new sectors, in this way we will increase the population limit and we will be granted the possibility of collecting new resources. But it is clear that if doing all this tires you alone, you may be interested in doing it in company, and that is that Spellforce 3: Fallen God presents a three-player cooperative mode and helps you venture into this campaign with a shared experience.
Almost the essence of a true troll
The combat system that this new expansion of Spellforce 3 presents, has a pretty good RTS application that allows us a dynamic and fun real-time combat and we can even notice that essence of a true troll with his strength and his strong genius. However, on some occasion the combat will be somewhat clumsy with respect to the handling of our characters, since they will guide themselves to defend themselves and will move towards the nearest enemy without allowing a better strategy to be carried out. In addition, we will have endless waves of enemies in our bases that make defensive and exploratory strategies very difficult to carry out. On some occasions when the warning that we are attacked comes out, it will force us to back down to help, fragmenting the game in a less fun way.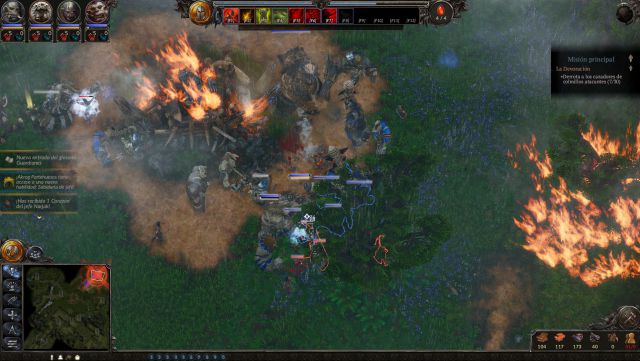 That is why the combat may not be as frantic as other games of the same genre can offer us, but it is true that the skill bar ends up being helpful and the level up becomes something very necessary. The level up system will allow us to expand the talent tree that we explained previously and this will give us skills of all kinds and, in turn, improve the team. What if you can give us a much more engaging and at the same time more entertaining experience, will be the multiplayer mode. This version will offer us qualifying matches against all other players on various maps and in different game modes, or even put our skills to the test in a skirmish against the AI.
A fantasy world with a captivating soundtrack
Immersing ourselves in Urgath means immersing ourselves in a fantasy world, where the trolls are the protagonists and where the technical point of view to develop a good setting has been perfect. It does not have cutting-edge special effects, but it does have those latest zenith graphics that allow greater detail in each mapping and make it a very attractive video game. Every level feels nice right out of the box, and for the genre we're talking about, it's always important to know and understand what's going on on the battlefield, and in Spellforce 3: Fallen God, there will be no problem for that. Regarding the soundtrack, the music is more than pleasant, it knows how to perfectly place us in an epic battle and where it will accompany us at all times. However, the dubbing of the voices of the trolls should be particularly noted, as they have done a great job, both in filters and effects, and above all, in the way they speak in their numerous dialogues. It clearly puts you in the shoes of a fantastic and malefic being four meters tall.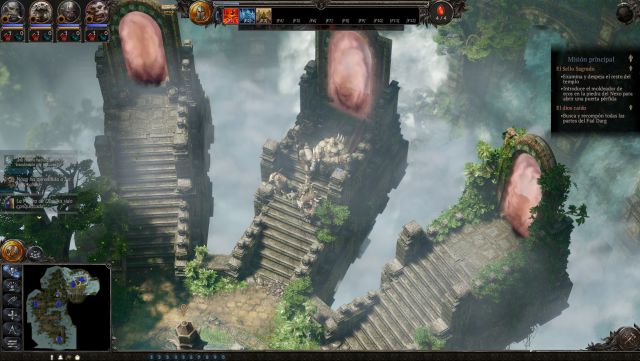 CONCLUSION
Spellforce 3: Fallen God becomes an expansion that is worth playing, adds many hours of play, with an interesting and long campaign along with a very good narration, as well as including the novelty of the trolls. Visually it becomes a very attractive game of its genre, despite the lack of innovation, although it certainly achieves a good experience with its playability. Whether you are a fan of the saga or if you have just met it, we recommend that you try this game and put into practice the skills between role-playing and real-time strategy.
THE BEST
Interesting campaign with exciting storytelling
Dynamic and fun combat
Visually very attractive
Excellent voice dubbing
WORST
Lack of innovation
Constant and annoying attacks on the base
Clumsy control on characters
Very good
A game with a remarkable finish that we will enjoy and remember. A good buy, highly recommended for lovers of the genre. It is well cared for at all levels.