We analyze Sword of the Necromancer, an RPG in the dungeon explorer style, with some roguelike element and a very deep story.
It is likely that in May of last year you heard about Sword of the Necromancer, its success on the Kickstarter platform attracted a lot of attention, since from its initial goal of 15,000 euros they managed to raise more than 200,000 euros. Perhaps that caused an increase in expectations in finding a very varied independent video game, with greater content and a mechanics more adapted from a dungeon-crawler and a roguelike, but its content is more remarkable in the narration, in its visual style and in certain points of the gameplay that make it entertaining. It has been developed by Grimorio of Games, also responsible for Super Hyperactive Ninja, and produced and published by JanduSoft, both based in Barcelona. On January 28, it was released on the Steam, PlayStation 4, Xbox One and Nintendo Switch platforms. We will begin a very deep and dramatic story. We will have to wield the Necromancer's Sword, turn our enemies into allies and help our friend to bring her back from the dead as soon as possible.
Tama and Koko: a truly living love
Legend has it that, deep in the mountains, a heretic decided to violate the will of the gods in order to achieve eternal life. The heretic managed to perform his aberration successfully and among the tools he created, one was the Necromancer Sword. After this legend we move to the present. Tama is a former bandit who is tasked with escorting the priestess Koko on her pilgrimage across the continent. During his journey, Koko dies, and Tama decides to take the corpse to the Necromancer's crypt, where many legends say that this power dwells there that can raise the dead. Filled with despair, Tama will enter the dungeon with the goal of obtaining the forbidden power of necromancy and using it to recover Koko, ignoring each and every danger that lurks in the shadows.
The weight of the narration and the story that Sword of the Necromancer presents is without a doubt one of the strongest characteristics of this game. His story is fully dramatic and very deep with a love story, many feelings and a plot that will make you be hooked to know everything that has happened. And because? Well, because the game will not tell you the whole story from the beginning, and it is that throughout this adventure we will unlock memories. These memories will be represented by some well-designed kinematics of anime drawings, with voices in English and translation into Spanish, which will tell us much more about their story, their adventure and will help us to know and understand our protagonists Tama and Koko much more. . Of course, if you want to share this story with a friend, the game allows you to share screen cooperative with Remote Play Together, but unfortunately for us this option did not work for us (we know that it has worked in the beta and according to which controller configurations it works or not, so we'll wait to keep testing it later).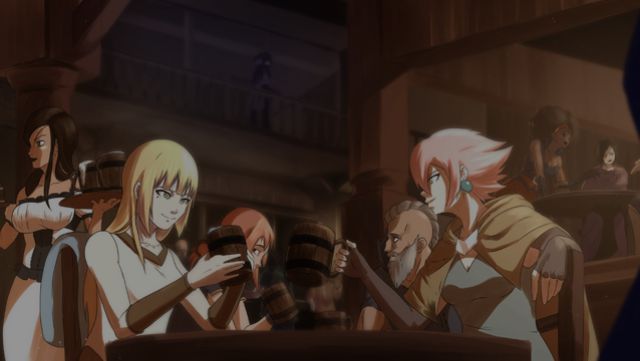 Our resting place: El Altar
One of the characteristics of roguelike is that there has to be a resting point and an area where our character feels safe and can become even stronger, in addition to being able to access different options and characteristics that allow us a more varied gameplay . Sword of the Necromancer brings us this area through the Altar. Here we will have two places that will be key: the inventory and the forge, although we will also have a library where all the memories that we have unlocked will be kept and we can recall them again. The inventory is very important because, in our combat that we will explain later, we can only access four objects that we have equipped and four more in a complementary and optional bag, therefore, if what we want is to think of a good strategy , the inventory will help us a lot. Once inside a dungeon, we can access the inventory if it appears in a room or when we defeat a boss.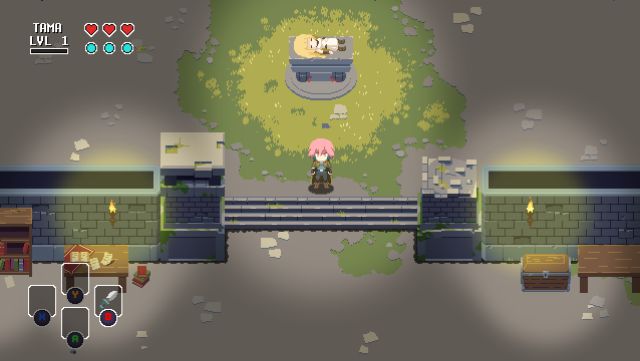 Regarding the forging, here we can improve weapons, relics and shields, adding attributes in exchange for materials or we can also find these materials by breaking boxes in the dungeons. The idea of ​​the forge is very good, in fact, it gives it that roguelike point that we need so that our character feels more powerful, but it is true that, in all my adventure I have not had the need to forge anything nor have I achieved the enough materials to do it. So the improvement of my character was always the same, taking into account if you play in easy, because in normal / difficult, dying in a dungeon penalizes you with the loss of all objects and lowering the level, so farming materials and / or keeping things in inventory can be very helpful. Even so, the roguelike progress that the game claims to offer is not entirely clear, nor have we seen a great reward in exploring an entire dungeon to feel more powerful.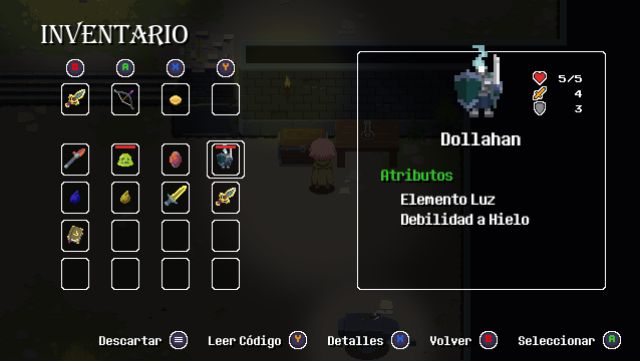 An entertaining match, but not fun
Sword of the Necromancer is presented as an action role-playing game that will consist of exploring dungeons with roguelike elements, with the latter it should be noted that to enjoy the whole story we will have to complete different races and this will involve content repeated over and over again, Without any news. The roguelike can be seen in that the dungeons are completely procedurally elaborate, so each race and each exploration looks different. If we focus on our equipment, we will have to take into account the four objects that we want to have assets of up to a maximum of eight objects that we can carry. The items that we store in the bag will not be in use and, therefore, will not grant any passive or active effect. We can exchange the objects at any time, but it will be a slow process and that on more than one occasion we ignore.
The element to highlight is the Necromancer Sword, a powerful sword that we have managed to get and that will help us resurrect enemies to make them allies, but recruiting monsters does not become necessary. Between swords, potions and monsters, the inventory is somewhat limited and finally you prefer an additional defense for later, than an enemy killing next to you and with an AI that responds somewhat slowly. However, the idea is good, but we have not seen an attractive and fun gameplay, but rather entertaining and a bit monotonous.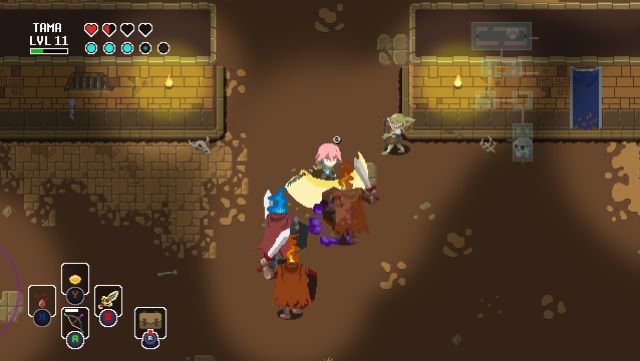 With respect to our character, there are several characteristics to take into account, among them the soul points (better known as dash), the life represented in hearts and the level. The character's progress will be improved with the level up, this will give us better statistics: increase life, more soul points, strength, magic, among others. If we play easy we can maintain and continue to increase the level, which seemed good to live a safer experience, and in any difficulty we will have the option in case of death to start the game in the last level that was played for the last time. However, it is not appreciated that the character is more powerful or that the enemies are more vulnerable. I also did not know if the enemies adapted to our level because I never knew more information from the enemy than their gesture when attacking.
Continuing with the enemies, it is true that there is variety, but we will always face them in the different levels of the dungeons, with the only difference that it will change color according to its state: electricity, freezing, fire, among others. Even so, some mechanics become interesting and causes us to think of strategies to know how to finish that room before moving on. We have obtained the key to the plant, and now? Now we will have to find the boss room to end it and reach the next level of the dungeon. The bosses have good, fun mechanics and you can easily appreciate the difficulty according to which we are playing. When eliminating it, two areas appear, one is the inventory and the other is to return to the altar. When we think that returning to the altar was a save and rest option, it is like that in the middle, because if you return to the altar you lose the save of the last enemy and you have to eliminate him again once you enter the dungeon again. It is more of a way to rest and to farm materials or level up.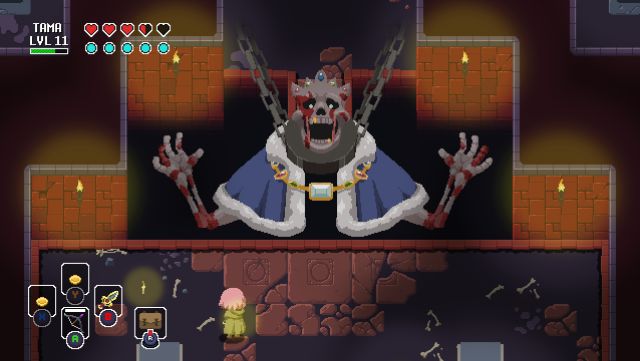 An attractive and eye-catching visual style
We already announced it at the beginning, its content may have been somewhat scarce or even that the adaptation to the roguelike genre limps at different points, but what does stand out is its visual style. This is quite attractive and charming, just watching a few seconds of a gameplay draws a lot of attention, and its Pixel Art and the tonality of colors used to create the world and its characters is very beautiful. The dungeons look the same, with little detail and flat, but still the quality presented is adequate for the game they wanted to design. Regarding the sound section, it will accompany us at all times, both the music and the sound effects. They can feel a bit repetitive and have very abrupt changes every time you change areas or when you approach an enemy, something from our point of view very unnecessary. What stands out is that voice dubbing among the different memories that we have unlocked, as well as the anime design that they have created in the characters.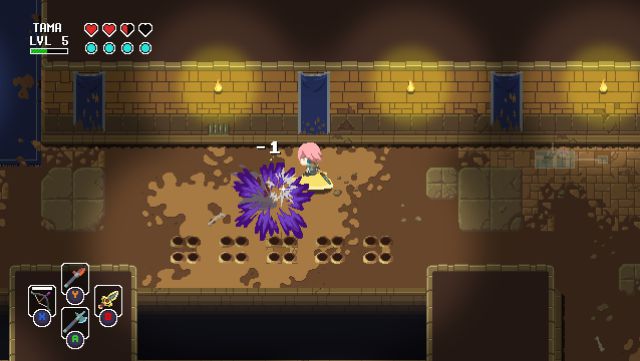 CONCLUSION
Sword of the Necromancer is an experience that needs to polish different aspects so that you really feel inside a game full of life and with roguelike elements. The idea of ​​creating a tool to revive enemies and turn them into allies is quite good, but the execution is not so, in fact, it does not feel like something essential and you end up forgetting that you have a sword to revive. However, I do recommend it for its narrative and for the story behind it, as well as the visuals that from my point of view seem attractive. Even so, it needs some improvement, more content, a diverse gameplay and greater progress for our character.
THE BEST
The narration. A deep and dramatic story.
The attractive visual style with pixel art.
Fun boss mechanics.
WORST
Few roguelike elements.
Little progress in character.
Badly executed idea of ​​reviving enemies.
Repetitive sound section.
Correct
It is not the latest or the most original, it does not have the best execution either, but it can be fun if you like the genre. Good, but room for improvement.