If you celebrate Valentine's Day with someone special, we propose a series of video games to share.
Valentine's Day is approaching and our inboxes are bombarded with offers to spend an ideal day as a couple. The ads draw on traditional ideas of chocolates, perfumes and provocative lingerie. But there are couples who opt for an alternative plan, especially at a time when having a regular date is not as easy as it seems. However, celebrating Valentine's Day is any excuse to bring a little joy on strange days, and a good option is to share an evening of video games together. Multiplayer titles offer the opportunity to share fun with another person, whether they are by our side or miles from us. Of course, this option is not restricted only to couples, but to anyone who wants to share a game with another person. After all, love doesn't have to be just romantic. Today at FreeGameTips we are talking about titles for two people —although some of them admit more players—. In almost all genres we have interesting proposals: beat'em up, strategy, fighting, etc.
The benefits of video games for mental health have been studied several times. They can also be positive for a relationship, as Game Designing points out. Likewise, on the same website they warn of what they call "Call of Duty syndrome", in which a person ends up being relegated to being the spectator of their partner's games. Given this, it is advisable to look for a title that combines the tastes of both, although someone may end up discovering that they like genres that they had previously prejudged. We also found some interesting statements by therapist Ryan Earl for Colorado Politics: "Video games can help people work together for a common purpose, compete, solve problems together and much more. Video games, like any other activity, can be shared, and shared activities can promote intimacy between people ".
Overcooked, between fires of madness
With adorable aesthetics and fast-paced games, Overcooked is a good choice for couples. With a second part and the All You Can Eat edition, this cooking simulator invites us to serve orders to our customers. Of course, it will not be easy, because each kitchen will have bizarre conditions: modules that move at all times, mice that steal neglected ingredients, ice sheets on which to skate without spilling our plate … In Superjump they add: "The game can be get frantic and can provoke some arguments, but all in favor of fun. When you pass a level, it is because you and your partner have conquered the learning curve together. It requires patience and coordination, and is one of the few two-player games that requires you to speak out loud to cooperate. You guys are going to spend your time yelling at each other. "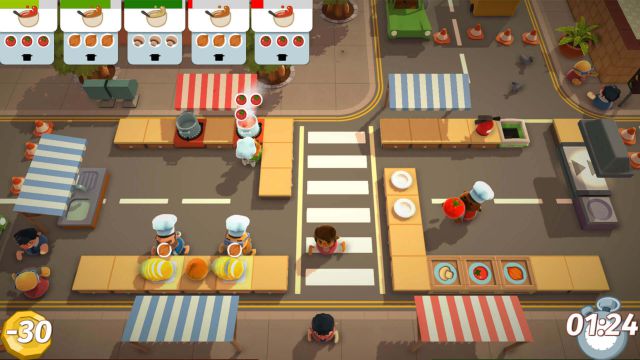 Overcooked
Portal 2, is the cake a lie?
Portal was a revolutionary title in the puzzle genre, both for an exemplary level design and an exquisite implementation in the puzzle solving itself. Portal 2 complemented the formula with new challenges, with a new episode for the strange couple formed by Chell and GLaDOS and a cooperative mode, in which the Atlas and P-Body robots must overcome various test chambers. In Mashable they explain: "If you thought that managing a pair of portals has its complications, adding a second pair allows you and your love to bend the laws of physics in very impressive ways. Maybe you end up arguing a lot, but the feeling of solving Portal 2's challenges is almost orgasmic. "
Keep talking and nobody explodes, anti-explosive communication
This is a curious experience for virtual reality, which focuses on continuous communication as the name suggests: "keep talking and nobody will explode." Easy to understand and very affordable even for the least experienced gaming audience. The premise is very simple: we must defuse a bomb about to explode. We will have an instruction manual and the magic of teamwork. While a player is dedicated to defusing the bomb, immersed in virtual reality, the partner must consult the manual and direct the operation. Thus, one will describe what he sees in the playful dimension and the other will have to transmit the precise instructions. At Ars Technica they point out: "The game requires that you and your partner communicate clearly, that you remain calm as much as possible, that you trust each other, especially when the solutions increase in complexity. […] Playing locally also avoids the temptation to cheat and look at the wrong things. On the other hand, if you play Keep Talking as expected, you will have a lot of fun with this metaphor about how to overcome differences ".
Lovers in a Dangerous Spacetime, galactic love
Lovers in a Dangerous Spacetime has romance as its leitmotif, and has a colorful and bizarre aesthetic. The forces of Anti-Love threaten the universe and you must fight them to make love triumph. Thus, as a couple, you will have to pilot a ship and go through the labyrinths of a galaxy while fighting against enemies. The distribution of roles is clear: one is dedicated to doing all possible maneuvers to keep the ship safe while the other must defend it by launching the entire arsenal of weapons and armor. In Ars Technica they stand out; "Lovers in a Dangerous Spacetime is as challenging as each new maze that comes your way, but it's still fun. It's a very interesting change of perspective from cooperative couch games that have a competitive edge, and a very special way of spending quality time as a couple while working side by side. "
Degrees of Separation
With a romantic theme, we also find Degrees of Separation, a puzzle adventure that tells the love story of two lovers who live in opposite worlds: Ember, a summer princess; and Rime, a winter prince must join forces to investigate the threat looming over their kingdoms, while living a love story that progresses at each level. Both players must combine the powers of one and the other to solve the different puzzles that arise. In each scenario, the duo receives a new power that serves as a metaphor for the joys and difficulties experienced as a couple: complicity, the need to maintain personal space, crisis, etc. The dilemma of two people who are attracted to, but are deprived of physical contact is the central axis of a romance narrated through very challenging puzzles.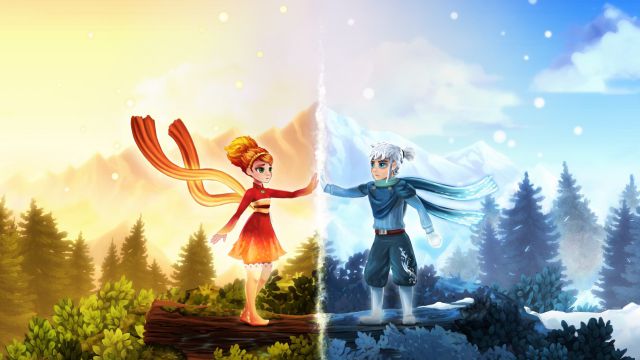 Chris Avellone, writer of the game, explains in an interview for Wireframe how he wanted to escape the stereotypes of fairy tales and happy endings: "Degrees gave me so much more: not only has a romantic component, but with a very mature perspective. It is not simply portraying the fascination, the joy of love and the "and they were happy and they ate partridges", with all the beauty of a couple. Moondrop went further and presented a narrative arc that included all the challenges we face in a relationship: conflicts, uncertainty, doubts, indecisiveness… Moondrop's desire to include these elements in both the narrative and the gameplay arcs me it seemed very honest. "
Mario Kart, a living room classic
When making a video game list for couples, Mario Kart is a must. Throughout its deliveries, it maintains a formula that makes it a very attractive proposition. An arcade racing game with a very festive tone, with a generous variety of characters, eye-catching settings and objects that can change the course of a competition. Easy to play and very welcoming even for non-driving gamers.
Mario Kart also demonstrated his ability to improve a relationship, according to a survey conducted by CenturyLink in 2018. Players, aged 18 to 24, had to mention three titles that would have had a positive impact on their relationship. Mario Kart was the most cited, followed by Call of Duty and Skyrim – specifically, with the Skyrim Together mod, which allows players to go together to solve missions.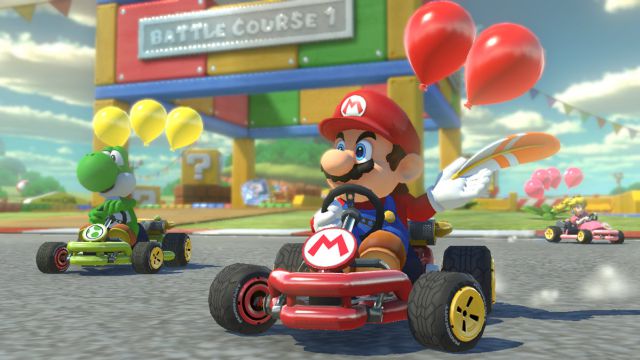 Of course, there are endless games that can help us spend a fun Valentine's evening: Just Dance and its choreographies for all kinds of dancers, Streets of Rage 4 and the epic of "us against the neighborhood", or the bets that can be created around a fighting game like Street Fighter. What are your favorite video games to share with someone special?