Although it has not been officially announced, the trilogy created Team Ninja aims to return in the same pack.
Tomonobu Itakagi and Team Ninja's names were linked to the Ninja Gaiden brand for years, but after the director's departure, the studio has continued working on different projects. One of them was the third installment of the saga, a game in which Itagaki was no longer a participant. Some of that legacy can be enjoyed on PlayStation 4 and Nintendo Switch, or so Hong Kong distributor Game Source Entertainment suggests, which has listed the Ninja Gaiden Trilogy for these platforms.
Although the information has been erased quickly, the Google cache does not deceive and shows that the file has been uploaded to the network. According to these data, Ninja Gaiden Sigma, Ninja Gaiden Sigma 2 and Ninja Gaiden 3: Razor's Edge will be available in the same pack at a suggested price of $ 39.99. Therefore, if the leak is confirmed, the Team Ninja action saga will officially debut on current consoles.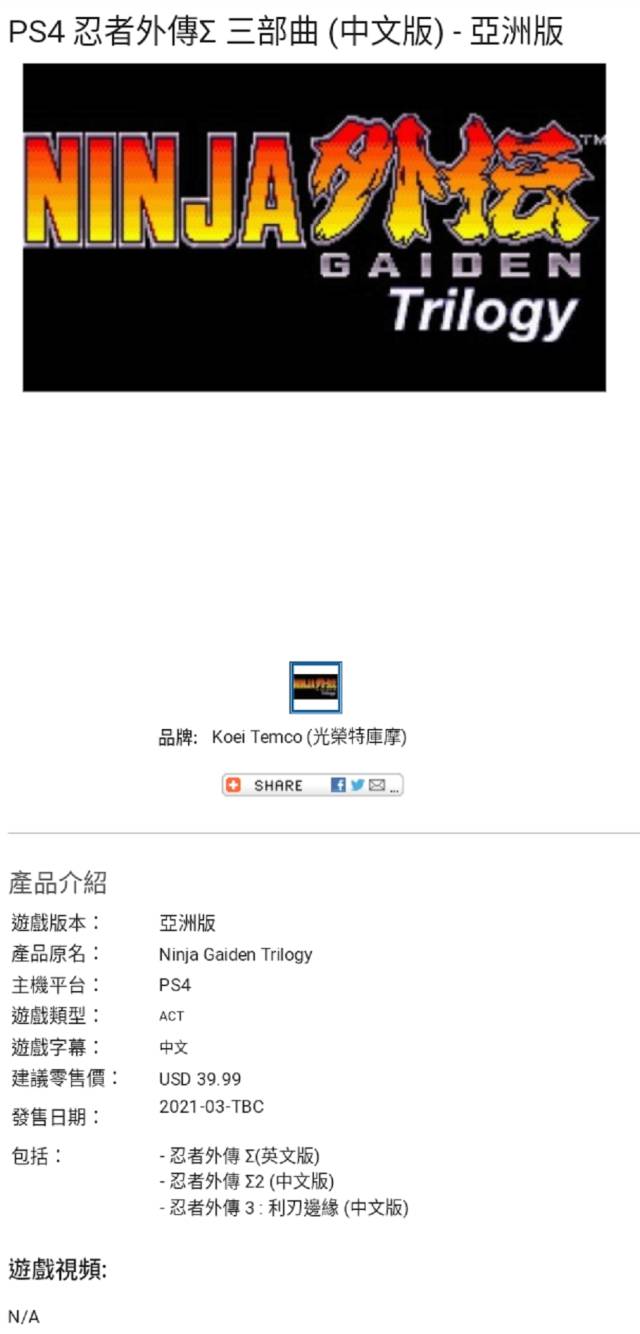 The game listed on PS4.
A generation focused on Nioh
The studio behind the license, owned by Tecmo Koei, has not worked on Ninja Gaiden in years. The developer has designed Marvels Ultimate Alliance 3 and has created a new intellectual property for the current generation of consoles. Nioh and Nioh 2 has marked their path in recent years, although now well, that does not mean that they will put aside their best-known saga. In Team Ninja they are aware that a part of their audience wants the return of Ninja Gaiden to materialize.
"The core members of the team who worked on Ninja Gaiden want a new installment," explained Fumihiko Yasuda in an interview with IGN. "We are aware that there are fans who prefer a new Ninja Gaiden to Nioh 2. Currently, we are watching a lot of ninja games, so we find great sources of inspiration in those games. We hope we can bring you good news one day. " Perhaps a remastering is the first step for that second step to be accomplished. We will see.