The company has released the full schedule of announcements awaiting us for its first digital conference. It will have 10 games in total.
The French publisher Nacon (formerly Bigben Interactive SA) has released the detailed calendar of announcements that will take place this July 7 at Nacon Connect, the first digital conference in the company's history. With a total of 10 games planned during the presentation, we already know the exact time and how to follow all the announcements live.
Nacon Connect Hours; new games not yet announced
The first thing is the hours: 7:00 p.m. Spanish time (CEST); 18:00 in the Canary Islands. In Pacific it will be 10:00 in the morning. From the company's YouTube, Twitch, Facebook and Twitter accounts, all the ads can be followed to the minute, a dozen titles of which 4 of them are unknown at the moment.
The presentation will start with Benoit Clerc, Head of Publications, to welcome everything they are about to show. At the moment, in the Nacon roadmap we have works like Test Drive Unlimited, which will have a sequel from Kylotonn soon; Paranoia: Happiness is Mandatory, by Cyanide; Vampire: The Masquerade – Swangsong, by Big Dad Wolf in 2021; and Warewolf: The Apocalypse – Earthblood in 2020, also by Cyanide for PS4, Xbox One, and PC. The offer has driving titles, RPGs and roguelikes.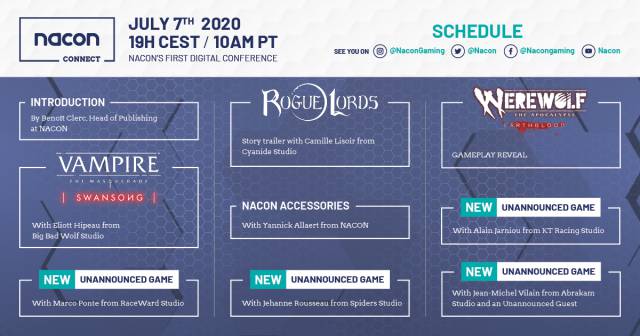 Nacon Connect – Presentation on July 7 at 7:00 p.m. (CEST)
This is what we know for the moment of the Nacon Connect, which will also have a space dedicated to the display of new accessories since Nacon is also in charge of the production and distribution of peripherals for consoles and PCs.
Vampire: The Masquerade – Swansong with Eliott Hipeau from Big Bad Wolf Studio.
New unannounced game with Marco Ponte from Raceward Studio.
New unannounced game with Jehanne Rousseau from Spiders Studio.
New unannounced game with Alain Jarniou of KT Racing Studio (Test Drive Unlimited)
New unannounced game with Jean-Michel Vilain from Abrakam Studio and a guest. guest.
Rogue Lords, story trailer, with Camille Lisoir of Cyanide Studio.