Riot Games' competitive shooter adds updates for four Agents, adjustments to the Classic weapon and much more.
Valorant, the popular competitive shooter from Riot Games, receives patch 1.04 and with it a series of news and adjustments that we will detail below, highlighting new adjustments for four Agents (Viper, Raze, Brimstone and Cypher) along with adjustments in various weapons, including the Classic, in order to adjust their behavior. To all this we must add a new interface design to consult the starting statistics, among many other novelties.
Agent Updates
Viper
Increases the amount of time Viper can spend outside of his final before it deactivates: 5s to 12s.
If you hold down the skill button, Viper will deactivate your ultimate prematurely.
The minimap of enemies in Pit of the Viper will darken and will not provide information to allies.
Increases the brightness of enemies highlighted in red next to the edges of Viper's limited vision zone.
The decline per second of the life of enemies from all sources increases from 10 to 15.
After exiting a Viper smoke screen, the decline is sustained for 2.5 s before progressively disappearing.
Having Poison Cloud and Toxic Screen active simultaneously consumes no additional fuel beyond the cost of activating one of them.
Raze
The cost of Toneclose increases from 6 to 7 Ultimate Points.
Brimstone
Orbital Strike cost increased from 6 to 7 Ultimate Points.
Stimulating Beacon no longer grants the buff to enemies, who will also be unable to see the radius of the effect.
Appearance of Brimstone's arms.
Cypher
Cyber ​​Prison can now be collected during the purchase phase.
Weapon upgrades
Classic
Fixed a bug that caused the loss of precision when using the right click and running to be much higher than it should have been.
Running added an additional penalty of 1.5 because it was calculating from the general error curves for pistols.
Fixed a bug that caused jumping to not apply a precision penalty.
Loss of running accuracy reduced from 3.4 to 2.1.
This is primarily a bug fix.
Increases precision loss when jumping from 1.9 to 2.3.
Increases loss of walking precision from 1.9 to 1.95.
Added an additional 10% accuracy when squatting and standing still.
The intention is that it fits with the aiming improvements that bending down usually gives.
HUD AND IU
The text box with the weapon statistics that appeared in the pre-round shop has been replaced by a graphic representation that makes comparisons easier.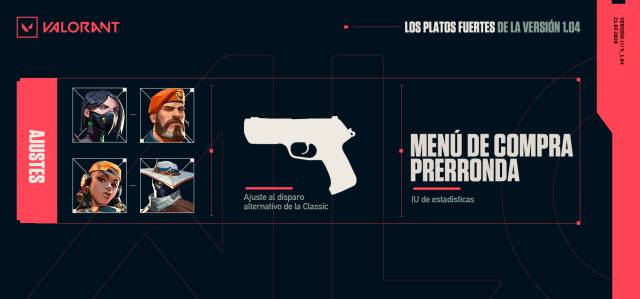 Quality improvements
In spectator mode, minimap's vision cones now have team colors.
Reyna's dubbing in Italian and in Mexican Spanish has been replaced.
Unfortunately, due to the regional travel restrictions established by COVID-19, the performers selected for the role were unable to attend the recording in their day. Now you will see in the game the voices that we initially chose for the Italian and Mexican versions of Reyna.
Elderflame Designs
The volume of the Operator Elderflame kit animation has been adjusted.
Fixed a bug that caused the volume to build up if the Operator's kit animation was repeated multiple times in a row.
The footsteps of enemies are imposed on the sound effects of cosmetic items as they should.
This means that, when the footsteps coincide with non-relevant elements (such as the sounds of the flames, the roars of the dragons, etc.), the volume of the latter will be automatically reduced.
Elderflame melee inspection animation now features sound effects on levels 1 and 2.
Performance updates
Target selection when picking up weapons and using Sage's Ultimate has been modified to match the silhouettes of allied characters, reducing VRAM usage and increasing graphics card performance.
Minor performance tweaks have been made in rendering processes.
Videos of weapon skin improvements are now streamed instead of stored on your computer, reducing installation size by 380 MB.
Error correction
Fixed an issue that caused Reyna to have to look at Soul Orbs to activate them and maintain healing. It should now work as in version 1.02.
Fixed an issue that caused Brimstone's smoke screens to be one-way when the player's chamber was located near the top of the bubble.
Fixed an issue that caused Breach's Replica to not properly damage all agents if it hit more than one.
Fixed a jitter bug that occurred when Sova's drone reached maximum height.
Fixed an issue with the Marshall causing it to lose precision in walking.
Fixed an issue that caused some translucent effects to play one frame behind opaque effects (such as Jett's first person slide).
Fixed a bug that caused allied silhouettes to not appear correctly with some AMD graphics cards when using multiple smoothing, as well as with certain Intel processors.
Fixed an issue that caused loading screens to not cover the entire screen when combining certain resolutions and aspect ratios.
The text on the photosensitivity warning screen has been shortened.
Fixed an issue that caused the "equip" button to remain grayed out when purchasing a variant of a design that was open in preview.
Fixed a bug with Brimstone Smoke Screens in Haven not appearing where they should.
Fixed a misspelling of Brimstone's story in English (thanks to moonlimes for letting us know).