Ubisoft confirms that the new Watch Dogs game will feature Smart Delivery between the PlayStation 4 / PS5 and Xbox One / Xbox Series X versions.
Buy one and get two. Ubisoft confirmed yesterday during the Ubisoft Forward that Watch Dogs Legion will be free on PS5 and Xbox Series X for all those who get a copy of the game on PS4 and Xbox One. Phil Spencer himself, head of the Xbox division at Microsoft, appeared during the Ubisoft broadcast to confirm the news. Spencer assured that the Watch Dogs Legion will make use of the Smart Delivery program, which seeks a smooth transition to the new generation through this type of policy. And although Sony has not yet released the name that this initiative will have on its platforms, it is clear that it will also exist. The Watch Dogs Legion page on the Ubi Store makes it clear that the PS4 version will also be updated on PS5 "at no additional cost."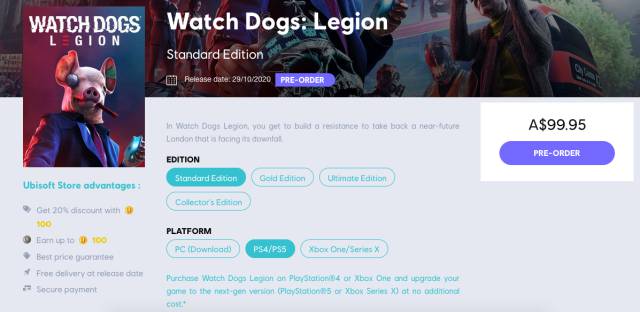 At the bottom you can see the confirmation that Watch Dogs Legion will also have Smart Delivery on Sony consoles.
Watch Dogs Legion is not the first game to make use of this system, for which names such as Cyberpunk 2077 or FIFA 21 are already confirmed. The idea is that we enjoy the title as soon as possible and that, when we dare to make the jump to PS5 and Xbox Series X, we don't have to buy it again on new platforms. In them the game will update only automatically and allow us to squeeze the potential of both machines, which translates into better graphics and shorter loading times. In fact, during his speech at the Ubisoft Forward, Phil Spencer revealed one of the characteristics that the Watch Dogs Legion version for Xbox Series X will have: "in Series X you will be able to take advantage of the magnificent work that the team has done with DirectX Raytracing to create an absolutely immersive London version like you've never seen before. "
The most ambitious Watch Dogs
If you want to know more about Watch Dogs Legion, "the most ambitious installment in the saga", we remind you that at FreeGameTips we have been fortunate to spend more than four hours with the game, of which we have brought you first and most complete impressions. In them we have tried to put together a real revolution through the streets of London to check if all the promises of Ubisoft regarding the game are true. In addition, in the Ubisoft Forward (see here a summary of the event) we have had a new and extensive gameplay of the title where we knew more details about it and its final release date: October 29, 2020.