The official Japanese Xenoblade account confirms the incorporation of theater mode in the definitive edition. Scenes can be customized.
Xenoblade Chronicles: Definitive Edition will allow players to access the expected theater mode. In it we will be able to see all the main scenes and those that star the allies. The Japanese Xenoblade Twitter account has shared more information about what we can expect from it.
The menu will be divided according to the content we want to view. The main campaign will be separate from its epilogue, Connected Futures. By selecting one we can customize it to suit the player, being able to choose the outfit they will wear, the time of day and the weather conditions. This is how it will look on our consoles: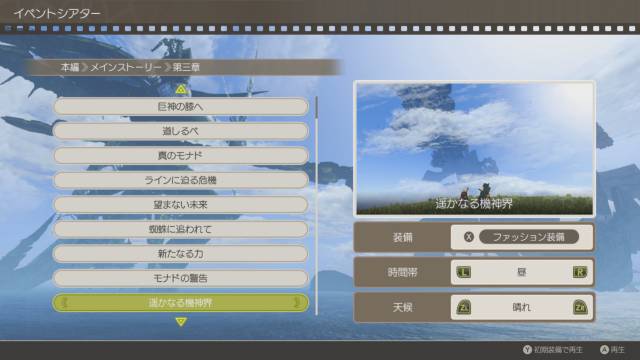 We recently learned from the Japanese magazine Weekly Famitsu that the epilogue will last around 10 and 12 hours. If we want to squeeze it to the maximum and carry out all the additional missions, the total will last up to 20 hours. Almost nothing.
We must remember that Connected Futures is an exclusive piece of content for this definitive edition. Neither the original nor the reissue for New Nintendo 3DS incorporated it, making it one of the great incentives for its arrival on Nintendo Switch. We are not only talking about a new story campaign, but a new combat system and an additional scenario have been designed.
In our first impressions with the game we talked about improvements in technical terms. "As a title adapted from Wii, Xenoblade Chronicles is not as demanding on the machine and we can confirm that it performs better both in terms of resolution and framerate." Of course, we noted that the graphic touches "are there", which show "from time to time optimization problems".
In the case of Connected Futures, "it tends to perform worse than the main game" and at times "more reminiscent of Xenoblade 2". For its part, the sword of Monado in Xenoblade Chronicles: Definitive Edition will arrive on Nintendo Switch on May 29.