The Call of Duty Endowment program launches a new downloadable content whose collection will go entirely to charitable causes in relation to military veterans.
Call of Duty: Warzone and Modern Warfare receive new charitable downloadable content within the Endowment program, which supports veteran servicemen to relocate to high-quality civilian jobs.
The intrepid package has been created in collaboration with Captain Florent 'Flo' Groberg, a veteran who in 2012 survived a suicide ambush. His actions in the conflict gave him the possibility of achieving the medal of honor.
Inspired by their heroism, Infinity Ward and Activision launch a cosmetic package with which to raise funds to award grants to organizations supporting veteran non-profit military personnel in the United States and the United Kingdom. The full amount of the purchase (without taxes) will be used for said cause. The campaign will end when 3 million dollars have been raised, approximately 2.8 million euros. Your price: € 9.99.
This is the content of the intrepid package:
Revered – MILSIM Appearance

For the Cause – M4 assault rifle project

Featured – Camouflage

Inalterable – Clock

Orange beanie – Amulet

Noble Sacrifice – Business Card

Honorable Sacrifice – Business Card

Brave – Emblem

Gallant – Emblem

Sacred Territory – Spray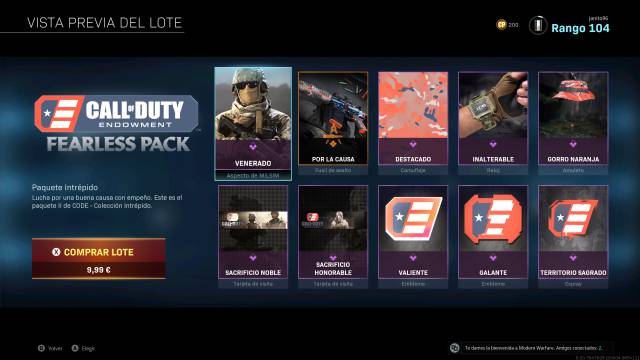 The truth is that this version of the M4 is practically the most used modification in multiplayer. The custom shooter barrel and tactical laser allow you to expand your ability at long range while maintaining high speed when aiming. It is a true all-rounder for all kinds of game modes. Perhaps it is the peephole that could be changed, even removed for a command grip, for example.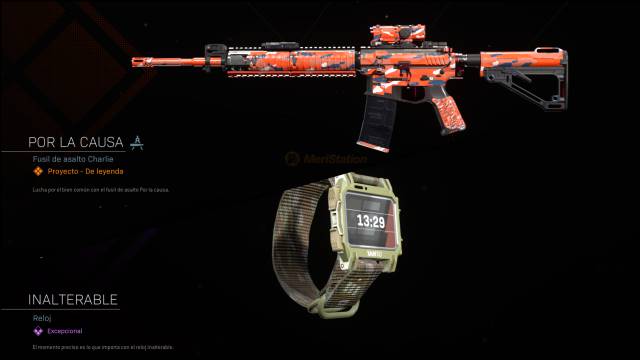 On the other hand, the functionalities of the Inalterable watch are similar to the first C.O.D.E. Just mark the time, now in digital format and in large numbers. The operator aspect is found within the basic soldier in the allied forces.
Remember that the intrepid package is now available on PS4, Xbox One and PC.
Source | Activision