Bi-monthly content in the form of civilizations, leaders, game modes, and more.
Civilization VI New Frontier is the big 2K announcement for the coming months of its strategy game. The company has presented this new season pass that will bring with it eight new civilizations, nine leaders and six new game modes, in addition to other extra content for the strategy game, which will receive these contents bi-monthly between May 2020 and March 2021. Speaking in a statement, Ed Beach, lead designer for Firaxis Games relates that the game is "the flagship title of the series" and that they want to complete the current content pack, which already features "two giant expansions and four years of updates. "
Next May 21 will be the day chosen for the first DLC of this season pass, under the name of Pack de los Mayas y Gran Colombia. This content adds two new civilizations and leaders, plus an additional game mode and new city-states, resources and natural wonders that will appear. It's not the only new thing to the game, as those who buy the New Frontier Season Pass will receive exclusive content in the form of Teddy Roosvelt and Catalina de Médici's personalities packis, with models, backgrounds and game bonuses, as well as an agenda updated to reflect changes in the minds of these leaders. These extras will arrive in July with the following content planned.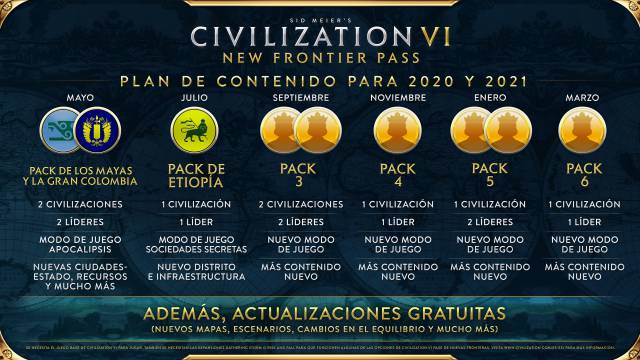 Civilization VI New Frontier, at 39.99 euros
Civilization VI New Frontier will be available for 39.99 euros for Xbox One, PS4, Nintendo Switch, Windows PC, Mac and Linux, and later for smartphones. Each content pack will also be available for individual purchase at a price to be determined. In addition, Firaxis will publish free updates between content packs to offer new maps, scenarios and other types of updates for all who own the original juice.
According to Anton Strenger, principal designer at Firaxis Games, what they are going to promote ensures that "both veteran players and newcomers will have something new to look forward to in the coming months", adding that "offering new content on a regular basis with New Frontier will have more opportunities than ever to connect with our community as we actively develop and deliver content. "