We attended a digital presentation by The Pokémon Company to learn all the details of this DLC and witness 40 minutes of gameplay.
Pokémon Sword and Shield will be the first delivery pair with an expansion pass. Contrary to previous generations, where a third expanded and enhanced edition was chosen, a direct sequel or other ways to take advantage of an already established region, this time Game Freak is working on two major DLC: The Armor Island, planned for this June 17, and Las Nieves de la Corona, which will arrive in the fall. We have attended the digital presentation of the first batch, so we are going to tell you what we thought was all we could see in 40 minutes of pure gameplay.
Before starting, several representatives of the company told us what awaits us with this paid content —requires a copy of Pokémon Sword or Shield for Nintendo Switch— that we can unlock once we have first arrived in the original Wild Area of ​​these editions. From that moment, it will be accessible through the Corviknight Flying Taxi as if it were from another part of Galar.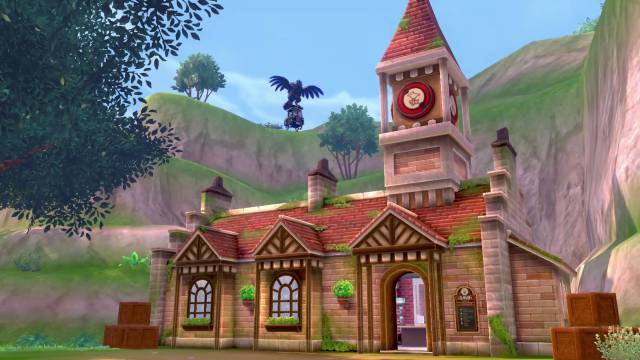 What we didn't know about the Galar region: we arrived at the Armor Island
Broadly speaking, the mission of Game Freak with this first part of the expansion pass is summarized in three concepts: growth, combat and training. Serve as an expanded complement to the first Wild Area but with more variety of biomes, an ostensibly large number of previously unavailable Pokémon (around a hundred that are back from previous generations plus a few unknown faces) and the Pokémon Dojo, which is an added challenge for those who want to fight in a tower that reminds us of the traditional Battle Tower.
Las Nieves de la Corona, however, will focus on exploration, adventure and discovery. It is surely more ambitious and daring in its purpose, but this content has not given us the feeling of being a mere appetizer: many hours of content await us.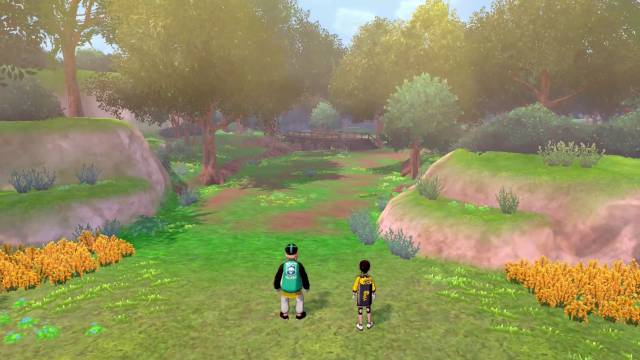 The variety of places is very wide in a smaller space in size.
Newcomers to Armor Island: first steps
With the introductions made, we move on to pure gameplay: the first 30 minutes of departure and another quarter of an hour roaming freely through the open world of this island territory. We insist: we did not play ourselves directly, we saw an on-screen gameplay played by a representative of The Pokémon Company.
The first time we arrive at the Isle of Armor (based on the Isle of Man, in the Irish Sea) we will be greeted by a Pokémon researcher who is dedicated to studying the species that inhabit this ecosystem. Since you know that the Trainers from all over the world travel to the island to register all the species that coexist here, they will update us on the Pokédex; from now on, we will have an epigraph called Pokédex Armor.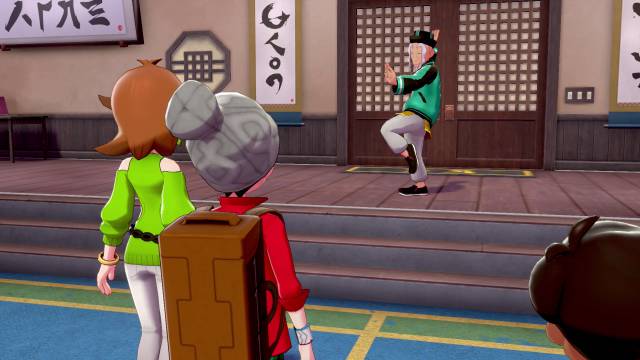 Mostaz will welcome us to the Dojo. He was the holder of the title of League Champion for 18 years.
Then, they will introduce us to the Dojo. There is Mostaz, the Coach in charge of this site, he will welcome us and tell us what this complex is about, focused on making us stronger. We will also meet Dreo (Shield), a trainer specialized in Psychic type, who will become one of the new rivals in the storyline presented. In Sword the rival will be Sófora, specialized in Poison type. Before going to discover the island with freedom and our characteristic yellow dojo uniform (we confirm that we can also wear it in the Galar), we witnessed the main conflict that introduces the original story of this DLC, about which we are not going to tell anything.
All in all, it is time to get to know the island, which has two Pugna Towers (Tower of Shadows and Tower of Waters), buildings designed to train Kubfu, one of the new additions; outdoor areas; an islet surrounded by all kinds of flowers; a cove; mountains of rocks … They will also give us a choice between two colors for the new Rotom Bike: one white and the other black.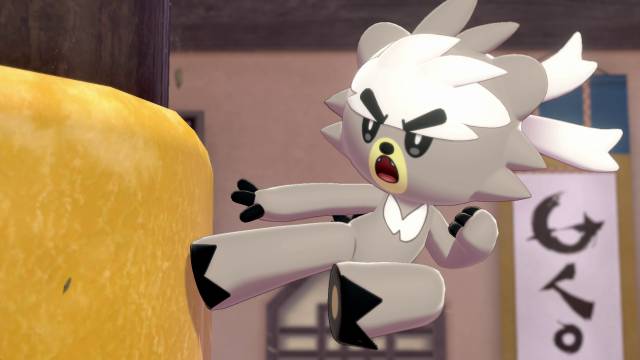 Kubfu, the great protagonist of The Island of Armor
Versatility and use of space: more places in less space
One thing that we liked a lot about this contiguous island territory with Galar is the use of space. Game Freak has carried out an intelligent design exercise when planning this new Wilderness Area, because everything is in the open world. There are no routes, linearity is completely abandoned again; the difference lies in how this space is exploited.
Unlike in the Galar Wilderness Area that we already knew, very large and with somewhat empty areas, in the Isle of Armor everything is more concentrated. This is the future we want for the saga: this is how we would like the routes to be in future video games, open-ended and taking advantage of each section. Bigger does not mean better; We prefer more measured, diverse and careful environments like these than others that are slightly uninhabited.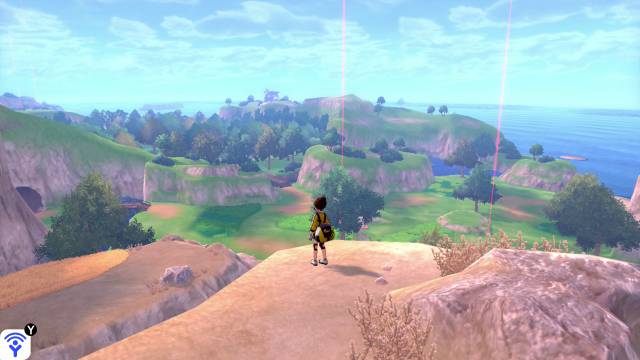 The Island of Armor has more life, it gains in details (flowers in the grass, shells protruding from the ground, stones …) in sight; the feeling of nature is greater. All in all, this variety of biomes translates into new places such as beaches, swamps, forests surrounded by small lakes, sand dunes and more vertical and complex caves in its drawing. We insist: this DLC does not have greater power at the graphic level, but since there are more elements on screen, the variety of each scene and the technical performance is richer in nuances.
As before, this Wilderness Area is dissected into subregions. There are no loading times between them, simply an on-screen indicator that will notify us every time we change our stay. The playable effects are not only aesthetic but also in terms of the wild creatures that we can find. Although we cannot say the exact number of new Pokémon that are added to the Pokédex (initially with 400 creatures, counting the native ones of Galar), we can confirm that when the second part of the expansion pass arrives this fall, Las Nieves de la Corona , the number will have risen to 200 more creatures in total. That is, 600 species from all generations; much closer to all beings in the Pokémon universe, which has almost 900.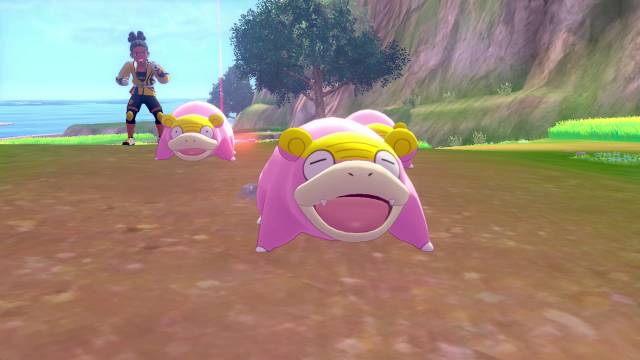 Galar's Slowpoke
Completely new, apart from the Gigamax forms of Rillaboom, Cinderace and Inteleon, we have those of Venusaur and Blastoise —initials of Kanto—, which add to the already known Charizard, the other member of that original trident. Another is Kubfu, coming from very distant lands, it will be able to evolve in Urshifu, which has two alternatives: Rough Style and Fluid Style, with different types. Finally, Slowpoke de Galar and Slowbro de Galar, who will roam this island and have a behavior … let's say that particular.
An Alola Diglett? Best 150
One aspect that will extend the gaming experience with this first part of the expansion pass is the search for the Alola 150 Diglett. Yes, you have read well; one hundred and fifty. A passerby from this island was "captivated by those three adorable little hairs" on his journey through the aforementioned region (corresponding to Generation VII, Pokémon Sun / Moon / Ultrasol / Ultramoon; Nintendo 3DS). He liked the Alolett Diglets so much on his trip that he caught a whopping 150 of them.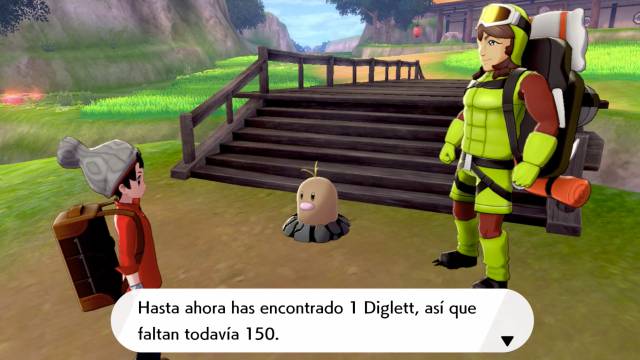 * Glups *
Back to the Isle of Armor, in a moment of carelessness all escaped him and he is currently looking for and a hundred and a half companions. We must help you, so the visual indication of the characteristic three hairs protruding from the ground will be the only clue we will find. We don't know how far some of those Alola Diglett will be hard to find; what is certain is that finishing this work will take us a few hours. We also wonder if there will be any kind of reward after completing this task.
Not just new Pokémon: novelties from The Isle of Armor
It should be noted a series of objects, additions and details of quality of life that have seemed a success. We start with the Amulet Exp, which will give us shortly after arriving at the Isle of Armor. This item will help Pokémon level up faster, making it easier for new species we capture to not require such a slow training process. The development team understands that we arrived at this place after having completed the adventure (although, as we said, it is not necessary to have finished the game to travel here) and with well-trained companions.
We continue with the Cramobot. In the dojo we can find this machine designed for recycling: the more objects we put into it, the better the combinations to create new ones. From here we can find all kinds of resources; from More PP to Poké Ball. Some rare combinations will result in items of considerable value.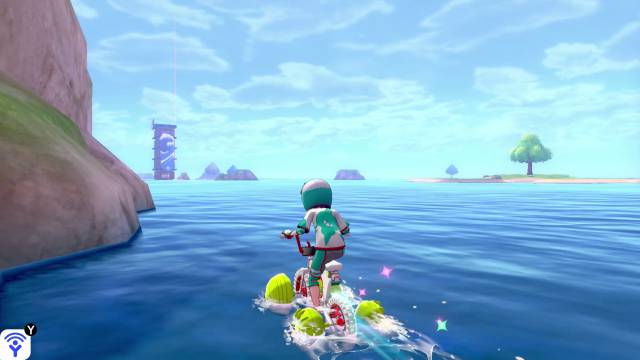 On the other hand, something that will delight those closest to the competitive scene: the Movement Tutor. Delivering Duralium — a kind of substance to be found in Dinamax Raids, among other ways — will teach Pokémon new moves. What new movements can we highlight? On the one hand, Burning Envy (Fire type, causes damage and possible burns) or Phyto-impulse (Plant type, with priority if there is an active grass field). We also have a new style of combat: Tight Test. Here the types that we can use will be restricted and there will be certain participation conditions. The goal is for creatures weak and without combat potential under normal conditions to have their moment of glory here.
Finally, the Maxisopa. This new item, introduced on the occasion of this Island of Armor, is a new dish that we will prepare with ingredients such as a new variant of mushrooms scattered throughout the territory. If a Pokémon drinks this Maxisopa and has the ability to reach Gigamax form (the exclusive Dinamax variant for only a few species that alters its appearance, not just characteristics), we will immediately unlock this Gigamax form. As far as we know, it affects at least Galar's initials: Inteleon, Cinderace and Rillaboom.
We can not finish without mentioning the new sound themes incorporated into the soundtrack. It is true that we will hear the same themes of battle against wild species as in Galar, but totally new melodies have been added, performed with wind instruments (presumably flutes or variants of these) and strings. We loved it. The variety and style match perfectly with what we see, helps immersion and is organic. We do not know who has interpreted these songs, although the most electronic ones especially sound to us to Minako Adachi (composer mainly known for her work in Pokémon Black and White). When we asked The Pokémon Company about the personalities involved in these compositions, they simply referred to say that they correspond to the Game Freak team. The more environmental issues, meanwhile, are more familiar to Go Ichinose, one of Junichi Masuda's longtime aides. Not surprisingly, at this time we cannot answer that question.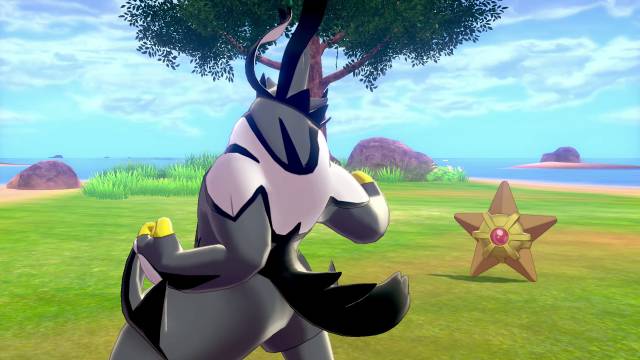 Isle of Armor, available June 17 for Pokemon Sword and Shield
We did not expect so much from this Island of Armor. It is more than just quantity. The approach of this first part of the expansion pass, although it focuses on being abundant and not risking so much in innovations in the playable plane – as Nieves de la Corona promises to do -, makes good use of the space to offer entertainment during this summer. New Dinamax Raids await us, a hundred species that were not before in Galar, the Dojo and additional small challenges. In short: it is not exactly short of content.
To purchase the Pokémon Sword and Shield expansion pass, you need a copy of both games. In the Nintendo Switch eShop you can buy the full pass for 29.99 euros, but each pass is individual: you have to choose well for which edition we choose the pass and not get confused.
On June 17, the first part of this expanded experience of the Galar region will be released in Pokémon Sword and Shield. For now, it has left us a great taste in the mouth.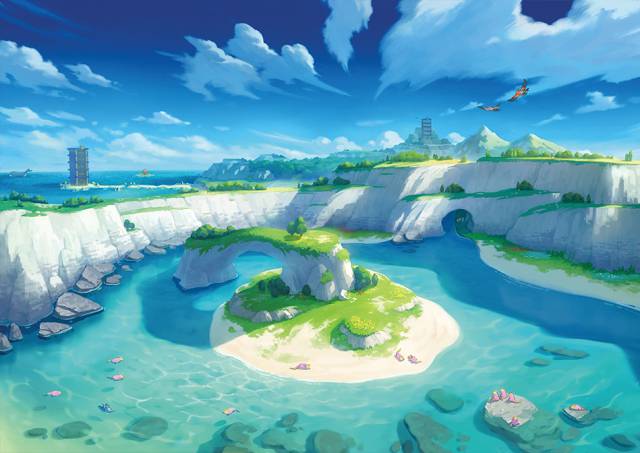 Pokémon Sword and Shield: Isle of Armor