Street Power Soccer is coming this summer to PS4, Xbox One, Nintendo Switch and PC full of game modes and with street soccer professionals.
Sports arcades are back in fashion again, and how could it be otherwise, soccer will soon have a new representative with the recently announced Street Power Soccer, which irretrievably reminds of the missed FIFA Street. The EA franchise itself tried its luck with the Volta mode included in FIFA 20, a kind of more casual games but that does not seem to have penetrated so deeply in the community. Thus, this new title will come to fill that gap left by the fourth installment in 2012.
Street football is back
It will, as evidenced by the first published images, with a cartoon style and a good number of game modes. Among them are the usual 3v3 and 2v2 matches, plus a Freestyle mode in which to do all kinds of tricks and dribbles and a Trickshot mode to execute spectacular shots. It will also implement a HORSE mode, typical of basketball, which consists of imitating the movements of the rival.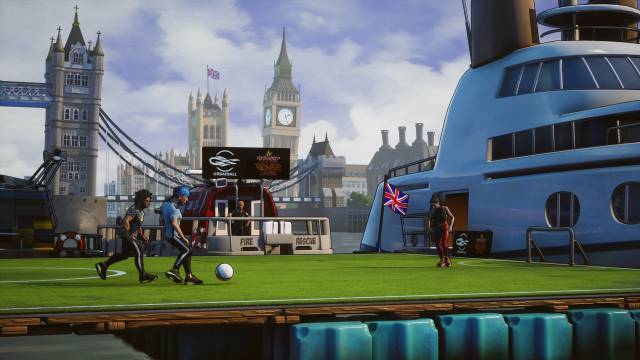 It will also have a Career mode in which to progress our edited character with hundreds of options, and turn him from a mere amateur to a world star of street football and see the faces with real legends of this discipline such as Sean Garnier, Melody Donchet, Soufiane Bencok or Raquel Benetti. You will be accompanied by a soundtrack composed by songs from The Black Eyed Peas, Snap or DJ Snake, among others.
"This is a game with style and energy that goes back to reminiscences of fun in arcade sports games such as NBA Street, SSX Tricky and RBI Baseball," defines Shawn Cotter of the publisher Maximum Games. It also ensures that it is an enjoyable game for everyone, football fans or those who have never touched a ball, since "it takes the rules of football and turns them around", which is to say that we can expect all kinds of tricks in in pursuit of victory, although it does not specify whether more aggressive innings than normal will be allowed. What there will be, confirmed, are special powers, so it should not surprise us if we see balls bathed in fire and that kind of thing …
Street Power Soccer has been officially announced on the official PlayStation blog, but in addition to PS4, it will also arrive this summer on Xbox One, Nintendo Switch and PC.