Microsoft and CD Projekt RED present the new themed accessories after the staging of the new Xbox One X based on the long-awaited video game.
Microsoft and CD Projekt RED have unveiled new Xbox One accessories based on Cyberpunk 2077 after the recent staging of a very special version of Xbox One X with the limited edition Cyberpunk 2077, fully customized with the futuristic cyberpunk aesthetic of the long-awaited video game. Two of the three new accessories have been created in collaboration with other manufacturers such as SteelSeries and Seagate, such as a matching charging base with the special command of the console, wireless headphones and an external hard drive that follows the aesthetics of the console. Cyberpunk 2077.
Charging base now available on Xbox Store
Thus, the new charging base for the Xbox One controller known as Cyberpunk 2077 Limited Edition Xbox Pro Charging Stand maintains the same design of the special edition controller that we knew a few days ago; It is an official accessory distributed by the Xbox itself that is already available in the company's online store at a price of 49.99 euros. The pack includes a rechargeable battery for the remote and a 1.82 meter long cable.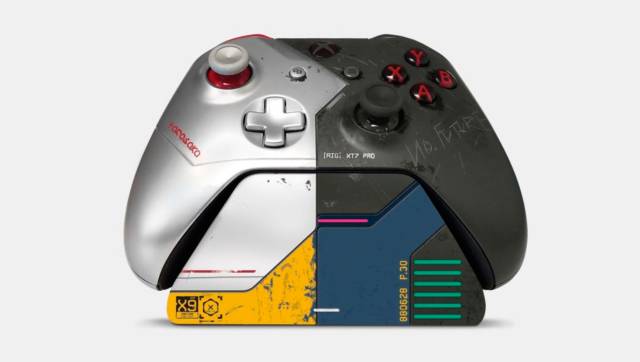 On the other hand, and in collaboration with the gaming accessories brand SteelSeries, the new Arctis 1 Wireless Johnny Silverhand Edition wireless headphones have been presented, a very limited edition with Cyberpunk 2077 aesthetics and officially licensed Xbox that can already be reserved in the store digital of the manufacturer at a price of 129.99 euros.
Last but not least, there is the new Seagate external hard drive with official Xbox license and with a matching aesthetic with the Xbox One X special edition Cyberpunk 2077 console. It will be available in June next to the launch of said edition console. Limited with two capacities of 2 TB and 5 TB, at a price of 89.99 euros and 149.99 euros, respectively.