One of Assassin's Creed Valhalla's first side missions lets us add a cat that has lost its mind as a crew member.
Without a doubt, the new gameplay of Assassin's Creed Valhalla was one of the great stars of Ubisoft Forward, the event in which Ubisoft shared part of its plans for the coming months (and of which you can find here a summary of all the announcements). The Valhalla video made it clear how important it will be to recruit a crew to match our desire to plunder and conquer. A crew of which, as we have been able to know in the last hours, not only Vikings will be part, but also … cats! "Yes, you can recruit a Norwich cat. It is very modern," joked game director Eric Baptizat with fellow GamesRadar. "We have always had a lot of fun with animals and with the relationships between humans and them. Animals will bring a new and original perspective in Valhalla. There are unique and unexpected animals like seals and puffins. There really are a lot of new animals in the world of Valhalla. "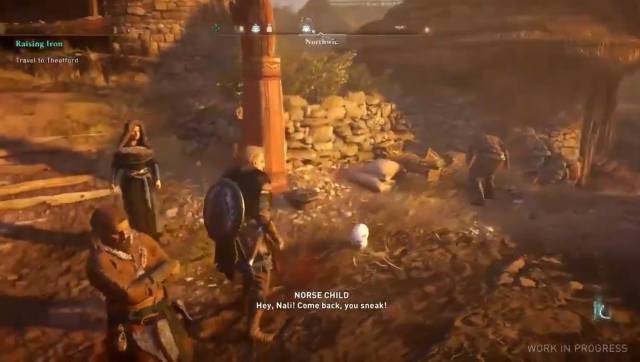 Our future cat, Nati, doing her thing.
Called Nali, the cat will be available during one of the game's side missions, which this time will be called "mysteries." In it we will learn that, after the death of its owner, an old sailor, Nali has gone mad and has begun to spread terror among farmers, scratching and scaring their chickens. We will have to chase him until we hunt him down, at which time we can invite him to join the crew of Eivor (the protagonist). From that moment we will find you walking freely on our boat.
Assassin's Creed Valhalla will have Smart Delivery
We remind you that during the Ubisoft Forward the game's release date was also confirmed, which will arrive on PC, Google Stadia, PS4 and Xbox One on November 17, 2020. It will also land on PS5 and Xbox Series X once both consoles come out , in which it will be free for all those who have bought the PS4 or Xbox One version, as the Smart Delivery program has been proposing. On the improvements that the new generation will provide, Ubisoft has confirmed that the game will run at 4K and 30 fps "at least". And if you want to know even more about Assassin's Creed Valhalla, don't miss out on our first impressions after more than 4 hours of Viking invasion. In them we unravel how the new abilities, assaults and mythological final bosses work.