From July 30 to September 10, Borderlands 3 celebrates its first year on the market with the arrival of up to six small events.
Borderlands 3, the third numbered installment in the Gearbox and 2K shooters saga, is about to celebrate a year since its launch on PC, PS4 and Xbox One. To celebrate, the company have shared their intention to launch up to six events. weekly that will take place from July 30 to September 10, starting on Thursdays. Below we detail them, in addition to remembering that the new DLC of the title inspired by the Wild West is now available as part of the season pass.
All events arriving at Borderlands 3
"ECHOcast Overload" (July 30-Aug. 6): Better loot opportunities available during rare chest events on the 'ECHOcast Twitch' extension.
Bonus Boss Loot (Aug. 6-Aug. 13): Most bosses have a higher chance to drop Legendary Loot.
Loot Monster Mayhem (Aug. 13-Aug. 20): Higher generation rates for loot variant enemies.
"Show Me The Eridium" (August 20 to August 27): We will have an increase in Eridium drops and more discounts on Eridium items.
Mayhem Made Mild (August 27-September 3): All mods are made easy in Mayhem mode.
"Making It Rain" (September 3 to September 10): Enemies drop in-game money to spend on buying weapons or whatever we want.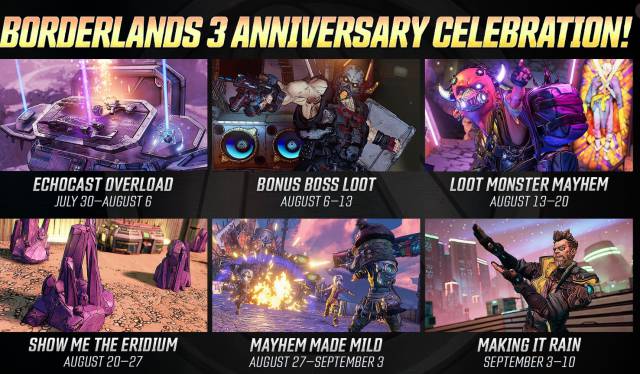 Despite the fact that these are not fully developed expansions or bringing new story scenarios (which really is the basis of a good DLC), these events provide the game with some longevity and give a reason for players to keep coming back to his games to continue living some additional camera finder adventures.