Riot Games presents the release notes for version 1.6: Legends of Runeterra Spiritual Flourish, which is updated with card balancing and more news.
Legends of Runeterra, the card title from Riot Games, is updated to version 1.6: Spiritual Flourish. We already have the official patch notes, so below we offer you a summary with the most important changes in cards, as well as detailing what the new board will be like and the first "store deck package" offered by the title.
Patch 1.6 Recap: Runeterra Spirit Blossom
"During the LoR design and balancing processes, our goal is to allow players to dictate the metagame, which is why we want to offer them a wide variety of tools with which to adapt and solve new challenges," they assure from Riot Games. Furthermore, they add that while it is true that they are seeing an adequate diversity of decks, some popular archetypes (such as Ionia's Avoidance and Control decks, Heimerdinger's and Noxus' aggressive ones) have proven to be more powerful than they should have been, therefore they should be nerfed a bit.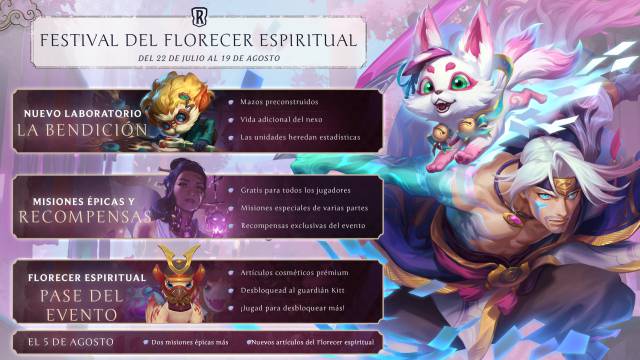 Version 1.6 comes hand in hand with the Spiritual Blossom Festival, a "month-long themed experience" that includes a new lab, an event pass, special quests, and loads of cosmetic items. Therefore, we can confirm that Runeterra has its first special season pass for this event.
Legends of Runeterra: Champion Card Updates
Heimerdinger
"Circumvention is a pretty decisive keyword, and that Heimerdinger could access it with three mana was leading to frustrating gaming experiences when used over and over again. Also, he was speeding up Heimer's decks too much and allowing him to achieve too little of an interactive condition too often. We have adjusted several of Heimer's turrets so that their ability to create Threat with Circumvention will appear later and thus encourage the casting of more expensive spells. "
Braum
"Overall, we are quite satisfied with the results of the Braum update from version 1.4. Along with the changes to Anivia, we believe we have managed to bring more viable champions to Freljord and improve the overall level of the region. Of course, we went a bit overboard in giving power to Braum, because we wanted his update to be an improvement and to leave ourselves room to adjust it if it was too powerful. In particular, the changes to Braum's basic power led to very dominant confrontations and improved it in general terms, so we are going to reduce his power to 0 again (and reduce it to level 2) to make it more difficult for him to get hold of the control of the games ".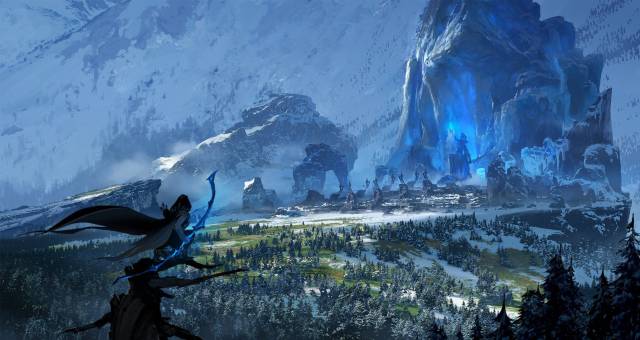 Huevonivia (Anivia Egg Form)
"Anivia and Freljord are doing much better since their 1.4 changes, but as with Braum, we want to implement a tracking tweak to balance the game over the long term. Now that playing it costs less, copy-based strategies Anivia's are easier to execute. We want to balance this facet by making it more fragile and offering more opportunities to counter it, especially in the case of slow decks that need to get rid of it. "
Legends of Runeterra: Adepts and Spell card updates
On the other hand, other Adepts and Spells cards also have a number of changes. Specifically, these are the following:
Relentless pursuit: his Speed ​​goes from "Fast" to "Slow".
Bookmaker: Its cost drops from 3 to 2 and its life goes from 1 to 2.
Basilisk Rider: Its power decreases from 5 to 4.
Crimson Disciple: ANCIENT TEXT: When I survive the damage, it deals 2 damage to the enemy nexus. NEW TEXT: When I survive damage, it deals 1 damage to the enemy nexus.
Legion Grenadier: LIFE: 1 → 2. OLD TEXT: Last Breath: Deals 2 damage to the enemy nexus. NEW TEXT: Last Breath: Deals 1 damage to the enemy nexus.
Flash of Lucidity: COST: 3 → 4.
Sink Dredger: COST: 2 → 3. OLD TEXT: To play this card, discard 1. NEW TEXT: To play this card, discard 1 and draw 1.
Mocosa Zaunita: OLD TEXT: Last breath: Draw 1. To play this card, discard 1. NEW TEXT: To play this card, discard 1 and draw 1.
Shadow Slayer: POWER: 2 → 1.
Steel Tempest: COST: 3 → 2.
River Shaper: LIFE: 1 → 2.
Ionia's Will: COST: 4 → 5.
Golden Narwhal: COST: 3 → 2. LIFE: 4 → 3.
Hunting Fleet: COST: 5 → 4. POWER: 7 → 6. LIFE: 7 → 6.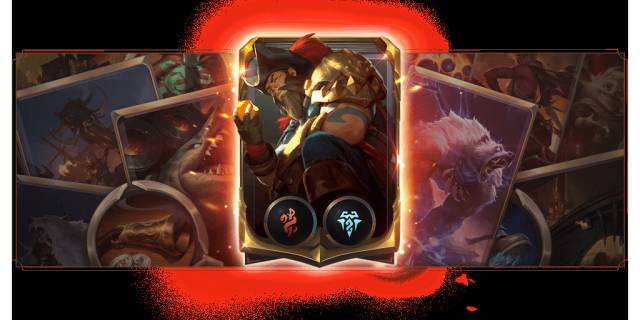 Customization with a new board and new deck packages
In addition to all of the above, a good number of new cosmetic items are added that we will find in the path of rewards and in the event pass of the spiritual Blossom in addition to this version also brings to the store a new board inspired by the festival. This is the first epic board, Festival Shrine, that immerses us in the world of spiritual Blossoming with interactive elements. It costs 1290 coins.
We're also getting the first deck pack to the store, Insatiable Plunderers: "Overwhelm your opponent with this ready-to-play Assault deck, which you'll find in the store for 1,962 coins (price will be adjusted based on copies of the cards you have in your collection) ", details its official description.
Following a spiritual fox brings salvation. Losing yourself leads to eternal obsession. These magical creatures pursue their own and strange ends, and there is nothing they like more than involving mortals in their games. pic.twitter.com/eOBDDMI8FA

– Legends of Runeterra ES (@RuneterraES) July 22, 2020