Activision and Treyarch share the minimum, recommended, competitive and ultra requirements through a spectacular new trailer for compatible.
Activision has shared several PC configurations as minimum requirements, recommended, for competitive players and in ultra mode of Call of Duty: Black Ops Cold War, the new installment of such a popular FPS saga that, remember, will hit the market next 13 November 2020 for PC, PS4, Xbox One, PS5, and Xbox Series. All this through a new and spectacular trailer at 4K and 60 FPS that you can see heading the news and that details the different technologies that the title uses in its most demanding configurations with the hardware.
New trailer at 4K and 60 FPS for PC
Below we offer you the different hardware configurations as requirements for PCs; yes, Activision already warns that the game will increase in size with the passage of time thanks to the different updates that occur from the day of its launch.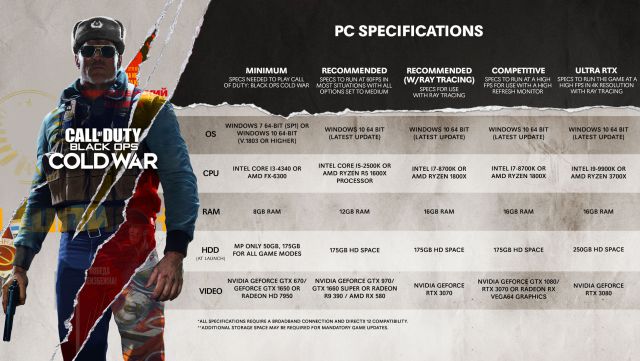 Minimum requirements
OS: Windows 7 64-Bit (SP1) or Windows 10 64-Bit (v.1803)
CPU: Intel Core i3-4340 or AMD FX-6300
RAM: 8GB RAM
HDD: 50 GB (multiplayer only), 175 GB (all game modes)
Graphics: NVIDIA GeForce GTX 670 / GeForce GTX 1650 or Radeon HD 7950
DirectX 12
Internet connection
Recommended Requirements (60 FPS)
OS: Windows 10 64-Bit
CPU: Intel Core i5-2500K orAMD Ryzen R5 1600X
RAM: 12GB RAM
HDD (at launch): 175GB
Graphics: NVIDIA GeForce GTX 970 / GTX 1660 Super or Radeon R9 390 / AMD RX 580
DirectX 12
Internet connection
Recommended Requirements (Ray Tracing)
OS: Windows 10 64-Bit
CPU: Intel i7-8700K or AMD Ryzen 1800X
RAM: 16GB RAM
HDD (at launch): 175 GB
Graphics: NVIDIA GeForce RTX 3070
DirectX 12
Internet connection
Competitive requirements
OS: Windows 10 64-Bit
CPU: Intel i7-8700K or AMD Ryzen 1800X
RAM: 16GB RAM
HDD (at launch): 175 GB
Graphics: NVIDIA GeForce GTX 1080 / RTX 3070 or Radeon RX Vega64
DirectX 12
Internet connection
Ultra RTX Requirements (4K with Ray Tracing)
OS: Windows 10 64-Bit
CPU: Intel i9-9900K or AMD Ryzen 3700X
RAM: 16GB RAM
HDD (launch): 250 GB
Graphics: NVIDIA GeForce RTX 3080
DirectX 12
Internet connection