The Lucid Games title will launch exclusively for PlayStation 5 this November. New details of its playability and control.
Destruction AllStars is one of the PS5 exclusive launch games. The Lucid Games title will debut on the new Sony console this November 19 with a clear multiplayer focus: driving, fighting and customization; a global sporting event where anything goes. We already know its editions and new details of what awaits us on the playable plane.
According to George Rule, Community Manager of Lucid Games, in Destruction AllStars we will have a total of 16 different characters to choose from to take control of these cars capable of jumping through the air and subjecting themselves to impossible blows. The mechanics are simple: collide with other vehicles to cause damage until, finally, we annihilate them.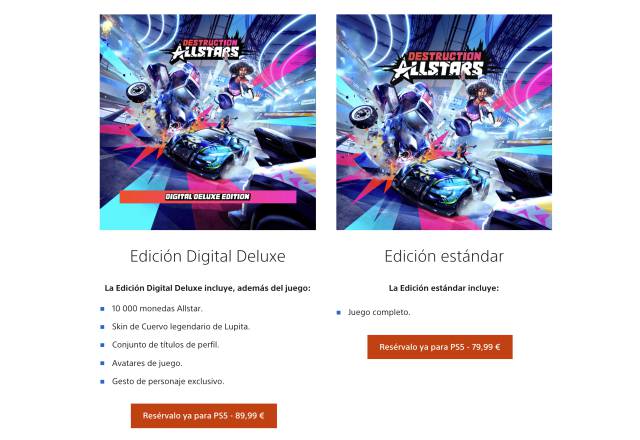 "The circuits have been designed to take advantage of mobility and destructive actions. The vehicles have enough track to reach breakneck speeds, while the AllStars who go on foot can temporarily take refuge on platforms suspended overhead, "they explain. In turn: "With their parkour abilities to jump, climb and grab, they will be able to get objects and attract opponents to trap them", in such a way that verticality will be encouraged in all scenarios. In the following image we leave a composition with all the characters of Destruction AllStars and, then, the abilities confirmed for now for the characters.
Summary of character abilities
Shyft: Use cloaking technology to make yourself invisible and get vehicles before your opponents find out.
Last Barricade: It becomes immune to attacks from vehicles and characters.
Lupita: Leaves a trail of fire that causes burns to vehicles and knocks out characters.
Boxtop: He leaves packages that help his teammates or that damage his enemies with explosives.
Hero Vehicles Summary
Saber (Hana's vehicle): Deploy a blade across the vehicle that cuts opponents in half.
The Undisputed (Ultimo's vehicle): Activate an immense shield that makes you an unstoppable force on the circuit.
Callisto (Genesis Vehicle): Use booster rockets to get a burst of speed and deal damage to your opponents.
Mr. Sparkles (Tw! NlkeR1ot's vehicle): Enter devastation mode and attack harder with each hit.
Lucid Games also confirms that after launch they will add new game modes and changes to bring freshness to the games. For now, they have confirmed a Digital Deluxe Edition of the game that contains, in addition to the full version of the title for PS5, the following content for 89.99 euros:
1 legendary character skin and a vehicle skin
1 dance gesture for Lupita – Lupita shows the AllStars how they spend it in Rio!
4 titles and 5 avatars
10,000 AllStar Coins