We tell you how it works and where to find the new flare gun of Fortnite Battle Royale, added to the game with patch 13.20 of Season 3.
Fortnite Battle Royale patch 13.20 brought with it an unannounced novelty: the flare gun. This new weapon from Season 3 of the Fortnite Battle Pass Chapter 2 has several functions, and we explain them below:
Fortnite: this is the new flare gun
The flare gun was added to Fortnite Battle Royale with patch 13.20, applied to the game on Tuesday June 30, 2020. This new pistol uses its own type of ammunition. In addition to dealing direct damage to enemies, it serves to set fire to wooden structures, and to mark enemies within the range of a fired flare.
This is the flare gun of Fortnite Battle Royale: it allows you to mark enemies, set fire to structures, and, of course, eliminate enemies with your shots. # FortniteChapter2 pic.twitter.com/V34otG6pch

– Rubén Martínez (@ruvenmb) June 30, 2020
We can find the flare gun in Fortnite as ground loot, or randomly, by opening chests of any kind. It is also possible to find it at any other point in the scenario if another player has deliberately dropped it, or dropped it after dying. In other words: the flare gun does not appear at any specific point on the map. We will find it randomly, playing normally. If we manage to kill an enemy with a flare gun, we will get the shot weapons achievement.
Please note that its magazine size is tiny; Its capacity is one flare per magazine, so we will have to reload every time we shoot. We emphasize that more than a weapon itself, it is a tool, and should be used as such, although if we want to show off, we can always try to liquidate the enemies with it to mark one or several quite funny and humiliating deaths for our opponents.
These are the attributes of the flare gun, extracted directly from the game using data mining techniques:
Flare gun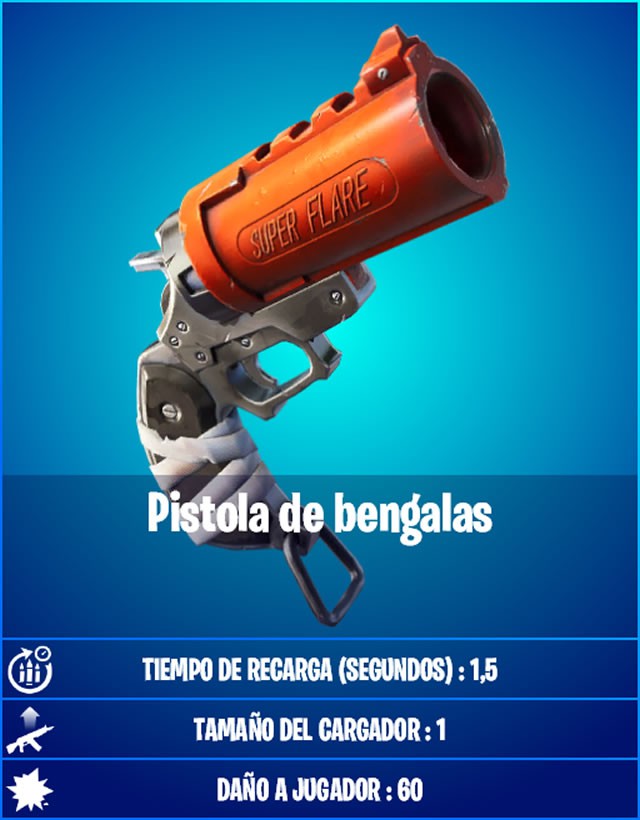 Flare Gun Facts
Reload time (seconds): 1.5
Magazine Size: 1
Player damage: 60
Sources: Fortnite Battle Royale, own elaboration