We interviewed Sports Interactive director Miles Jacobson as part of our coverage of Football Manager 2021. The ball rolls for another year.
Football Manager is a PC classic. When the lights shine on giants like FIFA, Sports Interactive proves year after year that it is the benchmark in virtual football management for ball enthusiasts. It is not a statement taken lightly: it tends to dominate the highest sales rankings in markets as demanding as the United Kingdom.
A few weeks before the launch of Football Manager, we sat down with Miles Jacobson, director of Sports Interactive, to tell us how he has taken the reins of the team in a scenario as complicated as that of a pandemic. We talk about football, the use of social networks and how the annuity of a mythical man on the computer scene is managed.
Football Manager 2021, the ball starts rolling
Before the interview, at FreeGameTips we have been able to access a build prior to the release version. This year Football Manager 2021 is characterized by the opening of possibilities in interaction. Gestures are added, a way of communicating that delves into traditional lines of dialogue.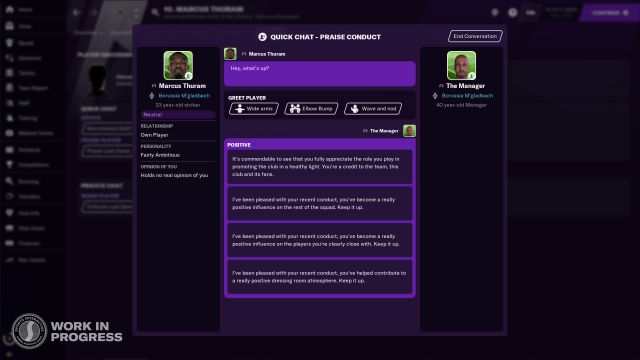 Do we want to send a strong message? Wave your arms before a match and send the message that adds epic to the match. Have you been disappointed by the performance of a player? Nod with your palms and encourage him to do better in workouts. This is the way to better understand your players. They are more than a photo and a name; They are people who feel and suffer the same as the manager. We have high expectations of this feature for Reviews, for now it promises.
Those feelings for delving into the formula remain intact year after year. In the 2021 edition we can expect greater management in the incorporation of new faces. We see the signing meetings, where the scouting team meets with you to talk about what areas we want to improve and what are the most viable options given our resources. The screen is easy to follow: on the one hand we will see our usual alignment, and on the other which position in detail we do not have cover.
The first sensations with Football Manager 2021 continue in the usual ascending line, especially with a view to improving the visual coherence of simulated 3D matches. You can see the improvements in the animations, as well as in the graphic quality of the grass and the environment. And all without practically disrupting the system requirements.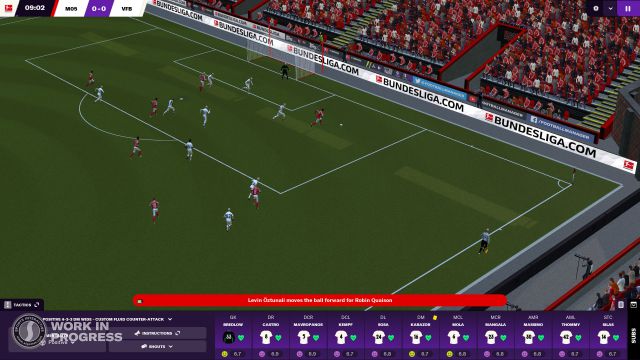 These are only a part of the functions that we cover in our Reviews. Football Manager 2021 is everything we could expect from the great football simulator.
Miles Jacobson, exclusive interview
Just over a year ago we were participating in the Football Manager 2020 hands on event at the heart of Sports Interactive. The health circumstances in which we find ourselves have prevented a return to the origin of the game. Jacobson gives off the same illusion through Zoom as in person. He is an energetic person and committed to social action.
FreeGameTips: You have been part of the industry for over 20 years. How has football evolved since then? What changes have you noticed in football and its players?
Miles Jacobson: It has changed a lot. When I started working at Championship Manager, the Premier League didn't even exist. The games were on television every week. People were less interested in data and statistics. So football has changed a lot. From a game perspective we only had feedback, not even a 2D engine, much less a 3D one at the time. This year we have graphical improvements and improvements in animations that allow us to reach a better level. You know, everything changes. At the time we were making advances for computers with floppy disks that were less powerful than most digital clocks in homes right now, not to mention smartwatches. And now we have a ton of power, bringing systems up to speed means you need more RAM. That was one of the things that, when we sat down to work on the system requirements for the game, someone turned around and said "hey, can we leave this graphics card behind?" I was like, okay, first, how old is he? And second, how many people are still using it? And we found that we were still supporting a graphics card from 18 years ago. Fewer than 200 people were still using it. Things have changed a lot in everything. Our team at that time consisted of 7 people. And now, because we've sped up our hiring process during the pandemic, we have 203 people in the study, plus the other 20 job postings that we have available right now. And we will continue to grow. Even our sales are in the millions instead of several thousand. So that has been a big change for us too.
We know you are a huge fan of Watford, currently competing in the Championship (English second division). What do you think about the current situation in the Premier League and the increase in Arab investment in clubs?
Wow, that's a great question. As we talked about before, football has changed a lot and it has become more than ever a business for those at the top level. We are very lucky at Watford, which took us to the promised land of the Premier League for several years. Now we have returned to the Championship, hopefully we will return to the Premier League next season. That is the goal. But the financial differences are great. And between various levels they are ridiculously large. In Spain you see it with the big three clubs, they have all the financial muscle and it is always great to see that some of the small clubs are doing better because I am someone who supports a small club in a big scene like England. We are seeing it this year. I have no problem with people investing in soccer. And because it has worked really well for us at Watford, one of the things they have done very well is to maintain the identity of the club and be very close to the fans. While in the big clubs I don't think the gap has been greater. We have seen what happens between what happens on the field and the importance of the fans, who are the blood of the club; They are the blood, the beat of the clubs. And what worries me the most is what will happen when most people stop investing in clubs, it's a pretty scary prospect. I think that many clubs have become global products, rather than local parks in their community.

The Sports Interactive entry is dominated by several of the successes achieved. Photo taken during the Football Manager 2020 hands on event.
This year is being difficult for everyone. How has the coronavirus affected your development process? What difficulties have you encountered working at home?
I wrote a couple of blog posts about them, wrote one about how the studio had been affected, and wrote another about the repercussions on the game. It is very important for us to be close to our community, being very detailed with them about what has happened. As a development studio we have worked remotely for 20 years, and the founders of the studio, Oliver and Paul Collyer, one of them was based for a time in Australia, then he was another period in Turkey, another one settled for another time in Sweden … sounds as if they were three people. One was in Turkey and Australia, while the other stayed in Sweden and France. We have several people around the world. When we have someone with talent and they want to move to another country for family reasons, who are we to say no? And that includes the Spanish presence in the study. We have people who work from Spain, some since before the confinement, and others since it happened and they wanted to be close to their families. Right now, as is obvious, we have 100% of people working from home, while the usual is 10% or 20%. Some parts of working from home have gone well; some others have been difficult. The greater the creative task, the more difficult it has been. But we believe that we now have the processes in place, which means that it will be much easier for us in the coming year. Football Manager 2022 should be easier than Football Manager 2021. FM 2021 continued to change its set of features as of July and August, including some functions that were already worked on other things that we had started, and it was like "this requires us to do too many hours". I am as concerned about the mental health of my team as I am of my consumers. And the only person whose mental health is not my concern is me. But now I'm sitting here, actually pedaling under my desk; my way of dealing with it is to pedal all day while working in meetings. It has helped me lose weight, which is great.
This year has been tough. We cut some features around the end of the game loop because we weren't going to be able to do it in a way that would do them justice. But there were other features that we have brought from future versions, such as meetings for transfers or the function of being able to ask the availability of agents; those features weren't intended for FM 21. Originally one of them was intended for FM 22, another was for FM 23. But they dovetailed well with the other features we were thinking about and doing, and we were able to get them done in this cycle. While there were other things that we could not achieve in the same cycle. So we have moved those for future games. We have had to be much more flexible, more than we normally would be. I've had a lot of difficult nights staying up late while working on where to cut the cuts and making sure we were offering a game that no one could use the excuse of "okay, this game was made during a pandemic." We understand that while we set a bit of expectation of how difficult it had been for me and some of the alpha testers who were playing the game and giving us feedback, we turned around and moved on. It is as if a pandemic had not occurred in the amount of things and new functions that are there, of the optimizations that are there, of the graphical improvements, of the improvements in animations, of the improvements in artificial intelligence. It is the best game we have ever created. I wasn't sure I could say that in June or July, but the team has done a fantastic job. They have done a brilliant version about our life's work in a time where playtime is through the roof, because there are so many people at home, we went into lockdown yesterday; Last night we had a new confinement in the UK, people cannot leave their houses for another month. We know that we have responsibility for the mental health of people, people who are going to invest their time in escaping into our game, escaping from the terrifying situation that we are seeing on our planet. With people getting sick, dying, and the long-term effects that COVID is having on people who were healthy… it's a horrible situation. And we have felt the weight of that responsibility. We have accepted the challenge of that responsibility by trying and making the best game possible not only under the circumstances, but by hiring 40 more people on the team this year, which has helped us to that drop in productivity that every video game studio will tell you. what is happening. And it is happening because each person, each personal situation is different. It is much easier for me to be confined to a London house with a garden of my own than someone who lives in a house shared with five other people, or someone who has a couple of children, a couple of children who don't stop all day. We had to take into account the individual situation of each person when we began to play the game, because we care a lot about the people in the study. You know, they are his family, they are not just people who work with their families.
I'm just as concerned about the mental health of my team as I am of my consumers
You are very active on your Twitter profile. What role does the community play in the creative process? How do you deal with those who display toxic behavior?
We have three different groups of people each year. We have the enthusiasts, who are the nicest people who follow me on Twitter. They are people who play the game for 1000 hours or more. Then you have the half enthusiasts, who are the people who play between 200 and 1000 hours each year, which for some games can be considered the most enthusiastic people. For us those are the half enthusiasts. And then you have the new customers, the new ones who come in wanting to play your game. We try to ensure that there are features for all users of the game. Things like the changes in animations, the changes in the game of the day, the interaction… those are for the majority group, which are the half-enthusiasts. Then the xG details and detailed graphics are more for the enthusiast. And then things like onboarding meetings, which the previous two groups will enjoy, have been added with the new player in mind, in addition to the newcomers. Things like asking the agent's availability is something that cuts across all three groups. We are very careful when deciding what to add to ensure that we are covering all groups.
On how I deal with social media toxicity, I used to deal with them really bad. Now I have a very simple system. By having 100,000 followers I try to respond to most people. During the features phase, I only talk about things that have already been announced and I ignore anyone who asks about things that we have not announced or are coming in the future. They are told to make a suggestion in the official forum, or I don't reply. I have tweets to copy and paste right now when someone tells me about the beta. All questions about the beta have the same answer. And when the really toxic people come, it depends on what they do. If they are rude without going to the limit, I will surely silence them. Even now I silence some people so I have another chance. If someone insults the team, if someone perjures without a good reason, you know, with hatred, if someone threatens to kill me, what happens, and if someone is very enraged or very toxic, I just block them. They don't deserve to have a voice in the process if they are going to do that. Twitter is meant to be a place for interaction, and I personally love it from that perspective. It is the reason I am so active there. I keep responding to anyone personally and even the social media team agrees with it. Having access to a developer, a game director, that is not part of the money you spend buying the game. It's something we decided he would do. So if someone is going to abuse it, they are going to lose it, right? If people are polite to me, people will come and have an answer. People who complain about things. If you are polite and say "look, I don't like this", I will give you an honest answer as I do with all the answers from every interview I do. And that keeps me in trouble constantly [se rie]. I think it's better to be honest with people, it's the way I've grown, it's the way I do everything. And sometimes that annoys people, I am fully aware of it. But I'm not on social media to be adored, I'm on social media so people can have access to the director of their favorite game that they wouldn't otherwise have.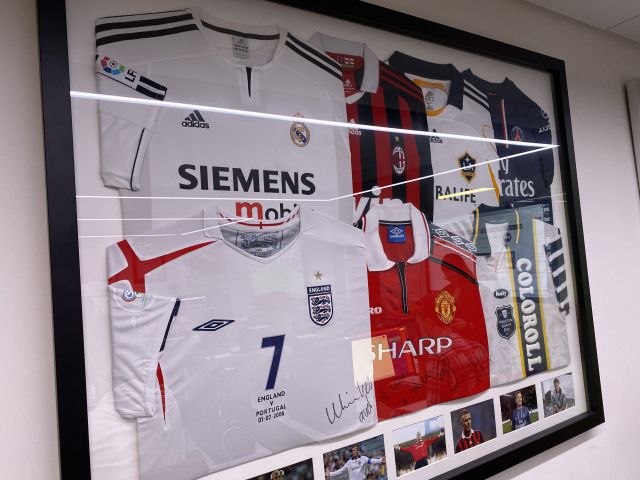 The Sports Interactive walls are a museum for the recent history of world football. Photo taken during the Football Manager 2020 hands on event.
I would like to know how you plan a new installment, especially in a franchise with an annual rhythm. It must be hard to keep your work fresh year after year, right?
We have hundreds of feature ideas to add going into our approval process that have not yet made it to the game. And we have more ideas every year, be it from forums, from the internal team, from footballers, from the analyzes we read, from people on social networks … Every year we have more ideas than we can do in the same development cycle. Now I have help in this area, I have a feature producer named Stephen, who is amazing. Now we have a feature designer named Sab who helps with this. We also have a boy named Johnny, who is our visualization director in the game. Right now, while we make sure to polish FM 21 to the best of our ability, we are in the process of going through the ideas for the new features. We will have that process completed this year. It is normally not completed until the end of January, but we are trying to have it by the end of November so Stephen can work in December. I never have a blank canvas because I always have roles assigned for the next 2 or 3 versions of the next game that we think we can have. If people go and buy the game, we will have a new one. This is how the world of annual deliveries works.
We have a lot of features that we have decided to do with FM 22. There are several design documents that detail some of the features for FM 22 because they may have been partly designed for FM 20 or FM 21. Work is currently underway on a design document for one of the great functions we are looking to have next year. And then we'll have more design meetings in January and February, where people will go through the tasks and estimate how many there are. And then hopefully by the end of February, which is usually around the end of April (we try to get ahead of it), I will have a full understanding of how many hours it will take a person and if they are under or over cycle. And with that we will try to hire new employees to fix the disparity in some of the new features. It is normally between 20 and 30,000 hours per person, and I have to cut to move it to another version of the game. Sometimes there are some programmers that are light, so I look in our repository of functions, which are the small functions that have not been designed yet and I move some of the ones that have not been assigned to the game. It's a long process, and I hope we can have it completed shortly, as that will give us more time to work on more features and deliver even more to consumers.
Football Manager 2021 marks the return of the franchise to traditional consoles. Why is this the best time to do it? How has it been working with Xbox?
They have been 11 years trying to get us back to the console. Meetings every year, practically every year for the last 11, emails, invitations to their X0 conferences so we can see what they are working on and have conversations there. We've been working with Microsoft for the last couple of years on Game Pass for PC. We were launch title there. And we have always gotten along very well. They are good people. They came and explained to us what they wanted to achieve with Xbox Series, how they wanted their games to be playable on Xbox One as well as Series. We made the decision to return before the pandemic. None of us wanted to change the decision when the pandemic hit, we want to be on their platforms, we want to give users more opportunity to play. We have worked closely with Microsoft to decide what the Xbox edition will look like. We said it would be based on the Touch version, not the full game; We believe it will be a better experience for users on console as it has been on Nintendo Switch. There are some good details that we have been able to do in the Xbox ecosystem that we could not do elsewhere, like cross-play within the ecosystem, for example. If you play the game on Xbox One, you can play against people on their PC through the Windows Store, or play against people on Xbox series. The fact that you can buy the game on PC and if you want to check it out on Xbox One or Xbox Series X | S you see that you have the game as part of the package. That kind of thing, you know, I love things that are positive for the consumer. Microsoft offered us all of those things. That is why we return to the platform this year, in the same way that we went to Stadia last year and hopefully we can this one too, especially for people who have low-performance machines and who can play from their Chromebook. Or like Switch, the best way to play the game when you go on a plane, for example. I love playing on Switch when I'm on a plane. I have one of those big batteries, it was a kickstarter where they gave you a bigger battery. We want to entertain as many people as possible on as many platforms as possible. So when the opportunity to be on a platform arises, and with little risk to us, it excites the studio and we will go for it.
I'm not on social media to be adored
We would like to know how Spain fits around Football Manager. How do you see the performance of the game in our country?
Spain is what we call an expanding market. There is a lot of scope to expand in Spain. Historically, Spain has been difficult for us, as people did not grow up like those who did in the United Kingdom together with Championship Manager and Football Manager. In Spain, people grew up with kiosk PC management games, which were not available in other countries. They did not attract people from other countries. That is why we have a lot of work to do in Spain. It is an incredibly passionate market. It is a huge market in soccer. In Europe, Spain and Germany are surely the markets where we have not reached the level we would like to be. We love talking to the community in Spain, we have a good enthusiastic fan base there. We have not moved so much in the enthusiast base, but we have plans for it in Spain. We have plans for now and the future.