The superhero Barry Allen, better known as Flash, from DC Comics, arrives at Fortnite Battle Royale. We tell you how to get the Flash skin in Fortnite.
With the change of the store on February 14, 2021 at 01:00 CET, the Flash skin from DC Comics, which was previously available for free with the Flash Cup, arrived at Fortnite Battle Royale. Next we show you how is this new skin, belonging to Season 5 of the Battle Pass of Fortnite Chapter 2; what is its price, and what content does it bring:
Fortnite: this is the Flash skin from DC Comics
As we have commented in the introductory paragraph of this news, both the Flash skin and its accessories arrived at the Fortnite Battle Royale store on February 14. No one knows how long they will be available for purchase after your arrival.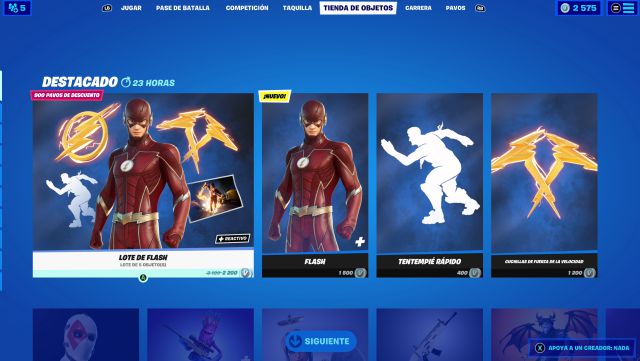 Flash items can be found in the "Featured" section of the store
These are all the Flash items in Fortnite, along with their prices in V-Bucks:
Flash objects were decrypted. # Fortnite # FortniteSeason5 pic.twitter.com/DtfQUIPiXO

– Rubén Martínez (@ruvenmb) February 11, 2021
Flash Bundle (includes Flash skin, Speed ​​Force backpacking accessory, Speed ​​Force Blades collection tool, Quick Snack emote, and My Name's Barry Allen loading screen): 2,200 V-Bucks lowered from 3,100 V-Bucks what would it cost if we bought each object separately
Flash Skin + Backpacking Accessory Speed ​​Force: 1,500 V-Bucks
Quick Snack Gesture: 400 V-Bucks
Harvesting Tool Speed ​​Force Blades: 1,200 V-Bucks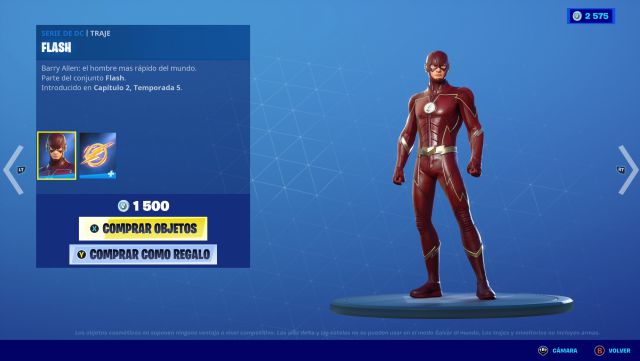 A close look at the Flash skin
As always when we publish a news of this type, we leave you several things that you must take into account:
These objects are bought with turkeys, a virtual currency that we buy with real money. The exchange rate is currently around € 7.99 per 1,000 V-Bucks.
Both these skins and their accessories will remain for a limited time in the Fortnite Battle Royale store. These items may return to the store in the future, when Epic so desires.
We can use the accessories without problems in all the Fortnite game modes, but we can only use the skin in the Battle Royale and Creative modes, not in Save the World.
All of these items are cosmetic; they do not affect the game in any way beyond being visual modifications.
Sources: Fortnite Battle Royale, own elaboration